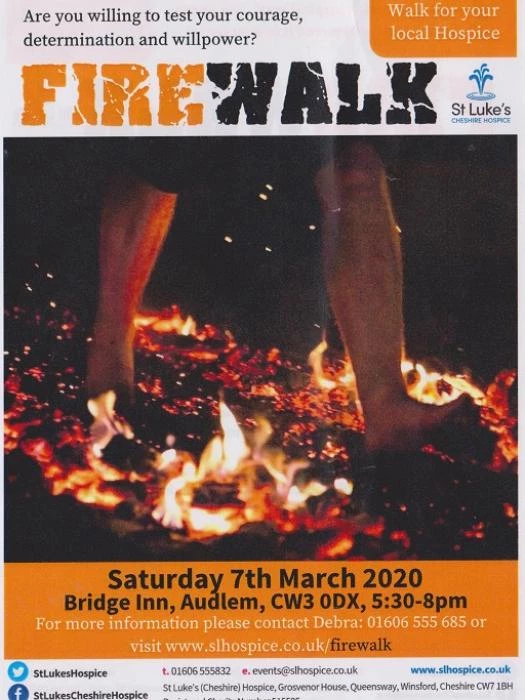 Saturday 7th March
Many of you will recall the works we all undertook to try to help Bernie Cliffe combat her severe illness. More than £100,000 was raised here in our wonderful village and district with so many giving their time and drive in achieving this . Eventually , Bernie went to St Luke's and spent her last days in their so wonderful care.
Now I, along with hopefully many others, will be "Walking on Fire" once more to raise the so needed funds to help this hospice with their work .
This will be held at the Bridge Inn (as the last time we did it in 2016),and in all we raised some £8000!
I therefore ask that as many of you as possible sponsor us in this endeavour .
Sponsoring me can be by cash donations at our special newsagents Williams -- courtesy of Judy Evans again. The sponsorship form will be there to complete -- we gain gift aid from the Government if you agree. I will always have the form with me as well so you can give direct to me.
Or by going online here .
www just giving.com/stlukeshospice. Click on "Fundraise for us", choose "Organised Event" and click Firewalk 2020.
Big, big plea to all. Do join me by entering and take the walk . I did it twice on the night to show that it was ok to do!
Help such a great caring institution . Step up to the plate please .
To register to take the Walk
Contact Debra Sloan on 01606 555685 or click here