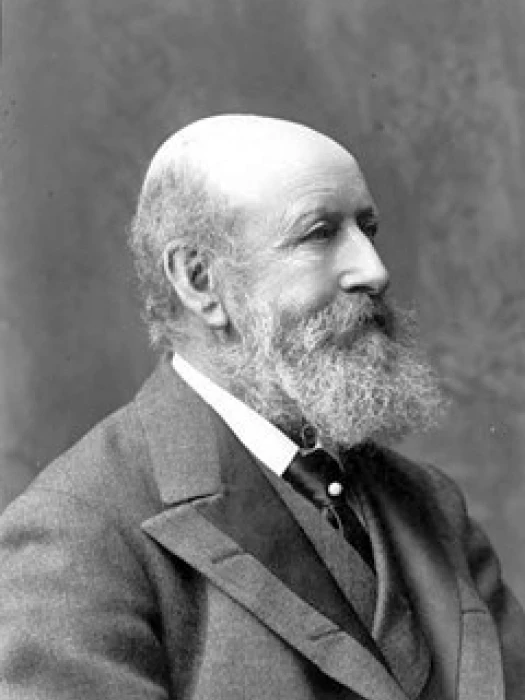 Audlem and District History Society
Thomas Wardle, polymath and silk manufacturer of Leek
'For silken fabrics rich and rare what citie can with Leek compare' – old Staffordshire ballad.
Ex-residents of Macclesfield like myself may beg to differ! However, reading about Sir Thomas Wardle, Victorian silk manufacturer of Leek one does marvel at his achievements in many different areas. Thomas Wardle was born in 1831 in Macclesfield, the first son of Joshua and Mary Wardle. Joshua owned a thriving dyeworks in Leekbrook. Thomas went to boarding school in Macclesfield and then to Leek Grammar School. He worked his way through all departments in his father's company, Joshua Wardle & Son. The company was famed for its raven black dye, a colour difficult to achieve with the natural dyes available at the time. A lot of black silk was needed for Victorian mourning clothes.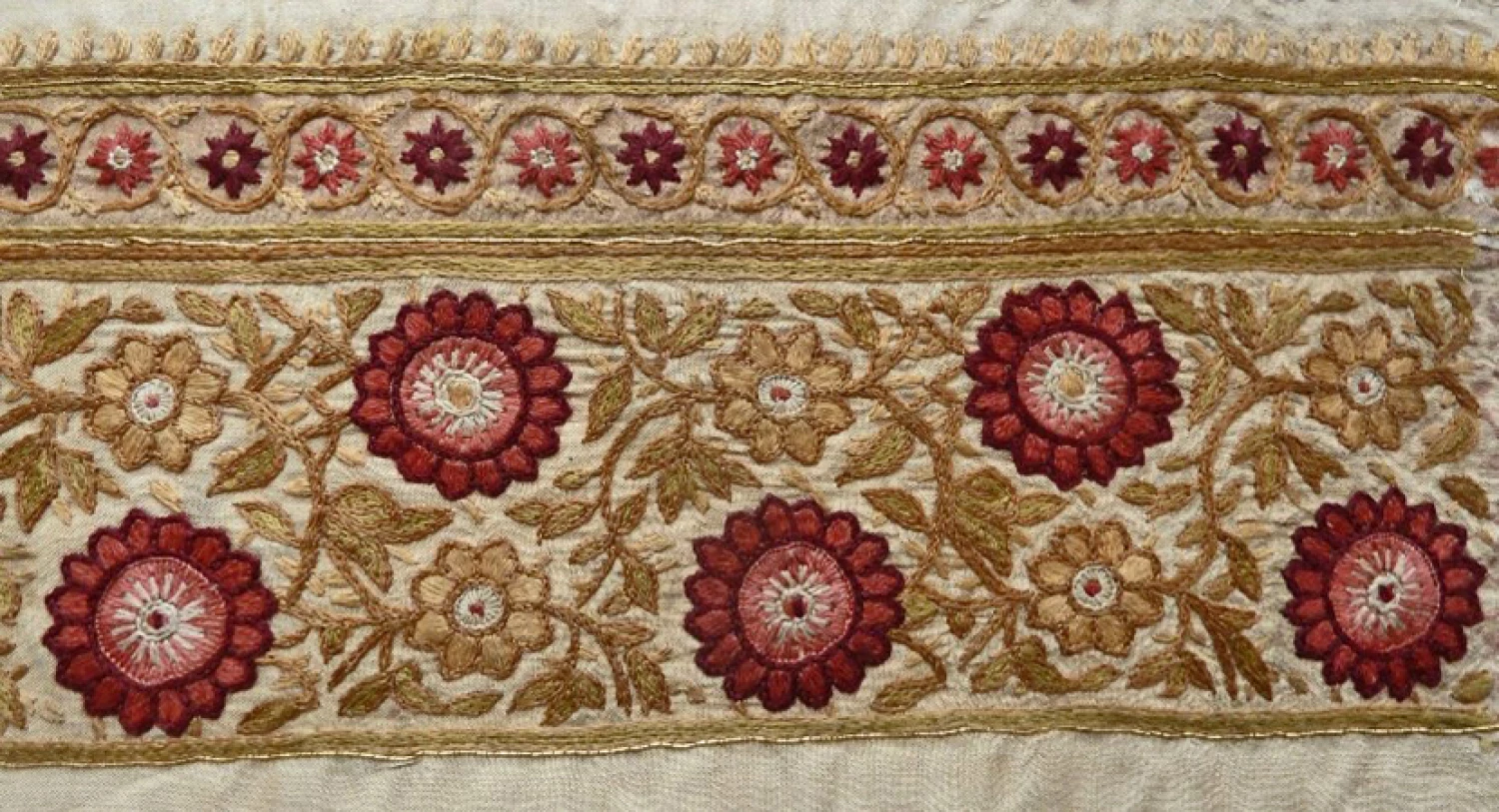 Tussur silk embroidery – yarns dyed by Wardle & Co

Large quantities of tussur silk were available from India at a cheaper price than the more commonly used whiter Bombyx mori silk. Tussur silk is a honey colour and Joshua had failed to dye this silk satisfactorily. Thomas continued to experiment and by 1872 he had obtained good colours. He had found it needed lengthy boiling in water with glycerine, potash and soap before reeling. He was made a Fellow of the Chemical Society in 1875. He realised that a problem with the economic use of tussur silk was that there was a lot of waste as only the inner part of the cocoon could be reeled. Thomas further researched reeling in Piedmont, Italy. Finding lack of interest in weaving from British companies, he took the tussur to Krefeld in Germany where the first piece of short pile tussur silk fabric called sealskin, soft and glossy, water repellent and similar to velvet, was woven.
He made several visits to India, including Bengal in 1885, to improve the quality of raw silk supplied. Later he was instrumental in the revival of the Kashmir silk industry taking European silkworm eggs to combat disease then prevalent in India. He also took European reeling machinery to Kashmir. His last visit was in 1903.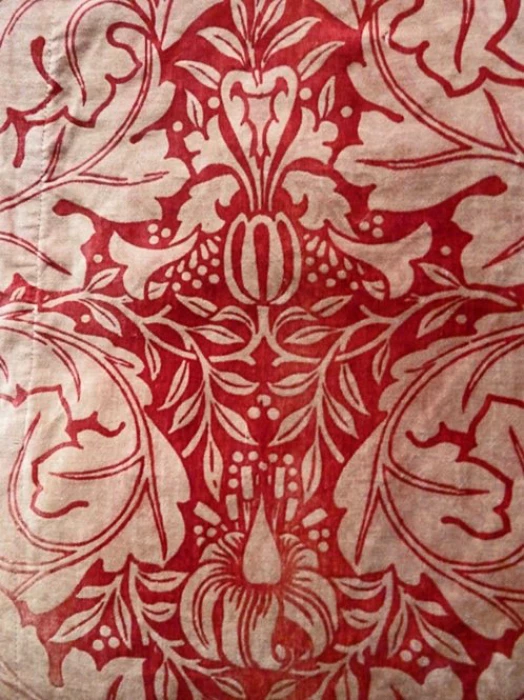 Acanthus Designed By William Morris And Printed By Thomas Wardle Ed

In 1872 Thomas Wardle bought the Hencroft Works on Abbey Green Road in Leek near the River Churnet and used this for hand block printing. It was here in 1875 that William Morris came to experiment in dyeing and printing with natural dyes under Thomas' tuition. They had been introduced by Thomas' brother-in-law George Wardle, who was business manager at Morris' fabric dyeing and printing firm. Natural dyes had been largely superseded in the 1860s by cheaper aniline dyes. William stayed with Thomas and family at their home at 54 St Edward Street, Leek. By mid 1876 the Wardle Works were naturally dyeing Morris' embroidery silks, carpet wools, silk and cotton yarns as well as printing his textile designs. Thomas also benefited from the research into natural dyes for his embroidery silks and wools and many of Thomas' own printed fabric patterns show the influence of Morris.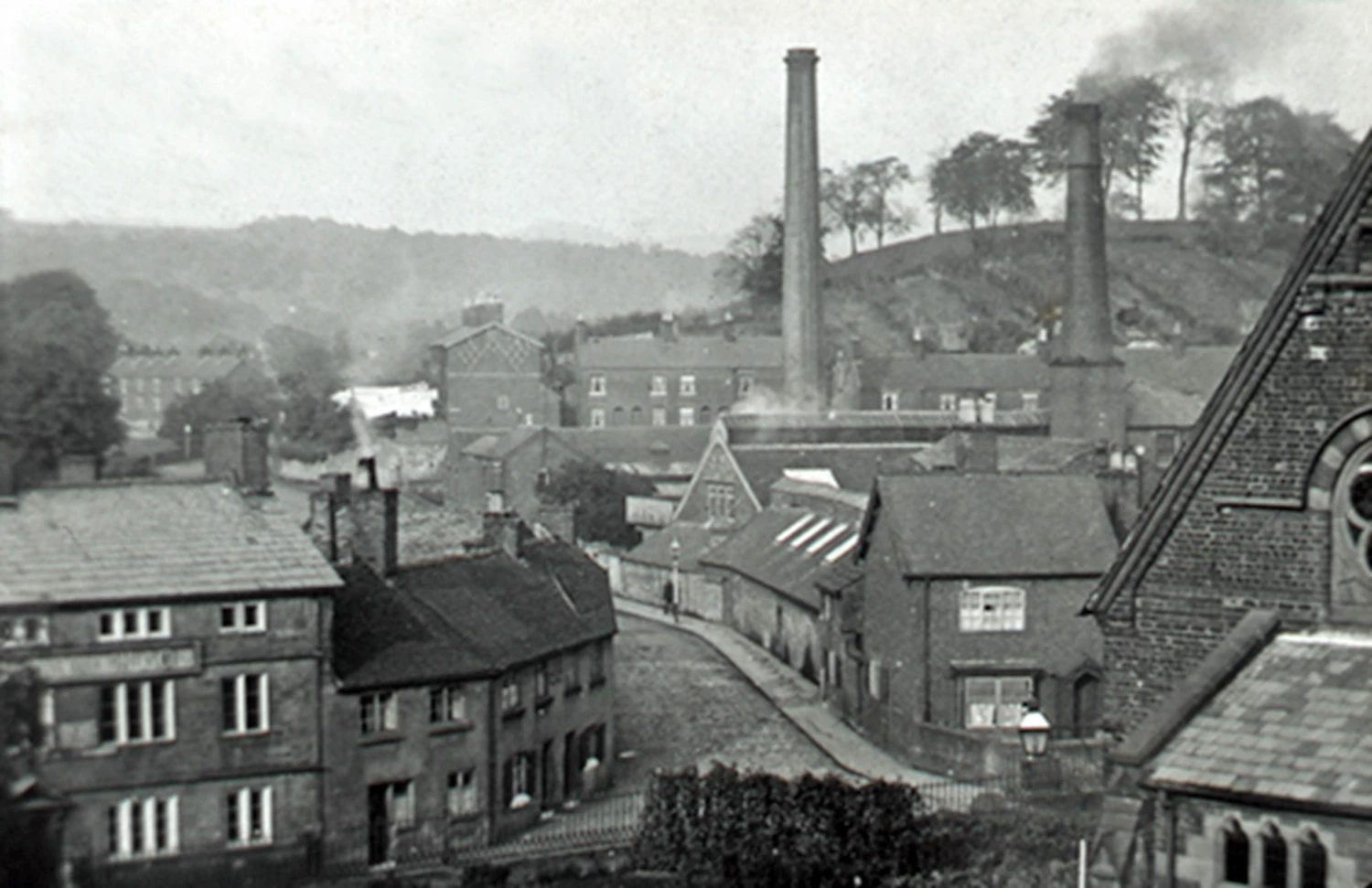 Thomas Wardle's Hencroft Works, Leek

In 1857 Thomas had married a distant cousin Elizabeth Wardle. They had 14 children. Sadly the first three died shortly after birth and another son at a young age. Elizabeth was very active helping her husband and she formed the Leek Embroidery Society employing many local women embroidering church vestments and altar frontals that can still be seen in several local churches.
In 1897 Thomas was knighted for his services to the silk industry. He had been awarded the Légion d'Honneur following his silk displays at the 1878 Paris International Exhibition. Although his formal education had ended relatively early, throughout his life he researched new subjects by reading books and seeking out experts. Thomas had been interested in geology and fossils from an early age. He was President of the North Staffordshire Field Club for 35 years. He published books and papers in many fields including in 1893 a book on sewage engineering. His method of sewage treatment was used in Salford and Nuneaton.
Thomas also spoke French and Italian. He became involved with The Society for the Protection of Ancient Buildings, started by William Morris, and was active in a local campaign to save the chancel of the parish church of St Edward in Leek from alteration by GE Street, though this was unsuccessful.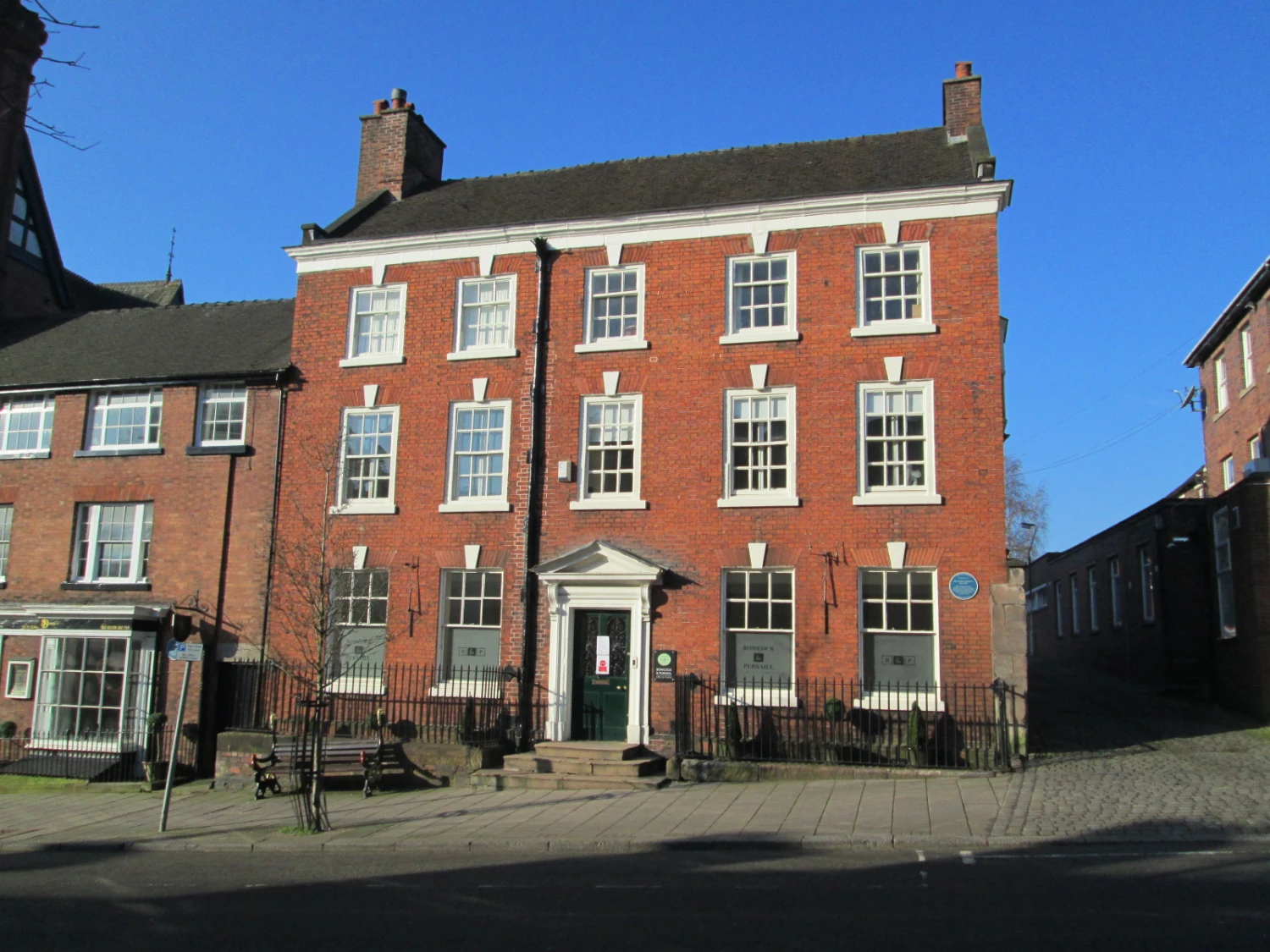 Wardle's last home – 54 St Edward Street, Leek. Wikimedia Commons (CC BY-SA 4.0)

A display case of Thomas Wardle's naturally dyed embroidery silks in lustrous colours and printed fabrics can be seen in the Nicholson Institute and Museum in Leek.
For further information see http://wardleheritage.org.uk
The Wardle Story by Anne Jacques 1996
Dye, Print, Stitch by Brenda King 2009
Photograph acknowledgements
Except for the last photo, all the photos used are from Wardle Heritage. We've tried without success to contact the organisation regarding their use.