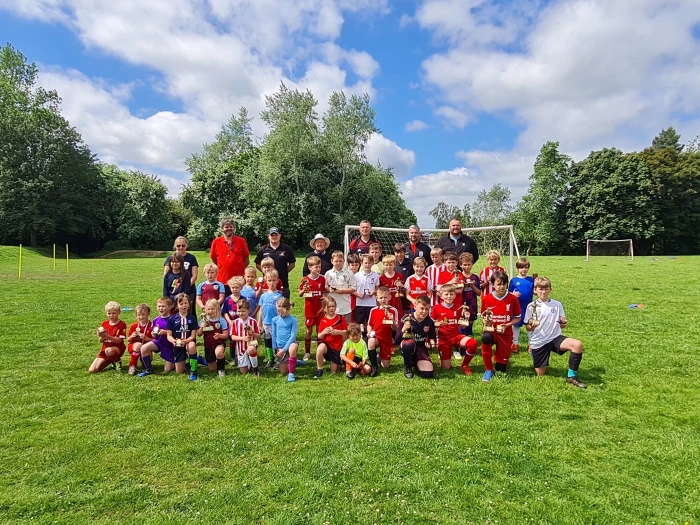 Audlem Saints FC
I have recently joined the dedicated band of coaches, men and women, and am heading the club up, as we evolve to a new plan and action.
This club, for children from year 3 to year 7 has been going for some years now on the village playing field . Amongst the original volunteers who took on the challenge of giving youngsters a bit of fun and help in football were Ian Haughey, Pete Marshall, and many others. Lately David Mansell headed it up fir a good while, but now I have stepped up to do all I can to move forward.
Each Saturday morning the children arrive about 09.45, in their kit and are then coached in three age groups. Boys and girls. All in all some 66 children were signed on at the beginning of the season and it is a marvellous sight to see such enthusiasm and happiness for the hour or so of play.
Trophy Day
Last Saturday, we held a big trophy ceremony for, I believe, the first time like this.
We presented to each of the three groups – soon perhaps to be named as Spartans, Trojans and Centurions – with a trophy for Coaches' Player of the Year, Players' player of the year and Most Improved Player and Clubman of the Year.
Plus, each and every child was presented with an inscribed medal of the season .
(See photo)
New season – new team
We hope to have kit for all in the new season from a generous and kind sponsor. And we are to try to put forward a team to take on other towns or villages with our year 7 players. We will have a fun day in late August before the new season starts. A great happy day.
And then – into the new season without the cloud of virus over our heads.
We have a superb management team who pull together in the right direction and I hope to be with them for many a year yet. Let's hope we can sign some of the older ones to the senior Audlem F C one day. Ben Walker came from the Saints and scores well for Audlem F C!
Ralph Warburton
Chairman Audlem Saints FC