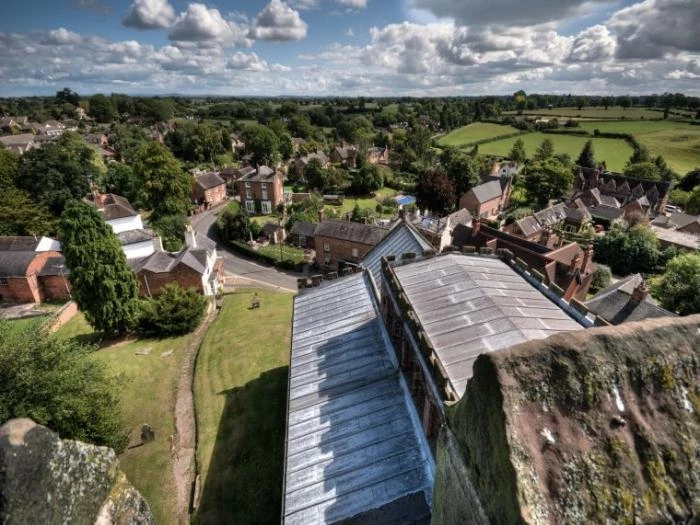 Released in the United Kingdom on 29th December 1965, Thunderball is the fourth in the James Bond 007 film series.
At the start of the film Bond attends the funeral of Colonel Jacques Bouvar, a SPECTRE operative connected with the previous murders of two MI6 agents. Bouvar is alive and disguised as his own widow, but Bond identifies him. Pursuing Bouvar to his château, Bond fights and kills him, escaping with use of a jetpack and his Aston Martin DB5, conveniently driven up by French agent, Madame La Porte.
At a SPECTRE meeting in Paris, chaired by the enigmatic Number One, Emilio Largo (SPECTRE operative Number Two) introduces the group's latest project: hijacking two atomic bombs and holding NATO for ransom.
The plot begins at Shrublands sanatorium, located close to a NATO air base. Coincidentally, James Bond is at Shrublands to improve his health. There, he notices that fellow patient Count Lippe has a Tong tattoo. Bond searches Lippe's room, and is seen leaving by the man in the adjoining room, whose head is covered in bandages.
Lippe tries to murder Bond with a spinal traction machine, but Bond is saved by his physiotherapist. Lippe and Angelo Palazzi, the bandaged man, are part of SPECTRE's plot.
Angelo's face has been surgically altered to match French Air Force pilot François Derval, who is also staying at Shrublands. Derval is slated to fly on a training mission aboard an RAF Avro Vulcan strategic jet bomber loaded with two atomic bombs. Angelo kills Derval, collects $100,000 from SPECTRE Agent Fiona Volpe, then demands an extra $150,000 for the job. Fiona seemingly acquiesces. The next morning, Angelo takes Derval's place on the flight. Angelo gasses the rest of the crew, then flies the Vulcan to the Bahamas, landing it in shallow water near Largo's ship, the Disco Volante. SPECTRE SCUBA divers, commanded by Largo, retrieve the atomic bombs. Angelo, trapped by his seat strapping, is left to drown by Largo for reneging on his original deal with SPECTRE.
Meanwhile, Bond has uncovered Derval's corpse at the clinic. On the motorway to London, Lippe attacks Bond. But a masked motorcyclist kills Lippe with a rocket-propelled grenade and zooms off. The rider abandons the motorcycle and unmasks: it is Fiona, acting on Ernst Stavro Blofeld's orders to eliminate Lippe for hiring the greedy Angelo.
At an MI6 conference in London, all of the 00 agents are informed that SPECTRE demands £100 million from NATO in exchange for returning the bombs, and threatens to destroy a major city in the United States or the United Kingdom. Bond recognizes the briefing photograph of Derval as the corpse at Shrublands. He asks M to send him to Nassau, Bahamas, to contact Derval's sister, Domino.
While snorkelling, Bond meets Domino. Later, at a casino, he encounters Largo and Domino, who is his mistress. Bond enters a game against Largo and wins, and subsequently takes Domino to a dance. Bond and Largo recognise each other as adversaries and begin a tense cat-and-mouse game while still pretending ignorance of each other's true nature.
Bond meets Felix Leiter and Q, and is issued various gadgets, including an underwater infrared camera, a distress beacon, underwater breathing apparatus, a flare gun, and a Geiger counter. Diving under the Disco Volante, Bond fails to find the atomic bombs, but detects an underwater hatch; Bond narrowly escapes Largo's henchmen. The next day, Bond visits Largo at his estate, Palmyra. Bond's partner, Paula Caplan, is taken to Palmyra and then commits suicide with a cyanide pill rather than reveal Bond's next plan.
Bond is kidnapped by Volpe, but escapes through a Junkanoo celebration to the Kiss Kiss club, where Volpe is accidentally shot and killed by her own bodyguard. Bond and Felix search for the Vulcan, finding it under water. Bond tells Domino that Largo killed her brother and asks her for help in finding the bombs, giving her his Geiger counter. As she searches for the bombs on the ship, she is caught and tortured by Largo.
Meanwhile, Bond disguises himself as a Largo henchman, and uncovers Largo's plan to destroy Miami Beach. Bond is discovered by Largo, but rescued by Leiter, who has United States Coast Guard men parachute into the area via US Air Force transport aircraft. After an underwater battle, Largo's divers surrender. Largo escapes to the Disco Volante, which has one of the bombs on board. As it begins to leave, Bond gets on a underwater fin. Royal Navy and U.S. Coast Guard vessels pursue the Disco Volante, but Largo jettisons the rear of the ship, revealing the front as a hydrofoil, which escapes at high speed in a smoke cloud.
Bond climbs into the ship's cockpit, where he battles Largo and two crewmen while the ship weaves erratically among rocks and reefs. Meanwhile Largo's hired nuclear physicist Kutze turns against him and frees Domino. Largo is about to kill Bond when Domino shoots Largo with a harpoon gun. Bond, Domino, and Kutze jump overboard, and the ship runs aground and explodes. A sky hook-equipped CIA B-17 aircraft then rescues Bond and Domino.
Thunderball was Sean Connery's fourth appearance as Bond – in how many films did he play the part?
Find out here...
Connery appears in seven Bond films, including the 'unofficial' Bond Film Never Say Never Again in 1983, which was not produced by EON Productions. It was based on the storyline from Thunderball though with a number of contemporary updates, including Bond playing video games and a protagonist, Fatima Blush, driving a Renault 5 Turbo II.
---
This article is from our news archive. As a result pictures or videos originally associated with it may have been removed and some of the content may no longer be accurate or relevant.