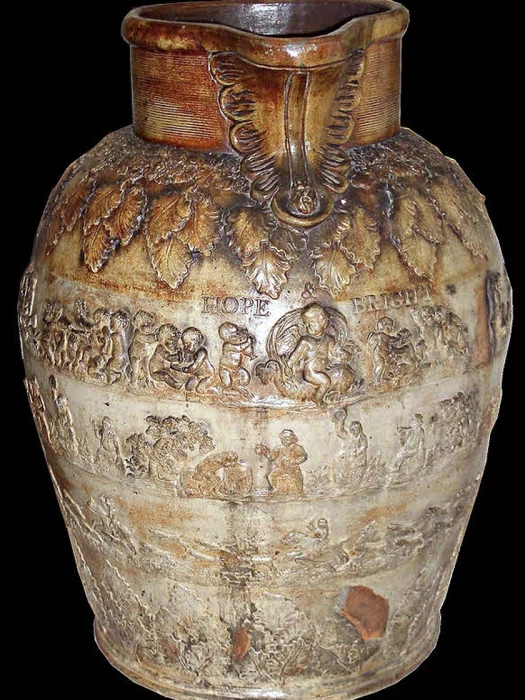 Audlem and District History Society History Shorts 10 by Judi Paterson My Potter Ancestors
Before sunrise Joseph Bright hurried to the quayside at Bristol port. He was particularly keen to see the Britannia set sail to Barbados with its cargo of 1,000 pieces of stoneware. He remembered the 1830's when his pottery had been exported all over the world. Jamaica, Antigua, St Thomas and St Vincent, Mauritius, Calcutta, and Newfoundland were all regular destinations. In recent years trade to these places had dwindled. Now it was mostly within the United Kingdom.
He watched as the Britannia sailed towards the River Avon and out of sight. Trading had changed. With the advent of the railways it was much quicker to transport goods around the United Kingdom, especially to London. People's habits had also changed. Now that the link between insanitary conditions and disease had been established, wealthy people wanted indoor toilets. Potteries all over the country were manufacturing them, including his at 131 Temple Street.
The pottery specialised in stoneware water pipes. The premises were large and included four brick kilns, sheds, drying rooms and workshops as well as the warehouse and loft.
Now, in 1844, aged 67, he needed to choose a successor. His wife had died in 1840. Very occasionally wives succeeded their husbands as owners of businesses. Other than Daniel, his sons were all well established in their own right. Daniel's health was poor. He too was a potter. It was not a good environment in which to work.
In 1846 Joseph signed his will. Three sons would each receive £50. Daniel would have an annual payment of £20 for perpetuity. His daughters, Jane and Ann, would inherit his seven properties, his household goods and the rest of his personal estate.
Joseph died in 1848. Jane and Ann also inherited responsibility for the pottery, expanding it to manufacture improved glazed stoneware, closet-pans, eject and water pipes and employing six men, three boys and a clerk. In 1852 they exported 3,500 pieces of red and stoneware to Adelaide, Australia. Following Ann's marriage that year, Jane continued alone for a further year prior to the pottery being taken over. Two single women had taken on a traditionally male role and succeeded in spite of much competition from other potteries.
In July 2019, as I wandered around Middleport Pottery with other members of the History Society, I thought of my three times great aunt potter ancestors and was full of admiration.
Editor's note
Sadly, the blitz of November 1940 and post-war rebuilding of the area have removed any trace of the original 131 Temple Street. However, the current TV series of A House Through Time (BBC 2, Tuesdays at 21.00) is featuring a house close to the street where Judi's potter ancestors lived and worked.