Breaking news..AudlemOnline exclusive:
HS2 coming to Audlem
As reported on AudlemOnline (19 March), the government's High Speed Rail (West Midlands to Crewe) hybrid Bill secured Royal Assent on 11 February 2021. The Act – the HS2 Phase 2a: High Speed Rail (West Midlands to Crewe) Act 2021 – lays down the route and grants powers to build and maintain HS2, including compulsory acquisition of land and changes to rights of way.
However, AudlemOnline can exclusively report that a last-minute change to the bill, apparently unnoticed by the legislators and unreported in the national news media, has moved the HS2 line west from the planned Birmingham Interchange – Stafford – Crewe alignment. Under the new plans, the route will parallel the existing Wolverhampton – Shrewsbury railway line to Telford, where it will diverge and follow the course of the former Wellington – Market Drayton – Nantwich line to reach Crewe.
Much of the line (closed in 1967) passes over agricultural land and will be relatively easy to reinstate, but the amended Bill acknowledges that a Market Drayton deviation will be necessary, as Morrison's supermarket now occupies the original station site.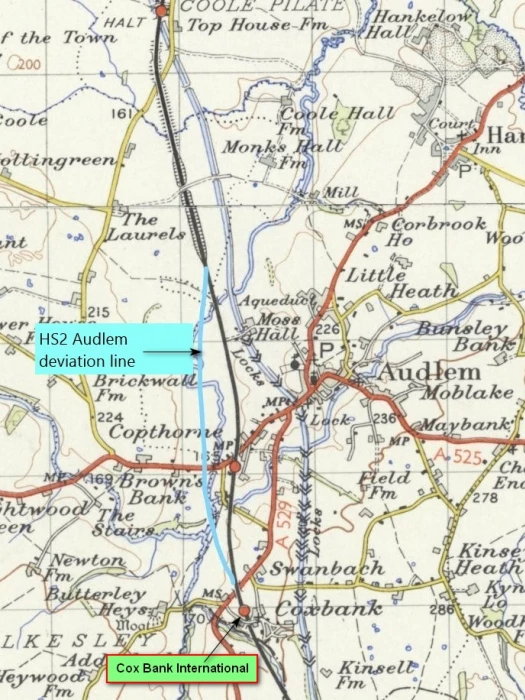 HS2 Audlem deviation and Cox Bank International Ordnance Survey, One-inch to the mile maps of Great Britain – Seventh Series, 1952-1961, reproduced with the permission of the National Library of Scotland
Passing through Audlem, the line will avoid the former station site, now occupied by the Heywood's Ridge development, by sweeping along the Weaver valley on a viaduct over the Whitchurch Road and above the flood plain.
Possibly the most significant local impact will be at Cox Bank, where the Bill recommends securing provision for a future Park and Ride station on the site of the former halt (closed in 1963). The date for the opening of the station will be determined by growth projections for new housing in the area.
It's understood that a final decision has yet to be made for the station's name, but we can reveal that the preferred choice is Cox Bank International, recognizing that HS2 high speed trains will connect with Eurostar services from St Pancras International, bringing Paris, Brussels and Amsterdam effortlessly to our doorstep.
As it happens, Cox Bank International was a name coined by Derek McKelvey, of Williams of Audlem fame, parish councillor and, in retirement, resident of Cox Bank. Did he ever speculate on Cox Bank International and a future high-speed rail link to the continent at a parish council meeting? And has that been picked up by a Whitehall mandarin scrutinising Audlem parish council minutes? Whatever the truth, it's sad that Derek didn't live long enough to see his vision come true.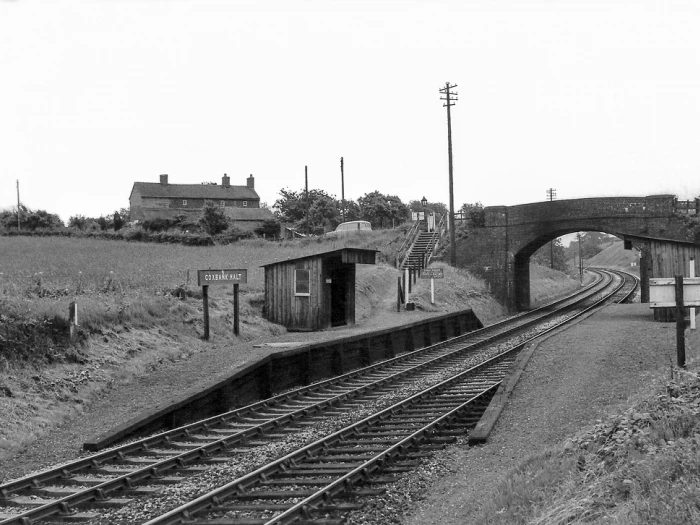 Cox Bank halt c.1960. That's George Hardy's Austin van!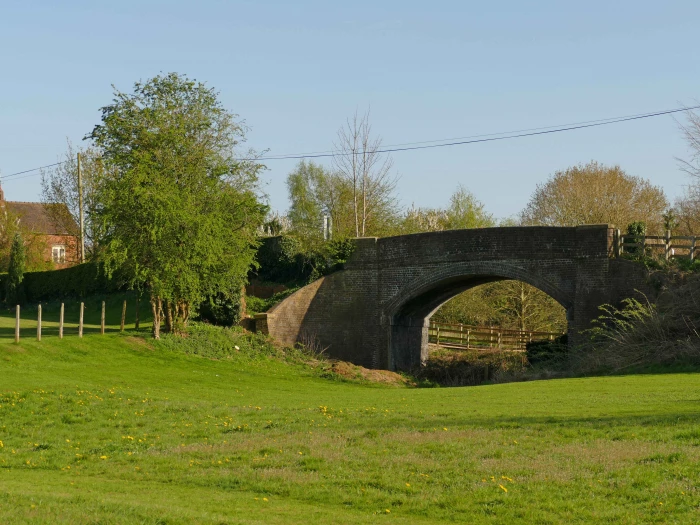 Cox Bank Halt. April 2020(Photo: Jeremy Nicholls)