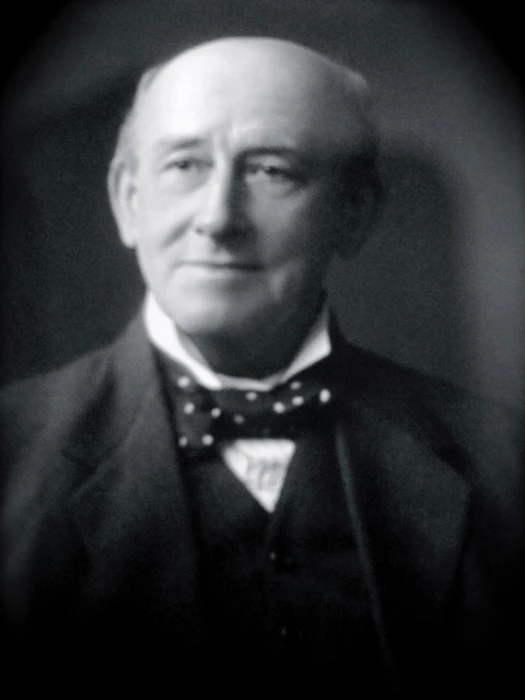 Audlem and District History Society
Selwyn Image (1849-1930)
Selwyn Image was one of a myriad of 'eminent Victorians' who enjoyed an independent income enough to support them and let them get on with a relaxed life of some sort of artistic activity while enjoying a minor level of celebrity status.
He was originally ordained as a priest but gave this up at the age of 33 and settled into a life of letters, art, painting and the general intellectual life of the Bloomsbury 'set'.
He was closely involved with John Ruskin in the beginnings of the Arts & Crafts movement, as well as being a friend of Oscar Wilde, enough (according to family legend) to pay a visit to Wilde when the latter was banged up in Reading jail.
He co-edited several periodicals devoted to poetry and became a successful designer of stained glass windows.
He went on to become Head of the Slade School of Art in London from 1910 to 1916.
Act 1 – Bloomsbury, 1901
Selwyn Image had, apparently, never shown any particular interest in women, so it was perhaps a surprise when in April 1901 he married Janet Hanwell – at this stage he was 52 and she was 29 and described her profession in the marriage certificate as 'dancer'.
Janet Hanwell happened to be my father's aunt. Although the marriage at St Giles church is properly recorded, it is not referred to in any of the 'official' biographical records about him. They never had children but apparently remained living together in the Hampstead/Islington area until his death in 1930.
Act 2 – Kew Gardens, 1948
It is 1948, the war is over, we have lived through the horrendous winter of 1947 (my earliest personal memory) and after various alarums and excursions our family settle in Barnet in north London where I am expected to start junior school the following year.
Suddenly the family is uprooted, and we all go to live in a late Victorian multi-storeyed town terrace house literally a few yards from the main entrance to Kew Gardens. The house's only occupant is a somewhat irascible old lady, my great aunt Janet. The house is big, gloomy, damp in places and generally daunting for small children. For a couple of years, Kew Gardens becomes the playground for me and my sister, until great aunt Janet dies in 1951.
In retrospect, I realise that my parents, who by then must have been almost the only living relatives, took on the task of caring for great aunt Janet in her last years. She clearly did 'the right thing' by them and although there were no fortunes involved, we soon moved back to north London, after her death, to a pleasant, large semi in Muswell Hill (much to my mother's relief, I imagine) where I grew up.
Act 3 – Mortehoe, 2010
And now it is 2010, great aunt Janet and, indeed, my parents have long since passed away. Our eldest daughter and her three children are on holiday with us in Mortehoe in north west Devon. I chance into St Mary's church to look round and there over the chancel arch is a most unusual decoration. When I look into the church guidebook, I find that this was designed and executed (along with several of the stained glass windows) by Selwyn Image, no less.
Quite excited by this find, I look round for somebody who is involved with the church, to whom I can impart the dramatic news that the great-nephew of the man who designed their chancel arch has turned up. But my expectations of a warm welcome and at least the freedom of the borough of Mortehoe are quickly dashed – judging by the general lack of enthusiasm, perhaps they don't like my great uncle's masterpiece after all!
The 13th century grade 1 listed church of St Mary, Mortehoe.
(Photo: Richard Croft / St.Mary's church, Mortehoe, Devon / CC BY-SA 2.0)
More photographs of the church and Selwyn Image's stained glass can be seen here.