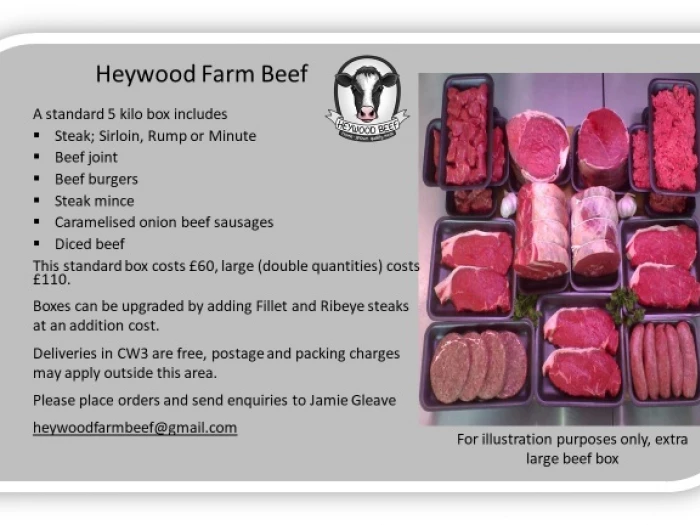 Ed – This is an amended article after changes just received
We are offering the Heywood Farm beef box business with doorstep deliveries in refrigerated packaging in light of the continued isolation situation.
Deliveries are scheduled for the 8th and 15th May for anyone who would like to enjoy some real home grown beef.
A standard 5 kilo box comes with
Steak – sirloin, rump or minute,
Beef joint,
Beef burgers,
Steak mince,
Caramelised Onion Beef sausages
Diced beef
This standard box costs £60.
The picture (click on the picture to enlarge it) is an illustration of the large 10 kilo beef box. The large size is simply double the standard quantity but comes at a discounted price of £110.
All our animals are born and reared on our family farm where 98% of their food and forage are grown, promoting minimal carbon footprint and farm to fork traceability.
All boxes are delivered in insulated recyclable packaging which can even be reused if customers would like to collect from the farm in the future.
Orders being taken for May 8th and 15th deliveries.
Email orders can be placed at heywoodfarmbeef@gmail.com or telephone 07495756160. We are currently updating the website so this is presently unavailable.
Disclaimer. Individual weights are approximate. Minimum net weight 5 kilos
Other boxes are available, please email your requirements.
Jamie Gleave
Heywood Farm Beef