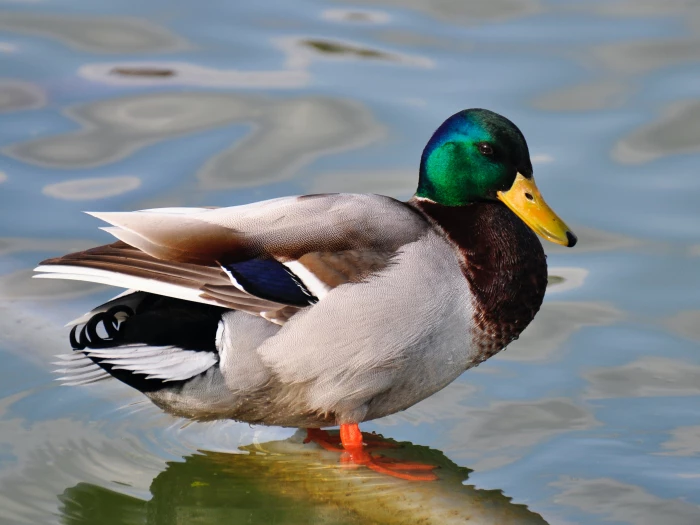 Once upon a time there was a lovely little duckling, brother to two girl ducks and two boy ducks – a very happy family, with a lowly mother and a handsome father. They all lived on a river in the countryside, but there was something wrong with the little duckling! No one would play with him, and his brothers and sisters didn't seem to like him) His mammy and daddy just smiled and told him not to worry.
But as he grew up, he began to think it was about time he left his family and went away. He needed to know what he could find further along the thief. He said his goodbyes to them all. He felt sad at leaving, but he was excited too.
He met a good few ducks along the way, but none of them seemed friendly, they paddled away as soon as he went near. He said to himself he'd get along without them! He paddled along for a while, then gliding slowly.
After a week of having no one to speak to, he spied, just a few meters away, what looked like a bundle of grass, floating on the river! He said to himself I'll go and see what that is. He glided over to see exactly, after all, he had nothing to do that afternoon. A mystery indeed!
He was very glad he decided to have a look because It wasn't a bundle of grass – it was another duck, a grass green duck! When the little green duck saw him looking – she, for it was a girl duck! – gave him a little smile. A sad smile, because she looked quite miserable.
"Hello" he said, not knowing what else to say. Then to his amazement and delight, she began to cheer up. She gave him a happy smile, a real 'happy duck' smile. "How good it is to speak to someone she said, "I know I'm a funny colour, but I'm still a duck". "You ore a very pretty duck, whatever colour you ore he replied. She began to fluff up her feathers, she was so pleased.
"May I swim alongside your he asked her. "Oh yes, what is your name she said with another happy smile.
"I don't know, I didn't think ducks had names* he replied. He looked a bit worried at this question – 'maybe they don't, but that doesn't stop us having names, let us both think o while" she said.
lust a minute or two later he said "I'll call you Greenie", "and I will call you Smellie" she replied. He looked a bit upset, as he didn't like that name, so Greenie said "Don't be upset, it suits you because you do smell. Now he knew why his family didn't like him and why other ducks swam away! Somehow he was glad she had told him.
Then he said with a smile, I'm so glad you told me, but why are you still here beside mer "there are two reasons" she said "the first is, (like You – you are a very handsome young duck. The second reason is, I con be with you for ever and ever and I can't smell you very much because my nose Is always blocked! Anyway, why are you here with me, when know i'm a strange looking duck?
'You are o little strange to look at dear Greenie, but I loved you the moment I saw your was his answer.
Smellie cuddled up beside her and they paddled of together. The only 'Greenest' and 'Smelliest' ducks on the river.