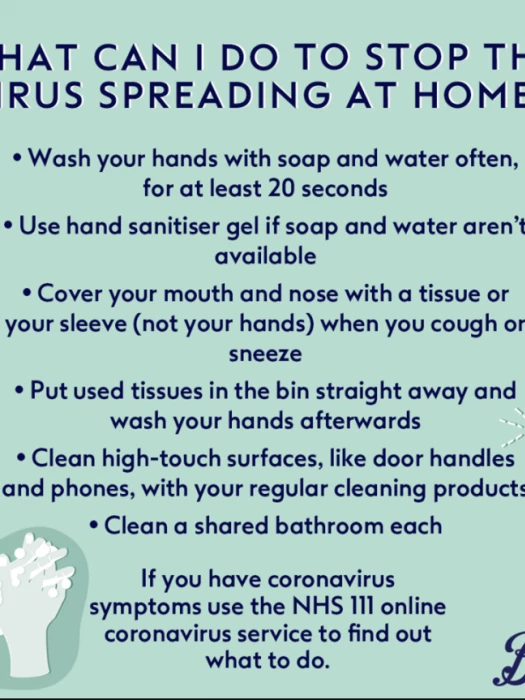 PLEASE CLICK ON THE IMAGE TO SEE THE FULL DETAIL

Hi everyone,
I hope you are all keeping safe and well.
Thank you all for your support while we navigate this ever changing world. At the moment we remain on our temporary opening hours as shown in the Covid 19 section of AOL. I will update you and this page when I am able to increase opening times.
I just wanted to let you know that we are open on Bank holiday Friday, 8th May 2pm-5pm for emergency prescription services & essential shopping.
Catherine's handy hints & tips...
Hand gel/wipes
We clean all touch points regularly throughout the day & we have popped some hand gel and anti-bac wipes for your use in the basket stand near the entrance & hand gel is available on the counter. Please feel free to use them.
A gentle elbow can be used on the automatic door button if required.
Advantage card- Are you missing out on your points?
If you do not have your Advantage card with you we can mark your receipt so the points can be added within 60 days.
If you download the Boots App and add your advantage card, we can scan the screen of your phone through our till protection screens. No need to use your plastic card. Plastic cards are obviously still welcome, we will help you to use them in a contact free way.
Prescription collection- As you know it takes 7 days between ordering your regular repeat prescription at the surgery and collecting your medication from the pharmacy. During this unusual period, for many people, days are merging in to one and its a struggle to keep track of which day it is!
We can send you a text when your prescription is ready. If you allow us to have your mobile number we will ping you a text whenever your medication is ready.
Any NEW or URGENT prescriptions can be completed as soon as we are aware they are needed. Please call the store and we will confirm receipt of prescription & prioritise these items.
If you have a prescription for END OF LIFE medication- Please knock loudly on our door during our closed periods. We will dispense these critical medicines while you wait.
Volunteers- The village is blessed with amazing volunteers, whether its the fabulous team at ADCA or any of the other amazing people who are supporting vulnerable people. You are AMAZING. Thank you.
Please don't be afraid to contact them if you need support. They are lovely and really want to make sure you are kept safe.
On a final note I have had to remove our customer feedback cards to maintain a clutter free(easy to clean!) counter top. If you would like to give the team some feedback to cheer them on please use the website printed on your dispensing bag/till receipt (We can be found under the "Crewe" drop down box) or directly to our head office using boots.customercare_team@boots.co.uk.
I will keep you posted as we travel through this together.
Keep well & I look forward to seeing you all when it is safe to do so.
Kind regards
Catherine Corbett
Store Manager
Boots Audlem 1289
01270 811245