ADHS History Shorts 29
I fought the battle of Hastings twice in one weekend! On 14 October 1996, 930 years after the battle, I was one of those who had made their way to Battle, in East Sussex, to re-enact the battle of Hastings 1066, on the actual field and on the day. Although there were hundreds taking part all dressed as Anglo-Saxons or Norman, there were a lot fewer than on the actual day, but they probably also had fewer spectators! The weather was similar: very misty on the night before, but fine on the day – in fact warm for the time of the year.
The Saturday morning found the two armies amassing, Harold on his horse at the top of the hill and William and his men at the bottom. I stood with King Harold's party dressed authentically as an Anglo-Saxon upper-class female camp follower. Although condensed – the actual battle was nine hours long – it followed closely the events of 1066. Arrows rained down from the Normans and our archers fired back. One of my jobs was to provide drinking water to the troops. Although the arrows used were all blunt, they still hurt if hit, so I had my own shield carrier who held his shield over our heads as I went along the line giving out drinks.

The Anglo-Saxons fought hard and with great fortitude, but they lost. A Norman cavalry charge made it through the Anglo-Saxon lines to the king's party and Harold was grievously wounded in the leg, not shot in the eye with an arrow. William's Normans won the day and the rest is history.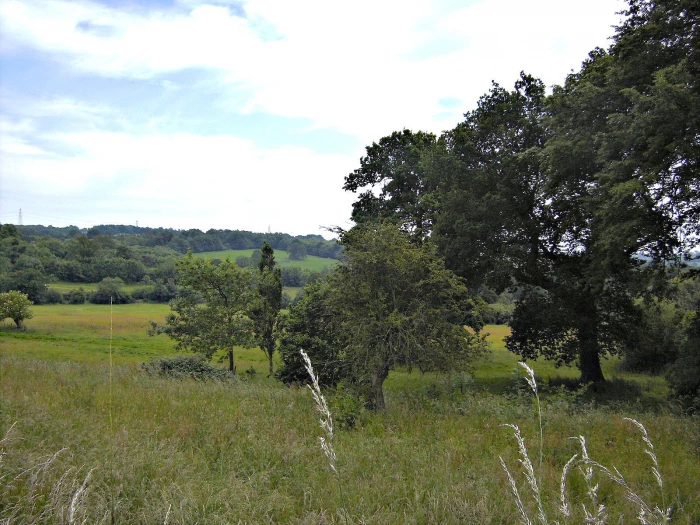 After our battle the 'dead' soldiers arose and went on their way. In the afternoon the encampments were open to the public. My son Alastair was interviewed by Italian radio and my hands were filmed by Disney Time Saturday Show, spinning on a drop spindle and stirring a pot of wool being naturally dyed. In 1066 the evening saw the mist come down again and groups of troops and their followers would have sat round small fires, eating, drinking and sharing stories of the day. The only difference in 1996, there were no dead soldiers and the Anglo-Saxons weren't trying to hide. It did feel like you were part of 1066 and not 1996.
.
.
On the Sunday we did it all again!
Ed – presumably the result was the same! Perhaps one day Harold will win and alter the whole course of English History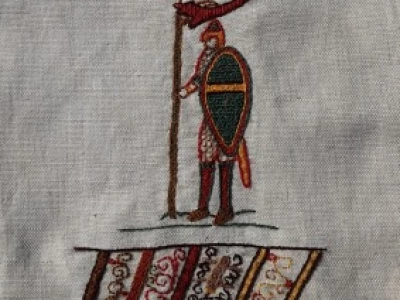 This small embroidery I stitched on an Elizabethan lady's pocket, depicts part of the Bayeux tapestry, which told the story of the Battle of Hastings in stitched pictures.