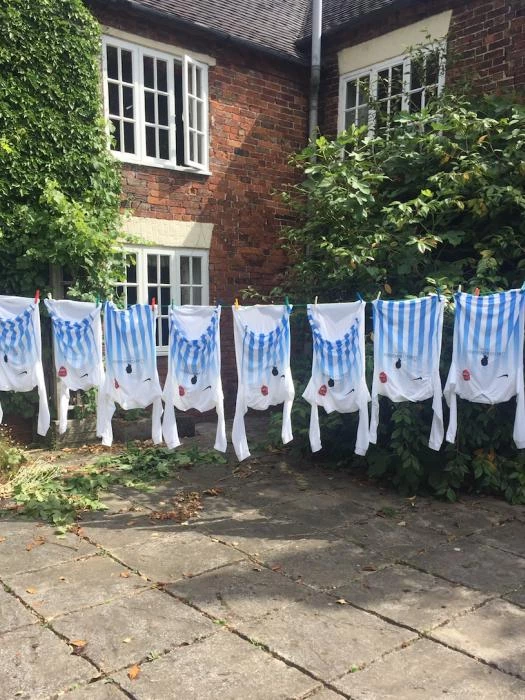 Here we are for the very first game of this new decade. A decade that will be so different from all the last five such times of our history. Yesterday I drove into the village to buy croissants etc for my guest and it was like driving on a film set where all inhabitants had mysteriously disappeared. Empty roads . As if the country was holding its breath and bracing itself for what this January will bring to us .
But. – To my game.
The morning is calm and at present dry as I prep for the match.
We play a new team this season, named Princes Feathers F C . A team that on paper we should beat .
Good turn out of players for us and for Kev Mort our manager who is now running the club on his own , with my assistance .
Referee is Jack Hubbard. A young man newly appointed . First time he has officiated at a game for us.
Kick off
11.00 and as per usual fast pace as teams get their dander up. Bright slanting sun and a light cool breeze . Our magnificent bells ringing out in the calm air. The fantastic ADAS team busy clearing away all the Christmas trees and lights of the festive season . Such a lovely atmosphere in the village .
First free kick goes to us . No gain.
Great run by Will Cork gives me some heart . But no score .
1107
Fine chance for Mark Parker but his shot is smothered by their goalie .
First corner to PF and followed by another -- no gain .
Ball falls well for Andrew Betteley but again the goalie gathers in the ball.
1115.
Super ball by Danny Mahoney to Ross Henderson who feeds Mark Parker and he nets with a fabulous volley!
1-0
PF have a shot but balloon it well over the bar.
Use of the "F" word being used a lot by PF .
The sun now hiding behind the clouds and the air that much cooler .
Vast majority of play is in our half !
1130
Busy scramble in our goal mouth -- and again we allow the opponents to score . Seem to do this quite a lot
1-1
1135
Shot by PF just wide. Pressure a lot on us.
PF still camped in our half of the play .
Then
1139
Great feed by Paul Ashley to on running Will Cork and he puts it away
2-1
Super timing , just before half time
Second Half
.
Subs played as Sam Mason and Will Cork come off -- going to see Crewe in their cup tie versus Barnsley. On come Lewis Williams and Trevor McDowell .
This half and we are bossing the play . No more is PF camped in our half .
1200
First corner to us. No gain
Marvellous fly over by a Spitfire as its Merlin engine roars overhead .
Kev Berisford on replacing Mark Parker .
Lewis Williams down as an elbow bloods his nose .
Water magically restores him.
1212
Paul Ashley off . He is the daddy of the team at 44.
Tom Smart on .
We win our second corner. No gain .
Andrew Betteley off and replaced by Ben Walker.
1225
Fabulous feed by Seb Burrows met by Kev Beresford who scores !
3-1 .
We then win two corners on the bounce but no gain .
Game over.
A win for us and a round of beers from me. Man of the match awarded to Danny "ever running " Mahoney
Off we troop to the Bridge Inn for Adam's welcome grub . Have to abandon my Volvo as cannot fire it up.
Next game for us away against Princes Feathers again -- from a rearranged fixture . They play way up in Winsford .
Ralph Warburton