This is an authentic account of the beginning of a line of post war English Setters (ES) in Western Germany and more recently, in England.
To discover the link of this story to Audlem, you will have to read to the end!!
Part I – WW2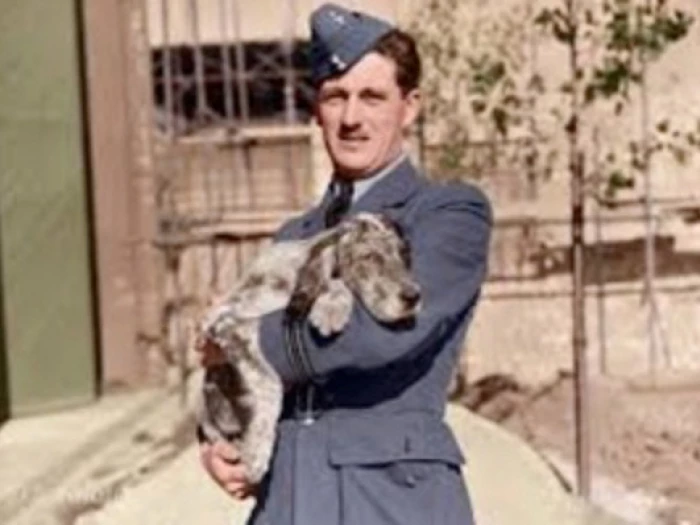 Dogs as mascots are fairly well known as featuring in many RAF squadrons during WW2. Probably the most famous one was N..... (the dog we dare not name for PC reasons – Ed) – the black Lab of Guy Gibson of the 617 Dam Busters squadron.
Here's another one – an English Setter called 'Hero' photographed with Acting Flight Lieutenant Jerrard Jefferies in 1940.
It seems that English Setters were a favourite mascot!
.
An English Setter over Berlin
(The next section is reproduced from the English Setter Association (ESA) Year Book dated 1959-60. Written by Frau Margaret Klemp, a German ESA member, and translated by W.A.Jackson (ESA) in 1959)
In 1944 towards the end of the war, Berlin was under attack by a large British bomber force. Sitting on the cockpit floor near the captain of one the bombers was a small ES bitch who was, in all probability, the squadron mascot.
The plane suffered a direct hit from enemy flak and as the remainder of the crew leapt from the blazing inferno, the Captain, on the spur of the moment, scooped the little bitch up in his arms and leapt out into the night.
Together they parachuted unharmed down to Berlin but there, unfortunately, their journey together ended. The officer was captured and sent to a POW camp and the tiny bitch was taken by a soldier to the "Asyl des Tierschutzvereins" of Berlin – (an organisation similar to our RSPCA).
Her stay amongst the homeless dogs however was short lived as a Berlin Setter fancier heard of her fate from the manageress and the 8-9 month old puppy soon found a new loving mistress with whom she lived among the ruins of Berlin until the end of the war.
She was then registered in the German Stud Book as:-
English Setter bitch; Name SENTA; Estimated date of birth – Feb 1944; Land of origin – England; Pedigree – unknown.
At the end of 1946, an English Setter stud dog from Denmark was located in Berlin and it was then that Senta became a mother, and later, grandmother to a long line of English Setters in Northern Germany. Frau Margaret Klemp was also the owner of the granddaughter of Senta.
Her type and appearance were such that she could possibly have come from one of the English Field Trial lines, and her offspring tend to confirm this point of view – being lightly flecked, with little feathering on legs and tail and all of them showing great talent in the field.
Part II – now
(The current editor of the ESA newsletter, Jane Tucker, now takes up the story.)
On Christmas Day 2019, Jane received an email from Andrea Strobl, an ESA member living in Austria. Andrea created and runs the "Willie Walker Database" which has extensive lists of pedigrees of English Setters going back to the early 1900s throughout Europe. Andrea had worked out that the Senta in the original article was almost certainly Senta v. d. Markhofhöhe, who is registered without parents and was mated to Ib av Vorbasse (DSKHSB 84612), an ES stud dog from Denmark. It was a granddaughter of this Senta, Janka v.d. Markhofshöhe, who was mated to Ch. Oddo del Brembo.
Jane started to investigate this database further and discovered that the Senta line continued – how exciting she thought!
But the story doesn't finish there!
Two weeks later, Andrea Strobl was in contact again. She had found 5,428 descendants of Janka, Senta's granddaughter. Although in the original Part I article, the writer, Margaret Klemp, mentioned that she thought Senta was from working setter lines, she is actually behind both Working and Show Champions throughout Europe and in many of the historic and current European lines which would be recognised in the UK.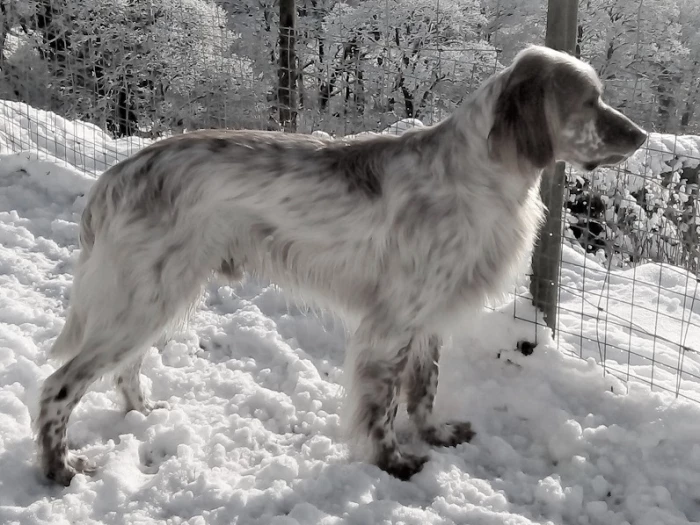 Albert
There are several English Setters in the UK which have been imported and Jane was able to check back through their breeding to see if there was a link. She was delighted to find that Albert of Laverstoke, the dog of a good friend in Co. Durham that had come from a well known German breeder and trainer of English Setters, English Birdland's, was related to Senta – not just on one side, but on both sides of his pedigree!
Albert
So, a full circle – Senta, the puppy who had such a traumatic introduction to Germany, is actually behind a strong ES line which has now ended up back in the UK nearly 80 years later.
So, what links Senta to Audlem??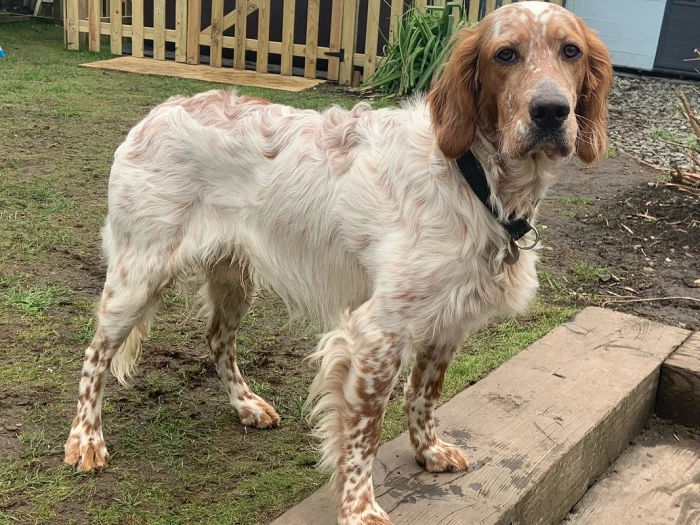 Hemmi
Just over a year ago, Albert sired 6 puppies (4 boys & 2 girls ) with a working ES bitch owned by local gun-dog trainer/breeder – Blaydonbrooke Gundogs at Wrinehill. Just before last Christmas Chris & I acquired one of the pups, Hemmi, when he was 10mths old. Originally he was supposed to have been exported back to new owners in Germany, but Covid got in the way and so he stayed in England at Wrinehill, with his mother and sister. So, Hemmi too is a direct descendant of this WW2 mascot.
Hemmi
.
.
The detective work continues:-
Where did Senta come from and who was her pilot owner who ended up in a prisoner of war camp at the end of the war?
Covid Lockdown has stopped Jane being able to contact the various bodies that may be able to help but soon she should be able to access the records and hopefully complete the mystery.
Watch this space!!
Steve & Chris Elliott