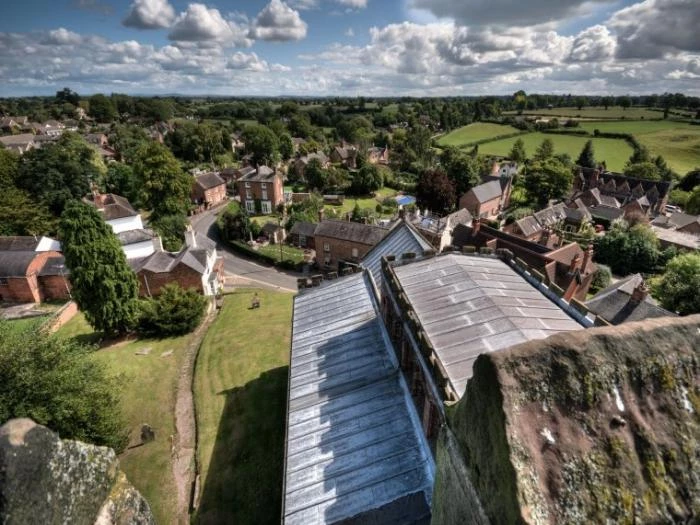 Janet Maughan writes: AudlemOnline readers and Audlem History Society might be interested in this recount of life as a dairy farm pupil.
It was written by David Ackerley. He visited Monks Hall a couple of weekends ago and was a year out student there in 1951!
It is a lengthy article but fascinating insight to dairy farming over sixty years ago and AudlemOnline will publishing sections of his story over the next few days.
A Year in the Life of a Dairy Farm Pupil
Related to Angus and Janet Maughan, Monk's Hall Farm, Hankelow, Near Audlem
I left school in July 1951 at the age of 17 with a view to earning my living as a farmer. As I came from an urban background, I needed to have two years on a farm before I could commence studying for the National Diploma in Agriculture at Harper Adams Agricultural College as it was known then, or taking a 3 year degree course at Reading University; wisely, I chose Harper.
As things turned out I only spent 1 year at Monk's Hall as Harper needed to bring numbers up to scratch after a big clear out of underperforming 1st year students. This had fortunate repercussions for me when I went to do my National Service after college. If I had done 2 years at Monk's Hall or chosen to go to Reading, I would been with my regiment in Malaya with the unpleasant job of fighting Chinese communists!
I spent hours surfing the Farmer's Weekly for suitable farms offering to take pupils on, most of the ones I selected being vetoed by my parents for a variety of reasons. Eventually I dropped on a vacancy at Monk's Hall and an interview was arranged.
We were invited for lunch on a Sunday and things got off to an inauspicious start when the farmer, George Goodwin, offered Dad a glass of Lucozade as "We don't keep alcohol in the house". This vastly amused Mother, though she hid it at the time, as she knew that Dad liked a pint of beer a day.
George had just bought a new car, a Wolseley 6/80 I think, and he was inordinately proud of it. We had to be shown round that after lunch before anything further was discussed, but eventually agreement was reached and I started work towards the end of August 1951.
Terms were my keep and £1 per week to start with and the possibility of a rise was held out. I eventually reached the dizzy heights of £2 10/- a week, had a bank account at the Midland Bank in Market Drayton and bought myself my first suit of evening dress clothes. Holidays were not mentioned and the only time Peter and I had off was four days at Christmas.

George was a widower and had a live-in housekeeper called Miss Hetty Walmsley and she was a tartar! She would have nothing to do with our laundry, so we took it to a Mrs Hodgkinson every Sunday morning who charged us about 1/6d the equivalent of about 8 pence now!
She was a lovely lady and lived in one of the cottages on the main road just before you turn down the drive to the farm. I should explain that in addition to George the permanent labour force was George's son Dick who was about 19, and two pupils, at the time me and a lad of similar age called Peter Lloyd. Hours of work were from 0530 hrs to about 1800 hrs Monday to Saturday, with Wednesday declared as a half day.
This turned out to be a compulsory visit to Market Drayton auction squeezed in between milkings. Breakfast was eggs and fatty bacon with very little lean being discernible in it, from our own solitary pig; more about this later, with as much toast, butter and marmalade as you could eat.
You were allowed as long as you needed to eat the food at breakfast, but once you had finished it was straight outside to work. We were supposed to have an hour for lunch, but it often stretched out to an extra 20 minutes if George did not wake up from his snooze in time, whilst we had our post lunch rest in the last room on the right by the front door.
On Sundays we just did the minimum amount of work, milking and feeding the stock. One Sunday in the winter when we finished afternoon milking too early in the opinion of Hettie, she told us to get back out and do some more work!
Peter and I shared a bedroom at the back of the house in the part that has been pulled down and we spent the evenings, when not out at dances etc, in the kitchen. George felt the cold and assumed that everyone else did, so in the winter evenings he banked up an enormous fire in the kitchen, the heat from which drove us as far back as the room would allow. Despite Hettie's sharp tongue we were well looked after and had no complaints about our treatment by her and George.
Though a kind employer, it has to be said that George was by no means an up to date farmer, rather the opposite in fact. The farm was mostly powered, if that's the right word, by two, possibly three horses; two mares, called Bonny and Flower and a gelding called Captain whose name is written on the wall of the calf shed.
I'm uncertain about Captain as I don't recall anything about him but there were three horses working at corn harvest time, so he may have been the third one. George's organisation at harvest worked very efficiently with three carts employed.
The Mill men loaded the carts in the field, Dick took the full/empty carts back to/from the barn and helped out with the loading if necessary. I pitched the sheaves to Peter on the stack, and he passed them to George who did the skilled work of stacking. The whole thing worked very smoothly with no gaps or stops for lack of sheaves to pitch, just like a production line.
With the exception of a Friesian bull I once had in 1967, Bonny was the most vicious animal I have come across, whose idea of fun was to bite you as often and as hard as possible, hence we were not allowed to harness her or use her until she had been muzzled. It's a damn good job she didn't kick as well!
On one Sunday Dick was backing Bonny into the shafts of a cart and had neglected to put the muzzle on. A lot of horses don't like being backed in my experience and Bonny suddenly lunged at Dick, grabbed his overalls, picked him up and shook him like a dog. Peter and I thought it was a hoot, but it scared Dick quite badly and we were sworn to secrecy, as if George had found out he would have been livid; he didn't often get cross, but when he did you knew about it.
Flower was an older animal, quieter and full of cunning; when in tandem with Bonny, her ability to look as though she was pulling hard when in reality she was doing very little, was remarkable. When turned out in a field she would wait for you to clear off and then try and open the gate, most of which were equipped with vertical spring steel latches. She would push the latch to one side and then push/pull the gate open. As a result of this all gates to the fields the horses were put in had cow chains fitted to deny her her freedom!
The shed where the names of Bonny and Captain are written on the wall may have been stables at one time, but not in my time there; it was used to house weaned calves in the winter, at the end of which the muck was about four feet deep. Both mares were Shire crosses and as I was accustomed to work with horses by virtue of helping out at a Riding School and on a local farm at home, George was a bit surprised when he found out that I knew how to harness the horses up, groom them and pick their feet out.
The only tractors that came on the farm were probably from Bonell's of Audlem to do the ploughing of the 30 or 40 acres that were cropped with cereals and roots, and possibly for hay baling, along with the threshing machine powered by a Field Marshall single cylinder engine.
The site of Bonell's yard on the entrance to Audlem is now a housing estate, but in my day in addition to other farm machinery they had several threshing outfits that were kept busy all winter in a wide area roundabout as combines were still relatively rare.
There was a small paddock down by the river of about 1 acre which George used to grow potatoes for his own use and those of his relations that lived in Audlem; inevitably this was known as the potato field. This and the Sand hole field, your front field, are the only field names I can remember. This small field was ploughed by horse under Dick's guidance and seemed to me to take ages. All the land work-harrowing, sowing, harvesting, muck carting etc was done by the horses.
I can't recall the size of the farm but in addition to the grass, there was George's version of the Norfolk 4 course rotation in which we grew wheat, oats, seeds and roots, with the latter being about 3 acres of mangolds and 7 of kale. Hay was made for the main winter feed, but strangely I can recall nothing whatsoever about making it, though I vaguely recall the weekly winter task of refilling the fodderbyngs in the cowshed with bales; if I'm right it must have been baled by a contractor.
All the cereals were cut by binder and I spent the first day of my working life stooking wheat sheaves in the field where you had your machinery sale; we were working by the light of a lovely moon and didn't stop till 2240 hrs! Not only was I unused to physical work of that sort, but as George didn't seem to have heard of sprays (perhaps they were not available then) there were plenty of large thistles in the sheaves, most of which seemed to be in those that I picked up; I was absolutely knackered and wondered what on earth I had let myself in for.
I eventually got used to the long hours and hard work, but I was soon brought down to earth when cutting the kale began in the late autumn. The crop was about 5 ft tall with stems like little trees and I was shown by George how to cut it and stack it on the cart. Quite rightly George did not like waste, and I was told to cut the stems at ground level. Once cut, the crop was then spread on the field between the farm and the canal at the rear of the buildings for the cows to eat.
I noticed that they did not eat the bottom foot or so of the stem as it was very wooden, so when I was sent off to cut a load on my own I cut the crop higher off the ground than instructed. George soon noticed, and when I explained my reason for this crime I received a lengthy lecture along the lines of "You know nothing lad, so just do as you're told".
The short length of concrete track from your buildings to the western fields was cobblestones like the road by your farm office, and by the time the cows were finally up for the winter it was about 6 inches deep in slurry; we spent several unhappy hours shovelling this liquid into a cart prior to spreading it on the fields. At the time there was a railway at the far side of the field over the canal and I think that was the western boundary of the farm.
There were 80 milking cows, a very large herd for that time, and in the winter they were housed in a large cowshed built in 1924. George claimed that it was the most modern cowshed in the country at the time and the Danish Minister of Agriculture came to see it when he happened to be in the area in 1924.
Although now taken down it was sited by and joined to the dairy which you entered from halfway down the shippon. Its main claim to fame seemed to be the fact that a horse and cart could go down the centre of the building thereby making mucking out a relatively easy business. There were also fodderbyngs in front of the cows from where we conveniently fed them hay and corn.
One of George's very few concessions to modernity was the use of machine milking, but you were not allowed to use the units until you could hand milk to his satisfaction. There were about half a dozen cows, all criminals of some sort, that he designated for this purpose, one of which is forever seared in my memory.
She was nicknamed Rommel, which in my view was a gross insult to the German general. She was the thoroughly evil bovine equivalent of Bonny except that instead of biting she kicked like a maniac and had to be trussed up with two straps before you even sat down to start milking her. Even so, as often as not I ended up with her milk on the floor and a good telling off from George.
After a fortnight I was released from the hell of hand milking as I had reached a passable level of skill; either that or George had given up on me ever becoming proficient, which is much more likely! She also incurred our enmity by invariably being at the far end of the field with a few similar like minded individuals who all refused to come when called, which meant a lot of extra walking when rounding the cows up for milking; I was to discover that every herd has uncooperative characters like that! Another cow that springs to mind was alleged to be a Canadian Holstein and, unsurprisingly, was called Canada. She was a very nervous individual, and stood by the doorway at the exit to the fields. If startled by someone coming into the shed by that doorway she lashed out hard; you soon learned to keep clear of her.
I was unduly fussy about clean milk as we had had members of our family die from TB caught from infected milk. As a result Mother always boiled any milk she got to kill off the TB germs. Using a milking machine for the first time, I assumed that everything was state of the art, but I soon realised that the entire system as operated by George, and most other dairy farmers, was downright dirty.
The udders were not washed unless utterly filthy, and then only sketchily, the milk was poured from the units into open buckets standing in the shippon. These were then emptied into a tank from where the milk flowed over a surface cooler into the churns which had a sieve placed to remove the visible dirt. Having said that, it was almost the same system that I used when I started farming, except that we washed the udders and used lids on the buckets.
Any cows that got mastitis were treated by George with various ancient remedies before he would use anti-biotics, but their milk was never thrown away; it went in with the rest unless George wanted some milk for the baby calves which he was responsible for rearing.
Mastitis was a dirty word with George; it was always referred to as "Thick milk"! I drank as little of the milk as I could. In addition to helping Peter and I with the milking, Dick was responsible for emptying the buckets into the holding tank from where the milk ran over a surface cooler and into the churns, changing them when full and wheeling them outside to the milk stand.
Most of the time all this went on under George's watchful eye and I have never forgotten his refrain when the last cows were milked; "Drain your cans lads, drain your cans". However on Sunday afternoons George usually left us to do things on our own, and on one occasion Dick was going over the details of some dance we had all been to and forgot about the churn filling up in the dairy.
Eventually he remembered and dashed to the dairy to see milk going down the drain; panic stations ensued! The drain was a hole in the bottom of the outside wall of the dairy from where water, and now milk, ran over the concrete to an outside drain. He left us to our own devices whilst he ran water down the drain and frantically brushed the milk away before his Dad discovered his crime.
It wasn't until I went to Harper and began studying animal nutrition that I realised how primitive was the system employed by George to feed his stock. To be fair to him, discussions with fellow students showed that his methods were very representative of the great majority of farmers; Bobby Boutflour had not yet come on the scene!
George's cows got poor quality hay (too mature when cut), one or more scoops of concentrates and that was it once the grass and kale were finished. George either dealt out the concentrates or told us what to do without much rational thought so far as I could tell, as there was no milk recording; just George's assessment of the cows' needs.
The weaned young stock were fed on chaff saved from when threshing, chopped mangolds and oat straw. Some oats were mixed with the chaff. The yearlings, bulling and in calf heifers received similar rations but without the chaff. I can recall this clearly as mixing the oats and chaff was a thoroughly unpleasant business; we were thankful when the chaff ran out.
The in calf and bulling heifers and the bull lived in a building called the Strawyard; this was sited where your silos are now and was very much a home built affair. So far as I can remember, the supports for the tin roof were very like branches of trees that had been felled for the purpose; they certainly weren't straight poles made for the job! The mangolds were clamped alongside this building and barrowed to the hand operated slicer.
More tomorrow of David Ackerley's memories of dairy farming in 1951.
---
This article is from our news archive. As a result pictures or videos originally associated with it may have been removed and some of the content may no longer be accurate or relevant.