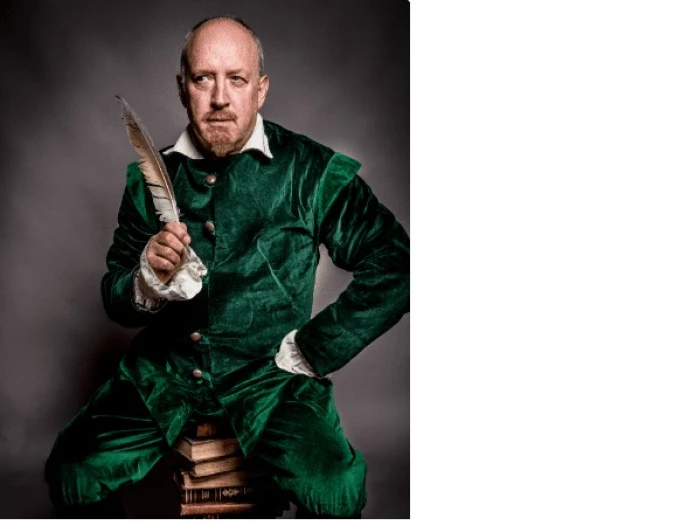 Will Shakespeare in Audlem for one night only!
Audlem Scout & Guide Hall, Crewe, CW3 0AL

Sat 21st October 2023 7:30PM
Touring Arts Visiting Audlem (TAVA) are pleased to announce that William Shakespeare will be visiting Audlem on 21st October with a professional production brought to you with support of Cheshire Rural Touring Arts.
Professor Nother is giving a talk about Shakespeare authorship in the function room at the Shakespeare pub – but he doesn't believe the man from Stratford wrote those plays.


That's Will's cue to kick the door off the hinges and defend his reputation. Come and meet the man himself and take the lid off a legend in your local. He'll tell you all about his family, what it's like on tour and the glory days at the Globe. Queen Elizabeth I, Christopher Marlowe and Ned Alleyn – you'll meet them too. Intermingled with a few of his greatest hits – and maybe a sonnet or a song.


There's no fourth wall here – we're all in this together!


Ladies and gentlemen raise your glasses – Your Bard!
Written and performed by Nicholas Collett
Additional material by William Shakespeare. Directed by Gavin Robertson
Here's what a few people have had to say:
"A piece of pure theatre magic" Bay Life Magazine
"Beautifully craftedmake sure you catch this very real force in British Theatre" Love Shrewsbury
"Very clever, very funny and superbly performed" Broadway World

Tickets are now on sale

What is TAVA?
Touring Arts Visiting Audlem is a small and friendly group of localresidents hosting professional arts events twice a year at affordable prices – forpeople of all ages. TAVA has had nearly 20 years of successfully putting on events inAudlem and has recently appointed a new group of volunteers to continue the great work.
Want to go on TAVA's mailing list?
Contact us on: tava325@gmail.com
We never pass your details on to others.
Supported by Cheshire Rural Touring Arts