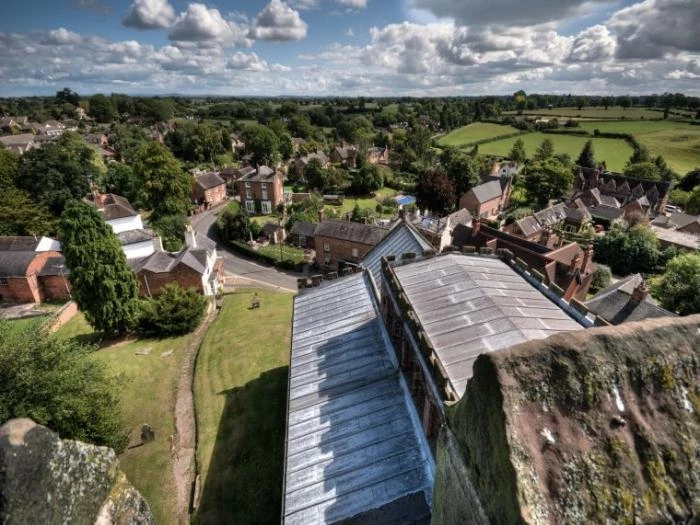 Food, Glorious Food!
Now personally, I'm a person who believes that a balanced diet is chocolate in both hands, preferably large bars, and I fail to understand, if we're not meant to have midnight snacks, why is there a light in the fridge?
However, Audlem W.I. ladies know that the best part of life is not just surviving, but thriving with passion, compassion, humour, generosity and kindness. We know that we have not lived today until we have done something for someone who can never repay us.
At our February meeting we challenged our members with the onerous task of bringing along food to donate to the Nantwich food bank and it was amazing to see just what they produced.............staggering in with boxes and bags full to the brim with an amazing array of goods, which will enable people who are struggling to feed themselves and their families to gain some respite from their day to day pressures.
At the end of the meeting, as we hyperventilated under the weight of the foodstuffs which filled Jean Cook's car to the brim, we reflected on the fact that the most truly generous people are those who give silently without expectations of praise or rewards. All we can say is a heartfelt Thank You.
March was a ' Member's Meeting ', and for those uninitiated new members, myself included, this means that anarchy reigns and anything could happen!
Now if you are not emotionally prepared for the unruly disorder that could ensue, fear not. In the extremely capable hands of Moira Stanistreet, (who's husband informs her has a foghorn voice,) together with her side kick Sheila Harris; we were kept under tight control.
When the announcement of an invitation to a Royal Garden Party at the Palace was read out, our members appeared to drift into Hyacinth Bouquet mode, imagining the finery they may well have to purchase along with 'the hat!'
Personally I shall not be putting my name forward as, having checked the Royal Forum website, there will be no alcohol served and I would have to balance my tea cup on a special tray along with my sandwiches, something I'm not very good at at the best of times and I wouldn't like to be letting the side down in public!
Remember ladies, your dresses should be tight enough to show you're a woman, but loose enough to show you are a lady.
To bring us all back down to earth, but onto equally important events, Moira congratulated our quiz team, composed of Christine Plume, Anne Watson, Pat Smith and Ann Hollins, who won their first heat of the Cheshire Federation quiz contest! They now have the onerous challenge of representing Audlem in the final on Friday April 10th.
Anne Watson and Pat Smith were also instrumental in arranging the flowers for the Cheshire Federation of W.I's Annual Council Meeting, a great and well-deserved honour. Once again our ladies are putting Audlem on the map!
As International Women's Day approaches, it seemed rather fitting that our speakers were four inspirational ladies who have been empowered by life experiences.
Daphne Mounteney spoke about the years she and her family lived in New South Wales on a Bush Farm. During the whole of her time living there, she never reached the boundaries of their farm, which was composed of 350 acres freehold and a further 2,500 acres of bush! She told us how the kangaroos would eat her roses and how they endured the constant noise of cicadas, and cockatoos, life was anything but peaceful!
The Aussies loved the Brits – Poms (Prisoners of his Majesty) – and even managed to raise a smile when Jonny Wilkinson kicked the famous winning 3 points in the rugby World Cup final.
Christine Plume was the next lady to speak about her time as a young girl spent in Singapore, a time she remembers quite fondly.
In 1952 Singapore was still a relic of the British Empire and there was no air conditioning then. When her family arrived in Singapore, huge cockroaches inhabited their ground floor flat, and every time they opened a cupboard or drawer, they would rush out. The first task was always to kill them, before putting anything away.
Christine remembers how the local Chinese would swing their scythes around their heads whilst cutting the grass, although she was amazed that they didn't decapitate themselves, and the snakes would all slither away.
School was in the morning and the children would spend the rest of the day swimming or visiting the Botanical Gardens where they could feed the monkeys. What a blissful childhood.
Ann Hollins followed with stories about her time spent in the Cherbourg Peninsula of France.
Ann and her husband rented a house in this area for several months, and when they left her husband asked the owner if he would let him know if he ever wanted to sell the property and the rest is history!
The French in this area loved the Brits and the local Mayor ruled, giving instruction as to what times you were allowed to use noisy equipment and publicising rubbish dumping to shame people into taking their litter home.
Finally Anne Watson spoke about her life when she lived in her aunt's house on a tiny island, no more than 21 miles long and 12 miles wide, which was part of St Vincent and the Grenadines.
Located in the Caribbean Sea, it is composed of partially submerged volcanic mountains creating a lush and fertile area. The roads were merely tracks, there was no lighting on the small runways so you could only island hop during the day, but the plant life was abundant with prolific orchids growing on trees and unusual flowers.
Anne told us how she visited Mustique, hearing some interesting stories about Princess Margaret, which sadly she refused to enlighten us on, and how the lifestyle appeared to be 50 years behind the times!
It never fails to amaze me how so many of our members have led such interesting and varied lives, the icing on the cake being that they finally came to rest in Audlem!
After a welcome and delicious spread of tea and cakes, the raffle was drawn, birthday flowers were handed out and the winner of the 'Design an Easter Egg ' competition was decided upon. Once again Anne Watson pipped me to the post into second place and Anne Poole came third. It's a good job I don't bear grudges!
See you all next month on Thursday 2nd April at the evening time of 7.30 p.m.
---
This article is from our news archive. As a result pictures or videos originally associated with it may have been removed and some of the content may no longer be accurate or relevant.