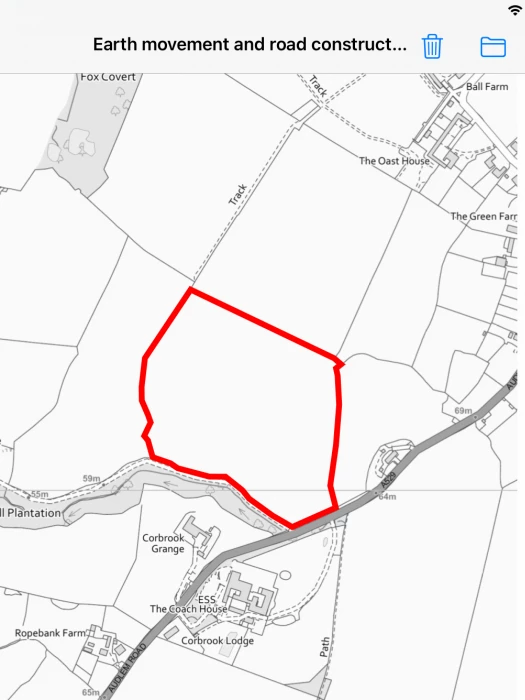 editor's note:- people will have experienced the state of the road (A529) by Corbrook Court. The following 2 contributions have appeared in full or in part on Chatbox. Please note that there will be an Extraordinary MEETING OF HANKELOW PARISH COUNCIL scheduled for 1st February 2022 at 7pm in the Hankelow Chapel school room to discuss.
From Lesley Ross
I wonder if the monumental movement of earth and dumping of "stone" in this agricultural field in Open Countryside might be brought to the awareness of residents in Audlem and Hankelow please?
They might want to walk on the footpath at the edge of the field and see for themselves what is happening.
If they have a concern they should contact:
ENVIRONMENT AGENCY
Environmental Agency-Gov.UK quoting the Easting 366831 Northing 345525.
The agency only take action when a number of concerns are registered.
CHESHIRE EAST PLANNING DEPT.
The absent landowner registered a planning application last Thursday with Cheshire East, 22/0111N. The evidence of what is happening and the proposed development are at odds. This work is all happening in the Open Countryside in an agricultural setting.
Take a look at the planning application and complete the form to voice your opinion?
Additionally/ Alternatively contact one of the officers directly at the Cheshire East planning department.
EXTRAORDINARY MEETING OF HANKELOW PARISH COUNCIL is now scheduled for 1st February 2022 at 7pm in the Hankelow Chapel school room to discuss the planning application and the reality of what is happening.
This meeting is to inform and for voices to be heard. All are welcome.
To defend this wholesale destruction of our local area it is important that each of us feels enabled to share an opinion and to feel that we are not alone.


From Jeff Price (posted on ChatBox)
Thanks Lesley for your informative post. I have to say, like many others, with the amount of work on that field and the amount of mud left on the road, I had assumed that whatever development was going on had already received planning permission. This is evidently not the case and planning permission has not been given. The fact that the plans indicate that a new road from the farm will exit on to the A529 at the bottom of the field is perhaps an issue worth considering in relation to safety and speed limits. The other interesting aspect of the plans for me was that the landowner states in the plans that the footpath which begins at the bottom of the field is 'unacceptable'. We have seen recently how difficult it is to restore a footpath blocked by a landowner and surely it is up to the community and its representatives to decide over the acceptability of a public footpath and right of way not a single individual.