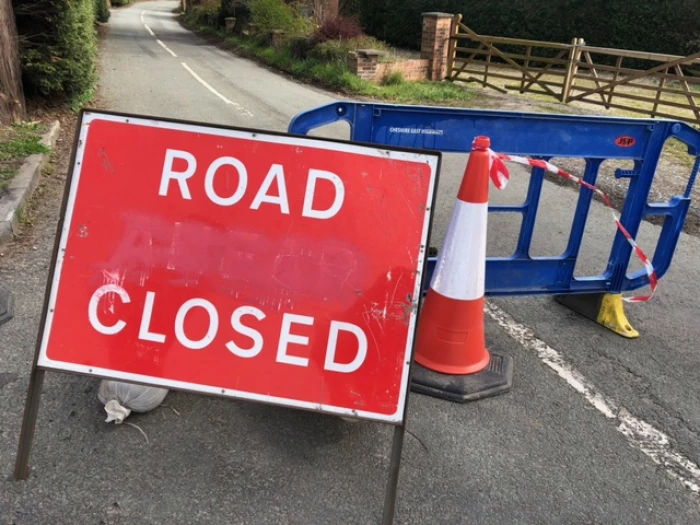 Local Road Closures
Please see below an immediate road closure which may affect Audlem Residents.
Regards
Rachel
From: Cheshire East Highways <noreply@one.network>
Sent: 27 April 2021 11:52
Subject: Immediate Road Closure: Coole Lane/French Lane, Baddington
CHESHIRE EAST BOROUGH COUNCIL
NOTICE OF TEMPORARY ROAD CLOSURE
S14 (2) ROAD TRAFFIC REGULATION ACT 1984
NOTICE IS HEREBY GIVEN that the Cheshire East Borough Council in exercise of its powers under Section 14 (2) of the Road Traffic Regulation Act 1984 and of all other enabling powers issues this notice temporarily to prohibit traffic in the following length of road:-
Coole Lane, Audlem Ward, Nantwich, CW5 8 from outside Oak Tree Cottage to outside Coole Lane Cottage.
French Lane, Baddington from outside Hack Green Cottages to the junction with Coole Lane
The alternative route will be via the following streets: – Coole Lane, Whitchurch Road, Baddington Lane
Location Map – https://one.network/?tm=122017711
Pedestrian access to any premises situated within the temporary closure will be maintained at all times. Vehicular access will be maintained for emergency vehicles and residents where possible.
The closure is necessary to enable BT to renew cable to restore customer service.
It is anticipated that the works will take place on the following date(s): Tuesday 27th April 2021.
This notice will become operative on Tuesday 27th April 2021 for a period of 21 days or for such less time as is necessary to enable the works to be completed, and may be extended by a further 21 days if necessary.
If you have any enquiries relating to the works please contact Sunbelt Rentals on telephone number 0370 050 0792.
Notice Date: 27th April 2021
Acting Director of Legal Services and Monitoring Officer
Westfields
Middlewich Road
Sandbach