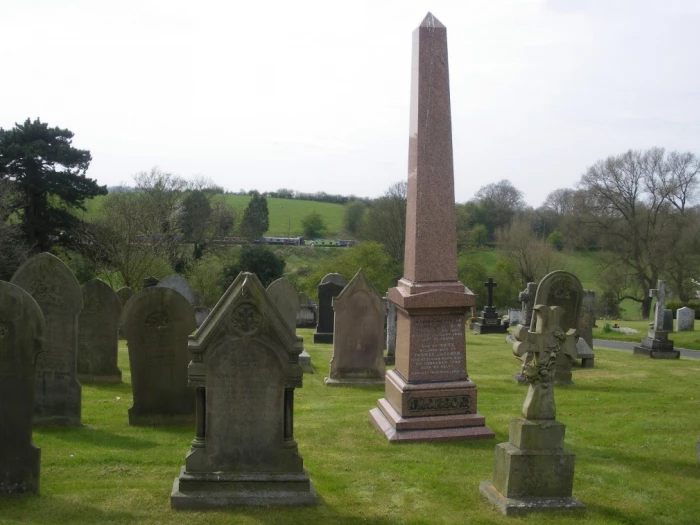 This is Number 15 in the series of "History Shorts" contributed by members of the Audlem and District History Society
Thomas Jackson (1809 – 1885)
This impressive obelisk in Audlem cemetery marks the graves of Thomas Jackson and his wife Mary. Thomas came from King's Norton, Worcestershire and Mary from Adderley. In Audlem they owned property in Wood Orchard Lane and Bagley Lane and, for a time, lived at Laurel Grove.
When work on the Nantwich to Tyrley section of the Birmingham & Liverpool Junction Canal began, Thomas borrowed £5.00 from a lady and bought, for 2s 6d (12.5p), a spade to enable him to work on the cut. John Wilson was awarded the contract to build the section and Thomas, a navigational engineer (navvy), was contracted to build a part near Audlem. He underestimated the cost and his contract failed but he went on to borrow £1000 from the landlord of the Bridge Inn, eventually becoming highly successful. In due course he erected a stone and placed railings around the grave of the lady who provided the original loan.
He moved to Aston, Birmingham where he ran a house with servants and worked as a railway engineer. He undertook other canal work including refurbishment of the Caledonian Canal and engineering projects including the construction of a breakwater on Alderney and a fresh water supply for Harrogate.
In 1884 he made a generous donation towards the restoration of St James's Church, Audlem. A plaque in the church recalls two of his children, Alfred and Richard, who died young. By 1871 Thomas was living at Eltham Park, London but, when he died, he chose to be buried at Audlem, which must have touched his heart.