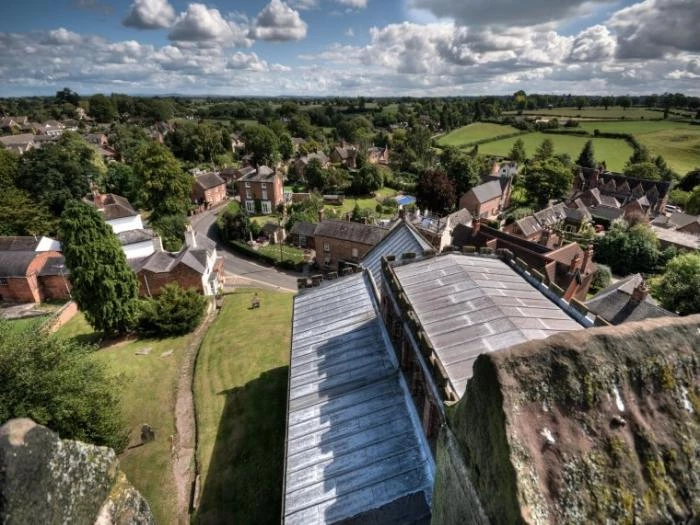 Skoolsfest Delights and Exciting Events and Trips!
We were treated to a wonderful festival of talent and skills on Saturday at the NEP's third Skoolsfest. Children from our school presented some fantastic drama work based on the history and stories of Audlem and we were represented in the joint choir singing which was a super start to the day. Miss Danha's fabulous Dance Group delighted the packed town square with their African Dance work and the sun shone on us all! If you didn't get chance to see these contributions, our school's art work is still on display at the Nantwich Museum (until Wednesday next week) along with work from the other local schools. It makes for an eye-catching display! Many thanks to all of the staff, children and parents who worked so hard and supported this special event.
Children in Sapphire and Pearl classes went on an exciting trip to Manchester Airport Runway Centre on Monday. As part of their Transport topic, the children were involved in a role-play showing them the types of jobs held at the airport. They visited the flight deck of the DC10 and they enjoyed dressing up as flight attendants, pilots, engineers, first officers and more. They also explored the Visitor Park looking at the aircraft taking off and landing. A highlight for the children was a visit to the Concorde Hangar where they learned about this very famous airplane, which they found fascinating. Both classes are looking forward to their 'Transport Festival' at school this afternoon!
Our Year 6 children began their week with two Bikeability sessions. These sessions saw them take to the local roads with their instructors to check their road awareness and safety knowledge. I am pleased to report that they all did tremendously well in these sessions and the instructors that worked with them were very impressed with their skills. Well done!
Children in our Key Stage 2 classes competed in our Key Stage 2 Sports Tournament last Friday, representing their Teams to gain points for an overall winner. Congratulations to Oak team who won this event overall. The EYFS and Key Stage 1 Sports Tournament took place yesterday and the winners were Alder. Well done to all of the teams for your fabulous efforts!
Our Year 6 children have treated their relatives and the staff and children in school to a wonderful Leaver's Assembly this week. They took us on a journey through their memories of their time at school and combined acting, dancing and singing skills to showcase their wonderful enthusiasm and energy. It was a delight to watch their confident performances and it was a real credit to themselves, staff and their families that they had so much to celebrate after all of their hard work this year and throughout their primary years. We will miss them all as they move on to High School next week and I am sure they will be wonderful members of their new school communities. I wish them all lots of luck, happiness and success in all they do.

School Dinner Menu – We will be serving week one menu next week.

We have counted up the final tallies for our Team Points this term and I am pleased to announce that Lime team have managed to win overall for Summer Term. They will be enjoying their team reward on Tuesday afternoon next week. Please look out for a note in school bags if your child is in this team. Well done to them all!
Prayers to Share this week – We give thanks for the array of talents and enthusiasm shown across school in all of our end of year preparations and celebrations.
FASA
As you know, the FASA team have continued to support school in a range of ways this
year and their dedication and great team spirit has resulted in another wonderful series of fundraising events.
We are sending out FASA's Summer Term newsletter today which outlines the fabulous achievements these events have resulted in in terms of resources for children across school. This fantastic record of fundraising is only possible through families continuing to support their events – many thanks to all of you who have contributed cakes, prizes, money, time and energies throughout the year.
ABC Childcare
I am sending out a flier outlining ABC's school holiday activities taking place over the summer break, all of these sessions will be at their Audlem setting and there is a wide range to choose from! I am also sending out an overview of the after school clubs ABC will be offering in September. Please look out for both of these in your child's school bag.
Library and Reading Books
Please make sure all library and reading books are returned from home before Wednesday 15th so that we can ensure we have all resources in school for September. Thank you for your help with this.
Sports kits
Any children who still have school sports or football kits at home please bring them back into school by Monday 21st July so we can check them all in readiness for our new school year.
Leaver's Service
A reminder that our Leaver's Service will be held in Church on Wednesday at 9.30am.
If you are able to help to accompany the children walking to and from Church for the
Service, please contact Miss Cooper or Mrs Howard in the School Office. We look
forward to sharing this special service with you.
Finally
Your child/ren will be bringing home their end of year report today. On Monday 13th July we are holding an Open Morning (8.45am – 9.30am) for parents to join their child/ren in class and to share their work. This will be followed by an Open Evening (3.30pm – 6pm) where you can look through their work in more detail and you can discuss any aspect of the report with myself or their class teacher. I hope you are able to join us for one or both of these events.
R Jewitt
---
This article is from our news archive. As a result pictures or videos originally associated with it may have been removed and some of the content may no longer be accurate or relevant.