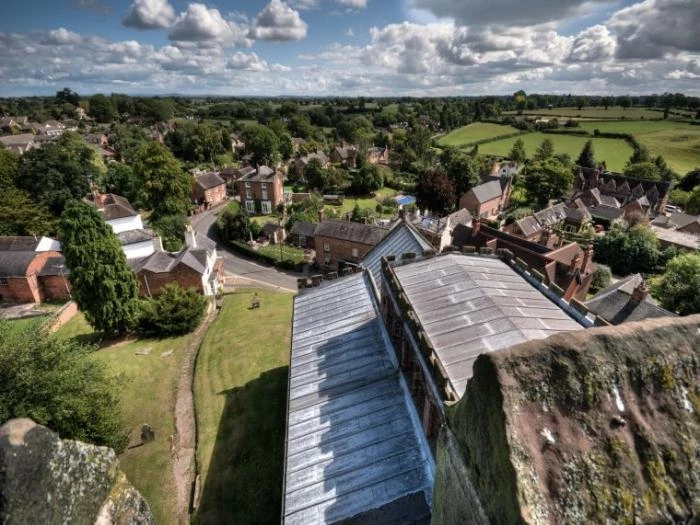 Many will be wondering how an April Fool story on a village website has made headlines in many parts of the world in the past week. Because that's just what's happened to Audlem Online's 1st April story about the village applying to join Wales. The Vote Poll has attracted a near-thousand votes – with almost 70% agreeing with the idea.
It must be said straightaway the idea was always a spoof as there was, and is, no intention of ever being other than an English village; and in the words of one national newspaper, 'an idyllic English village.' Yet the story clearly touched a raw nerve, hence the incredible media interest. So why?
The BBC told us 'we'd struck gold', which is why they spent a whole day filming in Audlem. It was, they said, the mix of humour, credibility and a serious political point that made it so appealing. Add in the historic and cultural rivalry between the English and Welsh, and indeed the Scots and English, and the whole story becomes a pretty toxic mix.
There is, of course, a serious issue here, and one which the politicians might want to consider. There is a perception in England that despite paying the same taxes, the Welsh, and even more the Scots, are getting a better deal out of their Assembly and Parliament. Nobody seems to represent the English – the Welsh and Scots decide their own affairs yet their MPs can also vote on exclusively English issues – such as splitting Cheshire in two. Devolution seems to many a one-way process.
And much of this hits people's pockets. One lady in Audlem told me she'd had to collect two prescriptions the other day – at a cost of £14.20. This after the Government was daft enough to put up the prescription charges on April Fool's day, itself a good reason to wonder about their political judgement.
A little research shows that 88% of prescription charges are already free – the young; over 60s; those on certain benefits; some of the chronically sick get their drugs free. So why don't England's MPs get together and push for that extra 12% to be free. Why should many sufferers of MS, asthma and Parkinson's have to pay £7.10 a prescription while some other conditions are free; and all prescriptions are free in Wales.
Maybe the Audlem 'Welsh' story might prod politicians to re-examine this issue – after all, the NHS started off with free drugs and its founder, the Welsh MP Aneurin Bevan famously resigned when the charges were first introduced. Prescription charges raise only £435m out of a total NHS drugs bill of £6.6billion. And administering the payment system probably costs a small fortune too.
So, English MPs, go for it. If Wales can afford it, so can England.
---
This article is from our news archive. As a result pictures or videos originally associated with it may have been removed and some of the content may no longer be accurate or relevant.