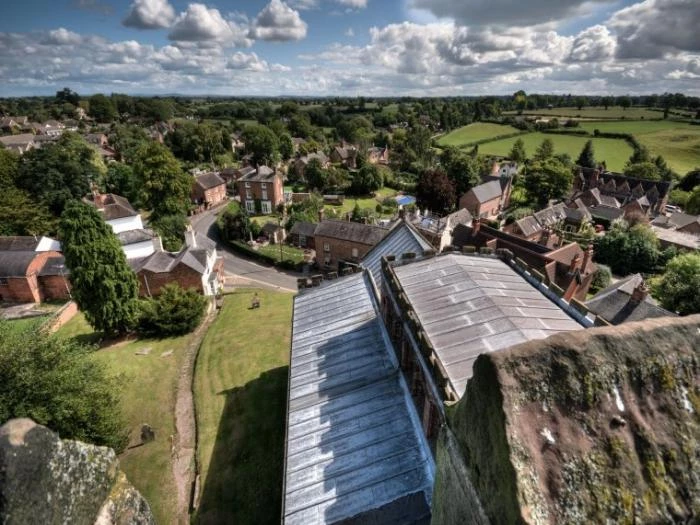 There should be fabulous entertainment for children today with the latest TAVA event in the village. It's
Chocolate Thunder by the Flying Gorillas which has sold out completely
It features music and dance from all over the world, a broad array of weird and wonderful instruments and dance and acrobatics for children aged 3 – 11 and their families. Children will take part in the workshop with the company before the show, then join in with the finale of the main performance.
"Fascinating and long overdue" says The Guardian.
"A dazzling blend of virtuosity and wit" said the Buenos Aires Herald.
It's today, Sunday 5th October, starting at 2.00pm for the Workshop followed by the 3.30pm Performance. The venue is Audlem St James' School.
Many may be wondering who or what T.A.V.A is. Well, their entry in the Information section of Audlem Online has just been updated. This is what it says:
What is T.A.V.A.? An award winning group bringing professional arts to Audlem, a group of parents living in Audlem committed:
to attracting professional and highly talented arts to Audlem Village
to focus particularly on events for children and young people
to increasing accessibility to the arts particularly for rural areas
to helping to keep village life alive
to complement all the brilliant events that already happen in Audlem
to keeping the events affordable
T.A.V.A. is a 'not for profit group' – all proceeds from events go to funding future T.A.V.A. events
What does T.A.V.V. do?
· We organise, promote and host 2 or more professional art events each year with a particular focus on events that appeal to children, young people and their families
· We organise creative and expressive workshops for children and young people
What has T.A.V.A. achieved so far?
· We have hosted 10 events and 36 workshops:
Autumn 04: Back Beat Percussion Quartet plus a music workshop
Autumn 04: Big Draw – a drawing event that was part of the national campaign to get people drawing
Spring 05: Stone Soup by Mac Productions plus a drama workshop
plus 3 literacy workshops at Audlem St James's school
Autumn 05: Rumpelstiltskin by Theatre of Widdershins plus a puppet workshop
Spring 06: Pandora's Box by Mac Productions plus 7 literacy workshops plus a drama workshop
Autumn 06: Them with Tails by Tall Stories and Network of Stuff plus a drama workshop
Spring 07: Cabaret in the Village starring internationally acclaimed Garth Bardsley and the Sandra Lambert Trio
Spring 07: Black Umfolosi 5 (an internationally renowned African group) plus a music and dance workshop, plus 8 music and dance workshops at Audlem St James' school
Summer 07: Artist in residence: six days of workshops by visiting artist Anne- Marie Rickus at Audlem St James' school
Autumn 07: Monster Hits by Tall Stories plus 4 storytelling workshops at Audlem St James' school
Summer 08: Alice in Wonderland by Foolsgold Theatre Company (an outdoor promenade event) plus 3 drama workshops
· Over 1340 people of all ages have come to the events, approximately a third of which are children and young people
· Over 940 children and young people attending the workshops
· Awarded the Cheshire Rural Women's Award for 2004, 2005, 2006, 2007 & 2008 for outstanding achievements
· Short listed for Cheshire's Big Draw Award 2004
What do our audiences say about our events?
Children:
"Really funny" Shona aged 8
"Brilliant – fantastic" Joshua aged 8
"Excellent and funny" Evie aged 9
"Really good – I liked the badger's nose" Thomas aged 7Adults:
"Tears of laughter pouring down my face" Terry
"Very clever" Rebecca
"Fantastic" Angela
"Utterly enchanting"
"I think I am enjoying it even more than the children"
"Just excellent"
What support does T.A.V.A. have?
Supporters include: Audlem Parish Council, Cheshire Rural Touring Network, Crewe and Nantwich Borough Council, Audlem St James' Primary School, ASET, ADAS, Local Network Fund, local residents offering all types of help including baking, publicity and support in kind, Chester City Council, Arts Council, Cheshire County Council and Audlem St James' Church
Would you like to become involved in helping T.A.V.A?
We are an informal and friendly group which very much relies on help from local people. This can include helping to publicise events, taking flyers about forthcoming shows to local schools, baking for the events, helping on the day and helping to organise the events. If you are interested in helping in any way, please do get in touch with us.
Contact: Anne Burrows, tel 01270 812442 (email anne@burrows895.freeserve.co.uk">anne@burrows895.freeserve.co.uk) or
Janet Warrington, tel 01270 811250 (email randjvilla@aol.com">randjvilla@aol.com)
---
This article is from our news archive. As a result pictures or videos originally associated with it may have been removed and some of the content may no longer be accurate or relevant.