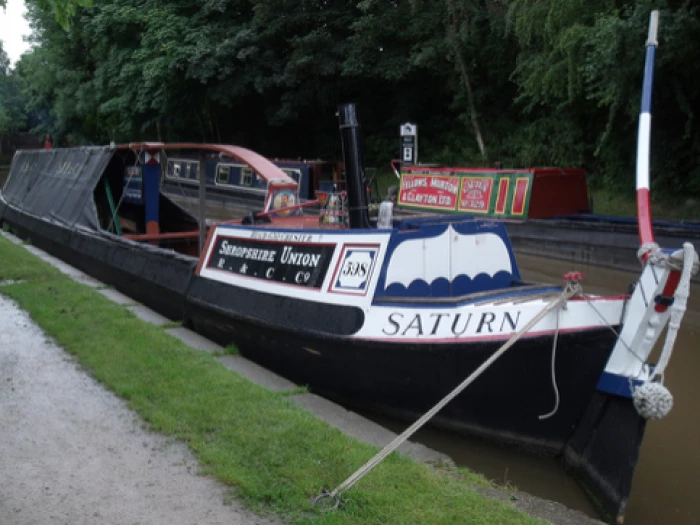 Audlem and District History Society -History Shorts (5)
Saturn – a Shropshire Union fly-boat
Saturn, pictured here at Audlem Wharf, is the last surviving example of a Shropshire Union fly-boat, the ultimate development of the wooden narrow boat. Fly-boats were built for speed, were easy to haul, perhaps averaging speeds of six miles per hour, and provided an express service carrying up to 18 tons of goods.
Four men crewed the boats working in shifts travelling non-stop night and day against a strict timetable. A single cob hauled the boat and would be changed every 20 miles or so at stables belonging to the canal company. The services enjoyed priority over most other canal boats and the journey from Birmingham to Ellesmere Port was covered in 29 hours.
Saturn was built in Chester in 1906 as a cheese fly, although eventually carried other cargoes. At one time on Saturday mornings Audlem wharf was busy as farm carts delivered cheese to the fly-boat service for the Manchester and Liverpool cheese fairs.
Two redundant fly-boats were sunk on the offside of Cox Bank to provide overnight moorings above the Audlem flight of locks. Maintenance work on the canal in 2003 enabled the boats to be surveyed providing important information aiding the restoration of Saturn.
Graham Dodd