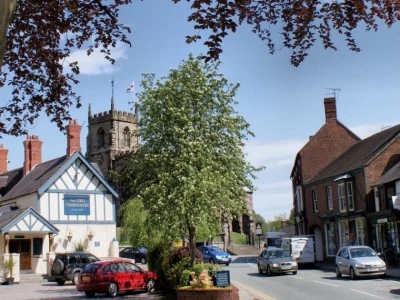 Ed: It is with sadness that we hear of the demise of Colonel Blimp, even if occasionally, we have had to put some of his material through the moderation mill. We loved the amusing articleshe writes and would greatly encourage him/her to write under a real name as other villagers feel able to do with similar material.
RIP COLONEL BLIMP
With a heavy heart I have to announce the passing of Colonel Blimp. Taken not by COVID or other illness, but by the decision to ban pseudonyms in an effort to stop offensive posts in Chatbox . Having said that, several of the Colonel's submissions over the years have in fact been banned for being too risqué.
Colonel Blimp was created many years ago when standing in the chemist shortly after Boots had taken it over and I had the joy of listening to three old men complaining how terrible the service had become and how it wasn't anything like as good as the "good old days". This in full earshot of the staff (mostly exactly the same staff) who were working their socks off for them after a sudden rush of people had come in all wanting their prescriptions at once. I heard similar moans in the pubs and cafes about how much better things were in the "good old days" when we had an empire, no immigration, no E.U. etc etc -- all stuff harking back to a mythical golden era that never really existed (I think it was John Major who once said that). Thus the bigoted, misguided and confused Blimp was born -- at the time his primary purpose to parody such types. He of course lent heavily on the original pompous, irascible, jingoistic, and stereotypically British Colonel Blimp cartoon character of the London Evening Standard, created by David Low in the 1930s. Audlem's Blimp over time developed to mock pomposity and stupidity on all sides, including during his "woke" period some years back when someone too dim to understand the parody complained about his musings. I had some correspondence at that time with Bob Cartwright about what he thought the boundaries were but he had a somewhat more enlightened view about people having to sometimes endure what they don't like rather than today's fashion for non-platforming those whose views you disagree with.
I have to confess over time Blimp also couldn't resist the opportunity to reel out a few infantile jokes and enjoyed a period of jousting with the long departed Hugh Jarse, who seemed to get the joke. Lockdown provided the opportunity to bring him out of hibernation, but even then the current editors considered some stuff too risqué for the delicate sensibilities of Audlemers -- something I find rather ironic when I hear, for example, the amount of foul language emanating from all quarters (including children) in the streets, pubs and cafes. Having caught a bit of a far more cheeky "Carry On" film this morning I did muse as to when this current era of Puritanism emerged. All this at a time when we have millions voting for politicians on both sides of the Atlantic who think nothing of demeaning the disabled, other races and permissioning outright bullying. Strange world we live in.
Anyway, I don't fancy a brick through my window from someone who takes some misguided exception to Blimp's outpourings (and remember we've seen the most egregious violence in our village recently) so I'm never going to reveal my real name. I think Chatbox is going to become a much duller place from now on.
The Colonel, may he rest in peace
P.S. you know me quite well Celia