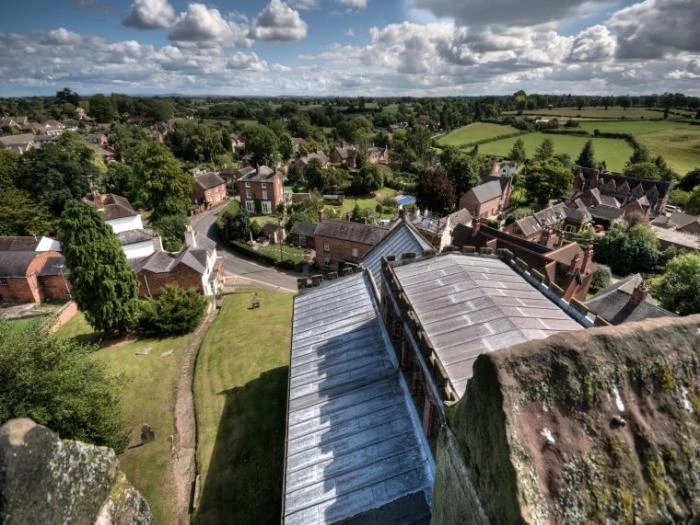 "Murder at Audlem" – that is the dramatic headline in the Chester Chronicle of 10th September 1830 as sentence was passed at a trial at Chester assizes. It announced a drama few knew of locally until an intrepid genealogist from Australia unearthed this fascinating tale.

The murder took place on 26th July that year – the law moved much more swiftly in the days of quill pens than in today's computer age – and justice was dispensed at speed.

#Fracas
The facts are that a fracas took place outside the Phoenix Inn, later the site of the old Co-op in Audlem Square – it's the red brick building to the left of the Square in the top photo.

It appears that 19-year old Thomas Hassall owed the sum of 3/- to a farmer, John Chesters, who accosted him and a friend, Sambrooke Furber, outside the Phoenix Inn around midnight.

John Chesters had Hassall on the ground and threatened him with a pitchfork but witnesses pulled him off. However, Chester's wife Sarah became involved and Thomas Hassall stabbed her with a knife which entered her heart. She died within minutes.

Hassall accepted that he owed the debt and that he would pay it, but the angry attacks on him appear to have resulted in his spur of the moment reaction. The inevitable murder charge against both Thomas Hassall and Sambrooke Furber soon followed.

#Trial at Chester
The newspaper report of the court case is very detailed and makes dramatic reading. In the case of Furber, the Attorney-General, the newspaper says, consented to a verdict of Not Guilty.

After retiring for eighty minutes, the jury found Hassall guilty but recommended him to mercy on the grounds of his youth and previous good character.

The report continues: "His Lordship (amidst a death-like silence interrupted by sobs of numerous females) proceeded to pass the awful sentence of Death upon the prisoner."

The judge added: "I fear the jury's recommendation of mercy will have no weight but your case will be submitted to His Majesty from whom alone you can look for mercy in this world."

#Death sentence
The judge finished with words: "On Monday next, the sixth day of September, you be taken to the place of execution and be hanged by the neck until you are dead and that your body be afterwards given to the surgeons for dissection. May the Lord have mercy upon your soul."

Fortunately, the appeal against the Death sentence was successful and Thomas Hassall received a King's Pardon to be transported to Australia for life.

The appeal was helped by his employer vouching for his good character and, curiously, his appearance. The report says: "The prisoner is a fine youth, of fair complexion, and light blue or grey eyes....and the conformation of his head presents none of those appearances which are said to indicate ferocity of character, nor which mark the predominance of the animal over the intellectual faculties."

#Transportation
He was transported in 1831 on the ship Exmouth and then indentured to a farmer in the Hunter valley near Sydney in New South Wales. He gained his "ticket of leave" or freedom in 1847 and eventually lived to the ripe old age of 93.

Our thanks to Margaret Browning of Longbeach in Australia for the information. She recently visited Audlem and was helped in her research of her Hassall ancestors by, amongst others, Judy Benson of Williams' newsagents, Tom Hassall of Hankelow and the Shenton family at Hankelow Hall.

#More information
Margaret is grateful for all the local assistance she has received but would love to hear from anyone who can add further information about her ancestors. If you have anything you can add, please contact Audlem Online and we will pass it on.

Thomas Hassall's parents were Thomas and Clare Hannah Hassall (nee Langford) and he had a sister Betty (baptised 22nd February 1807), a brother George (baptised 19 May 1814) and another sister Ann baptised on 1st March 1818.

Thomas Hassall was born in Audlem in 1810 and baptised in Audlem St James' Church on 25th March 1810.
---
This article is from our news archive. As a result pictures or videos originally associated with it may have been removed and some of the content may no longer be accurate or relevant.