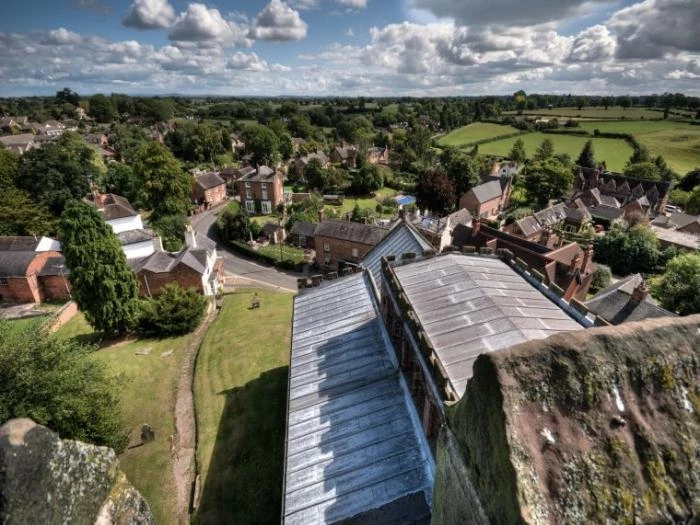 Yesterday on Audlem Online, we announced that we would publish the views of the candidates for the Eddisbury constituency on a number of local issues.
As and when we receive their comments, all four candidates' answers will be published. Today, we start with Stephen O'Brien, the Conservative candidate and sitting MP.
Audlem Online question: As MP for Eddisbury, what have you done for Audlem?

I am delighted that after an amazing 40 year battle – including the 10 years I have been working with local representatives and residents since my election in 1999 – we have succeeded in having the A-525 declassified as a trunk route, which over time will stop many of the HGVs thundering through the village. The route will also be removed from Satnav systems in the weeks and months ahead. This is great news for the village and should bring some much needed relief to local people.

Working with local representatives and residents, I have also been successful in securing the future of our local First Responders, who will now be able to benefit from improved training. Gavin Palin will also be able to use the blue light on his Nantwich-based vehicle when responding to emergency calls. Our local First responders provide a vital service which saves lives.

Additionally, I have been working hard to improve the terrible ambulance response times in the Audlem area and rural Cheshire. Following a series of meetings with the Chief Executive and Chairman of the North West Ambulance Service, and other local stakeholders we have been successful in securing improved ambulance cover for Audlem and the surrounding area. A new extra ambulance based at the Nantwich station will be available around the clock to provide additional cover for Audlem and the surrounding villages.

I am regularly in Audlem meeting local people, shop owners and businesses listening to their concerns. I believe that independent and family owned businesses and the jobs they provide are vitally important for the local economy.
That is why I believe our rural towns and villages deserve a "fair deal". Those qualifying for small business rate relief will be awarded it automatically under a Conservative Government; no more piles of red tape and bureaucracy to wade through to receive the help small businesses are entitled to.
Conservatives will also stop Labour's plans to increase National Insurance contributions for workers and businesses – a tax on jobs and modest incomes. This tax hike threatens thousands of jobs in our area and the rural economy – it will kill off any chance of a recovery.
I am determined to do all that I can to ensure that Audlem and the whole of Eddisbury emerges from Labour's recession faster, stronger and better placed to create the new jobs that our area so desperately needs.

I continue to hold regular surgeries in Audlem and towns and villages across the Eddisbury constituency, and I am always happy to take up the cases of local people and fight for the interests of local people and our communities.

Community spirit in Audlem is alive and well, and I am delighted that 5 new shops have opened over the last few months, Conservatives will provide tax breaks and reward local businesses which take on new workers and apprentices in our area. I want to see businesses of all shape and sizes to flourish in Audlem and across our area.

Audlem Online question: Rural areas appear to have been somewhat neglected in recent years. If there was a Conservative Government, how might that change?
The rural economy and our countryside really matter; it is home to our beautiful Cheshire landscapes, spectacular views and some of Britain's most loved towns and villages.
But, after 13 years of Labour, our rural economy and communities are struggling. Many have been hit hard by the recession and unemployment in Eddisbury has soared – increasing by over 11.5% in the last month alone and up by over 60% in the last year.
Rural areas have lost local services like their post offices, our small schools and community police stations to name but a few. Equally, our local councils have been stripped of many of their powers which have been transferred to the unelected and unaccountable regional quangoes.
There is also a serious shortage of affordable housing because Labour has cut funding for them by over half since 1997; inadequate public transport and rising poverty.
Labour just doesn't care about the countryside. But Conservatives believe in governing for the whole nation. We desperately need a new government which understands rural areas and cares about the people that live in them. Our agenda for Rural Action will:
Respect rural people by giving rural communities a voice to decide their own future and only seek to regulate where self-regulation fails;
Give power to rural communities, by shifting power and decision-making to communities, so that people have a genuine say over the matters that affect them locally;
Protect rural services, by considering social value alongside environmental and economic value. We will address the lack of affordable housing through growth which reflects the wishes of local communities, and help rural communities protect the countryside they cherish from development imposed by central Government;
Revive the rural economy, by reducing the barriers to business growth and creating incentives for rural development.
Our farmers are the "custodians" of the countryside which we all love so much and they deserve a "fair deal" which allows them to compete on a level playing field with their foreign competitors.
Rural communities need a thriving farming industry – but Britain's farmers have endured a tough time, faced with animal diseases and excessive regulation.
They need a Government that works with them, not against them. So we will:
Overhaul farming regulations to lift the burden of unnecessary paperwork and inspections;
Press for reform of the Common Agricultural Policy which reflects the importance we attach to the environment, the long-term sustainability of UK farming and the relief of global poverty;
Promote the strategic importance of Dairy Farming: in our part of England there is no more valuable a business than dairy based rural businesses and their added value products – but we have only had deaf ears from this Labour Government;
Make it easier to buy British – I personally introduced a Private Members Bill to introduce 'honesty in food labelling' to stop foodstuffs produced abroad – but which are packaged in the UK – being labelled as 'made in Britain'!
By improving food labelling with our Honest Food Campaign, Conservatives will only allow food which is genuinely produced in the UK to be labelled as "made in Britain";
Use public procurement to strengthen the link between food grown in our fields and the meals served in our schools and hospitals,; and Introduce an independent supermarket ombudsman, to ensure fair competition for both farmers and consumers.
Audlem Online question: You have been Shadow Health Minister. We are already getting reports of big cuts in PCT budgets. Would it be any different under a Conservative Government?
You are absolutely right. Labour has signalled massive cuts in the NHS – including PCT budgets – after the election, which threaten our local health care services, hospitals and jobs.
The NHS is the Conservative Party's number one priority and as Shadow Health Minister, I can confirm that a Conservative Government will not only spend more on our NHS year on year, I will also spend it better and more effectively. Our NHS will benefit from real terms increases in its budget in every year of a Conservative Government.
The only thing I will cut in the NHS is waste! Likewise, we will take real action to end Labour's drugs postcode lottery. It is a disgrace that some people are forced to sell their homes or exhaust their savings buying drugs which should be available through the NHS – it's a national scandal that Conservatives will end.

Audlem Online question: You now have Hankelow added to the Eddisbury constituency, are there any issues that need addressing, and how?

Some concerns have been expressed about the new super marina. Of course it's important that we take positive steps to increase employment opportunities through tourism and the benefits this can bring to local businesses, but is important that new developments of this type are incremental and in scale to local need.
It is important that the quality of life for local people is protected from developments which are simply too big. If developments are permitted at least partly on grounds of bringing jobs then those jobs must be focused on employing local people in sustainable jobs.

Conservatives will put local people and their accountable local representatives in the driving seat when it comes to making decisions on new developments of this type. We want people power to have a much greater say in the future of planning and development in the Audlem and Hankelow areas, and the whole of Eddisbury.

Audlem Online question: If there was one key message you want to get across in Audlem, what would it be?

Communities and quality of life are key. Supporting our communities and local groups can make a real difference to the quality of life for people living in Audlem. We can do this by giving local people and their representatives real power.
We have set out an ambitious agenda to build a Big Society based around social responsibility and community action. And may I say that in all the years I have had the privilege of representing Audlem in the Eddisbury Constituency it is the people of Audlem and the strength of its community that come most readily to mind when I am making speeches in the House of Commons about what we need to do to enhance and protect our community spirit – in many ways Audlem is already one of the shining examples of what I am advocating with our Big Society message.
I will continue to do everything I can to support and promote Audlem's interests – I hope my track record gives you the confidence that this is a promise you can trust.
Under a Conservative Government, charities, voluntary groups and a new generation of community organisers will help tackle some of the most stubborn social problems we are experiencing in many of our rural and urban communities.
A Conservative Government will:
Establish a new Big Society Bank, using money from unclaimed bank accounts to leverage hundreds of millions of pounds of extra finance for neighbourhood groups, charities and social enterprises
Introduce a National Citizen Service, a new volunteering programme to help 16 year olds develop their skills, mix with people from different backgrounds and get involved in improving their communities
Promote the delivery of public services by social enterprises, charities and voluntary groups, encouraging them to get involved in running things like Sure Start
Introduce a fair deal on grants so charities and voluntary organisations can make a competitive return when providing public services, just as private businesses already do
Fund the training of independent community organisers to help people establish and run neighbourhood groups
Launch an annual Big Society Day to celebrate the work of neighbourhood groups and encourage more people to take part in social action
Lead by example, transforming the civil service into a 'civic service' by encouraging civil servants to volunteer and participate in social action projects
Cut the bureaucracy and paperwork which currently stifles charities, including reforming the criminal records checks system and making Gift Aid easier to use
Develop a new measure of well-being that encapsulates the social value of state action
Empower communities to come together to address local issues; including enabling parents to open new schools, letting neighbours take over local amenities like parks and libraries that are under threat, giving the public greater control of the planning system, and enabling residents to hold the police to account in neighbourhood beat meetings
Use the latest insights from behavioural economics to encourage people to donate more time and money to charity
Restore the National Lottery to its original purpose, cut down on administration costs and make sure more money goes to good causes instead of Ministers' pet projects.
---
This article is from our news archive. As a result pictures or videos originally associated with it may have been removed and some of the content may no longer be accurate or relevant.