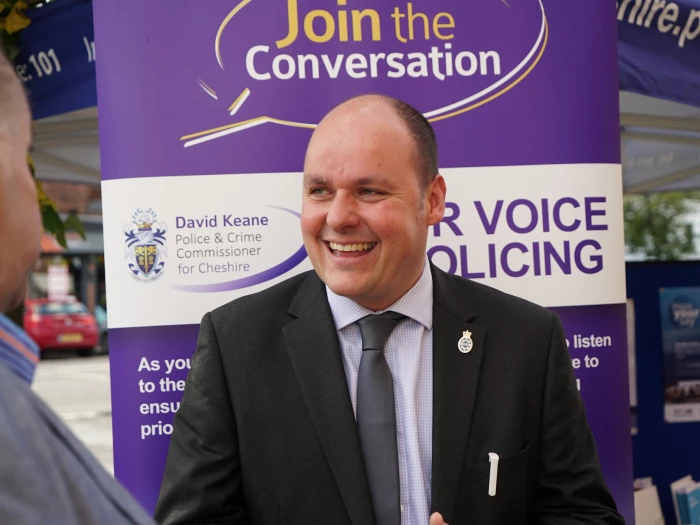 PCC secures £300K for victims' organisations in Cheshire
Cheshire's police and crime commissioner (PCC) David Keane has secured grants for a number of organisations across the county who have been supporting survivors of domestic abuse and sexual violence through the COVID-19 pandemic.
The funding will help the organisations meet the additional costs they have incurred to adapt their services during the pandemic or to meet additional demand which a number of local support services have seen.
Applications for funding were invited by the Ministry of Justice (MOJ) and the Commissioner has worked tirelessly to bring as much funding as possible into Cheshire, so that local victims' services get the support that they need.
Since PCC David Keane opened up applications to local organisations last month, eight have been successful in their bids, with Cheshire receiving a total of £303,947 in funding from the MOJ.
This includes both domestic abuse and sexual violence support services which are already commissioned by the PCC to support victims and other organisations that they PCC has not worked with before.
The Cheshire organisations that have been awarded funding are:
Rape and Sexual Abuse Support Centre (RASASC) -- for the core service provider of rape and sexual abuse support services in Cheshire.
Survive -- to support their provision of counselling sessions for survivors of sexual abuse.
NSPCC -- to fund their support for children affected by sexual abuse in Cheshire.
My CWA (Cheshire without Abuse) -- to support victims of domestic abuse across Cheshire East.
Changing Lives -- to support their Independent Domestic Violence Advocate (IDVA) service in the community of Halton.
Refuge -- to help fund domestic abuse services in Warrington.
Catch 22 -- to support victims of domestic abuse.
Beacon Counselling Trust -- to help support those affected by domestic abuse as a result of a gambling addiction.
PCC David Keane said: "As a result of the Coronavirus pandemic we have seen an unprecedented demand on some of our most vital services, in particular domestic abuse services due to many survivors being trapped in their homes with their abusers during lockdown, creating an impossible situation with little means of escape.
"This funding will allow them to recoup some of the costs occurred by adapting their services during the pandemic as well as giving them the opportunity to provide additional support to victims over the next few months.
"In cases where our local services were regrettably deemed ineligible for government funding, I have worked with partners to find alternative funding sources wherever possible. It is vital that victims of crime are not forgotten during this period and I will continue to act as a voice for those people to ensure they get the support they need and deserve."