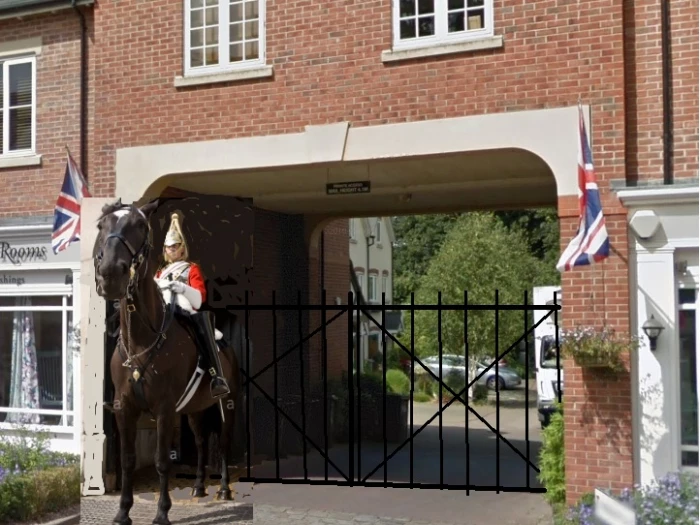 Let's face it. We've all been frustrated and annoyed when another driver parks their car inconsiderately, or in some cases negligently. It's particularly aggravating when the vehicle is illegally parked on yellow lines, frustratingly, not to say dangerously, cutting off the line of sight, which continues to be an ongoing problem for the residents of Kingbur Place as they risk their lives on a daily basis.
In fact, it continues to perplex us that people could be so unconcerned by the ways in which their actions affect others, so, with the full support of our beloved Parish Council, there will be no more complaints from us as we are in the process of arranging to become a gated community!
Think of a gated community and the mind conjures up an image of a privately guarded and secluded idyll, the preserve of Premier League football players and A List celebrities, however hidden behind our iron gates, we will become Audlem's only gated community with all the trappings that living within an exclusive development can offer.
For those of you who can spot the obvious flaw in this move, you need to know that the large, heavy gates will open – outwards, thereby crushing any illegally parked cars, and we have arranged for instant responses from our local towing companies, to ensure a speedy removal of any potential blockages. This will force the unfortunate drivers to spend plenty of waiting time admiring the beautiful displays in 'Brambles' window before being forced to spend an unexpected outlay in Audlem's many coffee shops whilst waiting for their lift home.
They could, of course, always pop into our local church to apologise for their sins and leave a small penance in the offertory box, which will aid the church roof collection.
We are presently advertising on Audlem Online for an armed and mounted guard to police the entrance area. A warm sentry box, complete with tea, coffee and milk provided by the Coop, a mug and kettle, courtesy of Brambles will be included and Williams has promised a daily paper delivery.
Once appointed, this guard will hold an exclusive list of names for those who are allowed entry and we will not accept bribes unless they are in four figures.
The guard will of course be changed with a formal Ceremony twice a day, and visitors and residents are welcome to have their pictures taken next to the guard for a small charge which will go towards their salary costs, which, it has been agreed, will be partially subsidised by Cheshire East as they will be so relieved not to receive anymore photos or letters of complaints from us.
We, the residents of Kingbur Place, realise that a gated enclave where we can huddle together away from the excruciating ravages of real life, such as potholes, viruses and, unmown lawns, could sound pretty dull to the rest of you, but there will always be times when we'd all like to withdraw into the sanctuaries of expert topiary and poo-bag free paving, away from the open clutter of the real world.
Steph Richardson
Ed – We understand that the inevitable by-product of the Guard's horse will be for the exclusive use of Kingbur residents on their gardens.