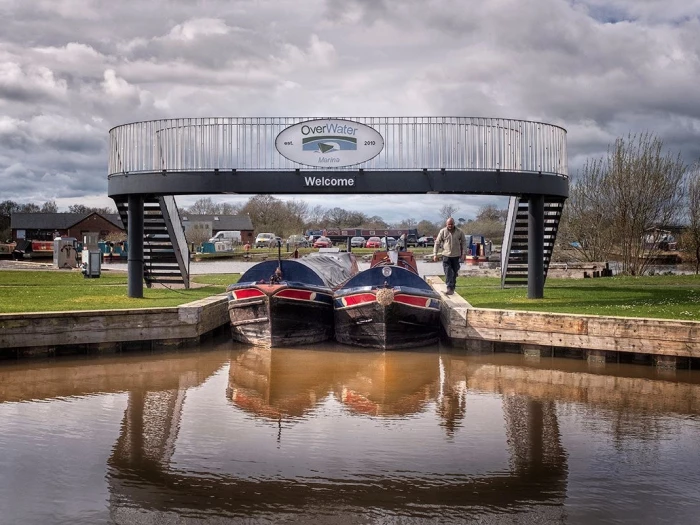 Ed : this is an initiative from the Audlem Traders and Tourism Group to bring to the attention of residents and visitors the wealth of products, services, and food available in our village. Our plan is to hopefully publish one of these each weekend and we would welcome your feedback on how helpful these articles are.
Meet our Local Business
Who are you?
Janet at Overwater Marina and Holiday Park
What do you sell, make or do?
We offer boat moorings, touring pitches, glamping and we're home to Café at Bridge 80. We also sell calor gas, smokeless fuel and logs and kindling, toilet chemicals and lots of other bits and pieces.
How long have you been in this area (Audlem & surroundings?
We built the marina 13 years ago, but I've lived in Hankelow for 25 years
Where can people find you?
Walk down the canal to Bridge 80, then follow the farm track, or you can drive to us on Coole Lane. At weekends you can catch the Audlem Lass from the bottom of the locks
When are you open?
7 days a week from 9.30am to 5pm (summer) and 4pm (winter)
What's your favourite thing you sell/make/do?
I love our glamping wagons that celebrate the history of the old GWR railway line that ran through Audlem. They sleep 2 people and are cosy and warm for all year round. They have a small kitchen area, cast iron Everhot stove and their own bathrooms – luxury in a wagon.
What's your favourite thing about Audlem?
I love the heart and soul of Audlem – there is always something to see or do.
Why should people shop local?
If you shop local more money stays local and that benefits everyone. You also reduce your travel miles and that's got to be a good thing financially and environmentally
And finally... tell us something about you we wouldn't guess..
I love horses and own two – a gorgeous 6 year old Connemara call Tommy who came to us direct from Ireland as a very feral 4year old and a very needy, slightly anxious but completely adorable skewbald called Matty – I ride in dressage competitions on both of them.