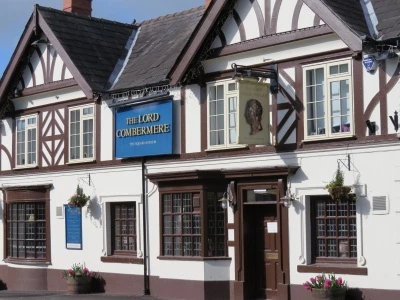 Allan & Jo Brown.
This truly remarkable couple have run the Restaurant/Pub for the past 13 years. Have presented to us here in Audlem a truly marvellous place to go to dine, to socialise, to have a drink and to enjoy their welcome at all times.
To meet as committees .
Both these wonderful people put themselves wholeheartedly into village life by being fully involved in the huge Music and Arts Festival and The Proms on the Park which became The Party on the Park. Running a fantastic Beer Festival. Presenting music groups on a regular basis.
And to have the Quiz nights every Tuesday .
I have been privileged to have been Quizmaster in all those years and built up a fine rapport with them.
BUT now -- The day of their leaving to fresh pastures grows ever nearer. The Final Day is July 31st !!
Before that Sunday, we as the quizzers and myself , will be presenting a Grand Finale Quiz night with a splendid buffet and testing quiz rounds.
This event will mark a big thank you Allan and Jo to thank them from our all of us and from the wider community who have all asked to be part of our gratitude to them.
An end of a wonderful relationship and to say they will be so missed is a huge understatement .
Spoken from my heart
Ralph Warburton