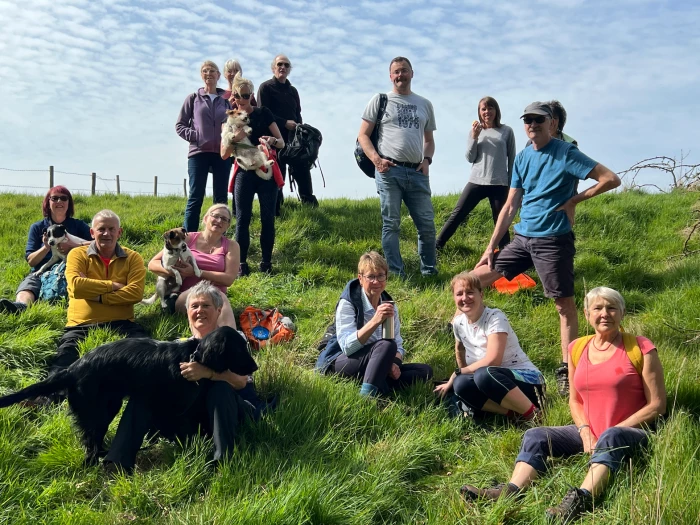 Saturday 10th June
Susan Cavill is leading our next long ARS walk on Saturday 10th June depart Audlem Car Park at 7.30 am:-
This a 10 1/2 mile circular walk starting from Bakewell, taking in Edensor and Chatsworth and returning via Rowsley.
The walk begins at the five arched Bakewell bridge over the river Wye (meet there at 9.30am for those travelling directly there or parking in a different car park from the one we suggest).
Then uphill through Bakewell Golf Course to Carlton Pastures. A flat section of the walk brings us to the edge of the Chatsworth estate with views of the house through the trees.
Coming to the estate village of Edensor we see St Peter's church where JFK's sister is buried.
The walk passes close to Chatsworth house beside the river Derwent and then across grazing land to Rowsley. A good climb provides more wonderful views taking us round the Haddon estate and back to Bakewell.
Dogs on and off lead depending on stock in fields, both sheep and cattle were seen on our recce. There are a few dog friendly stiles.
We suggest parking in the Agricultural Centre (DE45 1AH) where the walk ends. Parking is £6 per day... 50p cheaper is available elsewhere.
Bakewell is famous for its Bakewell Puddings, so hopefully we can be back in time to sample them, before possibly debriefing at the nearby Thornbridge brewery tap a mile or so up the road.
Meet in Audlem car park to leave promptly at 7.30am to give us time to use the excellent 20p (card payment) loos in Bakewell before we start.
A 2 booter walk.
Please contact the leader if you intend to meet us in Bakewell
NB All walkers must have suitable footwear and be prepared for adverse weather, carry food and water to last for the entire walk and be suitably fit for the various lengths of walk.
Each walk is led by a nominated leader who will carry some first-aid equipment. The leader has the right to refuse to include in a group anyone who is felt not be adequately equipped.
Non-members of Audlem Rambling Society (ARS) are welcome to come on a walk but are expected to join ARS and pay the membership fee after a trial walk or two.