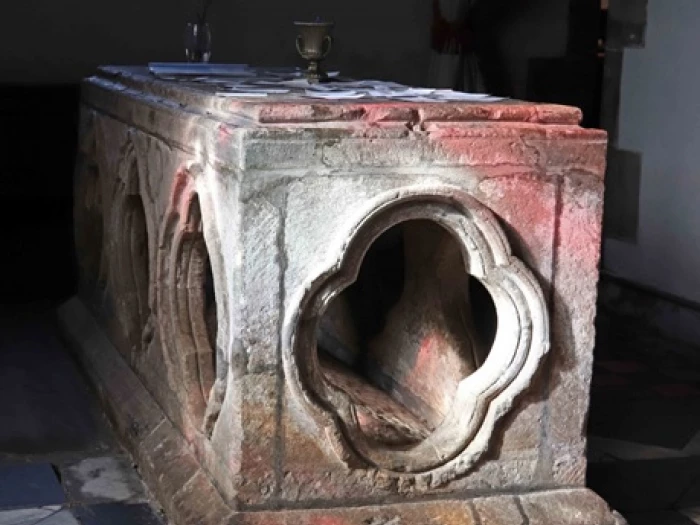 A shrine and a study course
Pictured is an ancient and much visited shrine in the Church of the Holy Cross, Ilam, in the Peak District. It is the believed resting place of St. Bertoline or Bertram, a Mercian prince and hermit of the 7th/8th century, according to later medieval legend. However, this saint is also commemorated in a church not far away – St. Bertoline's, Barthomley, near Alsager.
Canon Speedy
History Society members may recall an entertaining talk a few years ago by its priest-in-charge, Canon Darryl Speedy. Since he and his wife retired from Barthomley I have been taking Services there and, naturally, gave a talk on the saint and his times! If you look more closely at my photo of the shrine you can just see on its top, handwritten messages and prayers for help and healing from present day 'pilgrims'.
Christian Rural Studies Course
What used to be Ilam vicarage became a diocesan youth centre, and in the 1980's the warden, my friend Tony Hodgson, pioneered a Christian Rural Studies Course, of which I later became senior tutor. Nowadays this course, based near Oxford – the only one of its kind – is flourishing, and incorporates environmental studies, which of course have become increasingly topical.
I feel that the shrine and the study course can be seen to connect, seeking and exploring help down the centuries and in our own day
John Whitehead.