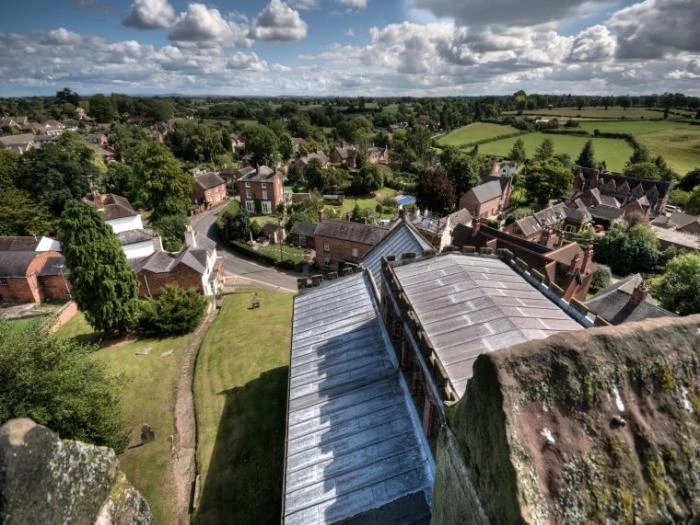 When Cheshire East Council invited AudlemOnline to visit a waste recycling plant on a blazing hot, wonderfully sunny May day, it was tempting to send apologies.

Fortunately, curiosity won the day – and it really was worth the sacrifice.

The idea was to see exactly what happens to the materials that go into Audlem's silver recycling bins that are collected every fortnight – newspapers, magazines, cardboard, some plastics and the occasional wine or beer bottle!

#Shotton
After collection, it all goes to Shotton on Deeside, long famous as the site of one of Britain's largest steel plants where, 32 years ago, the biggest single day of industrial redundancies ever in Britain took place as the plant was scaled back dramatically.

Much of the site is now occupied by Finnish company UPM, the world's largest recycling company. The room we met in initially before heading out on a plant tour, even stands on the site of one of the old blast furnaces.

It may not be steel rolling out of Shotton now, but no less than 500,000 tonnes of newsprint is, all ready to be shipped off to Britain's newspaper print rooms before heading back to Audlem and elsewhere shortly afterwards as that day's news.

#Sorted
It's fibres that count at this plant, anything that can be converted into paper. So first, the waste has to be sorted, an amazing high-tech process of seemingly miles of whirring conveyor belts with the still vital help of human hands to grab at speed what's been missed by the machines.

The Materials Recovery Facility, or MRF, cost £17million to build a couple of years ago and handles 270,000 tonnes of materials delivered from local councils. It separates the different materials so effectively, the plant provides 99% purity and an amazing 99.5% of what comes in is recycled. UPM say they are working hard on the other 0.5%.

Even the dust created is captured and pressed into briquettes that are then burnt to generate energy. The water used on-site comes from the nearby River Dee and eventually goes back into the river somewhat cleaner, a relief to those like me brought up downstream of Shotton and very regular consumers of Parkgate shrimps and Hoylake flukes.

Separating all the materials is a fast moving process rendering any attempt to spot a familiar bottle that may have graced our table last week an impossibility.

The glass, aluminium and steel from cans and plastics, once separated, is baled and goes off to other sites for recycling, none of them far away.

#Fibres
The paper fibres, mixed with 'fresh' magazine paper that's been made from woodpulp rather than recycled newsprint – there's a limit to the number of times you can recycle paper – stays at Shotton to be made into newsprint.

Dressed in hi-vis jackets, eye and ear protectors, hard hats and gloves – no need for suntan lotion that day – the tour was fascinating. The paper rolling process starts by separating out the ink from the old newspapers and magazines – even that's used by being mixed with forest brash and burnt to heat the on-site boilers that create the steam needed for the plant.

Then, initially 99% water and 1% fibre, the soon-to-be-paper is run through a series of massive rollers before emerging on giant reels as beautiful, white newsprint, ready to be cut, wrapped and shipped out. A valuable product made from our waste, or as UPM say, collected from the 'Urban Forest'.

"What unwanted material from a silver bin creates the biggest problem?", your reporter asked. The answer from UPM was clear: Textiles. There's so many other ways to get rid of unwanted textiles, please don't use the silver bin, was the plea. Textiles can clog up the machinery if any gets through the initial sorting. Video tape, now getting rarer, can also be a problem.

#Round and Round
UPM reckon it's typically 17 – 19 days from when your silver bin is collected to when you might buy your newspaper at Williams' newsagents in Audlem, freshly printed on their recycled paper. But, with a following wind, this can be as little as 4 – 5 days.

The recycling also saves Cheshire East £100,000 a month on land-fill making this a win-win process all round that's created jobs – and many of UPM's team are young apprentices – avoided imports of newsprint and reduced waste dramatically.

And that's food for thought as the silver bin goes out every other week.
---
This article is from our news archive. As a result pictures or videos originally associated with it may have been removed and some of the content may no longer be accurate or relevant.