Audlem and District History Society
History Shorts 39 by Jeff Bryson
Friend or Foe? A couple of stories of my contact with Germans soon after the end of World War 2.
I was born in the spring of 1941 at Dunstable in Bedfordshire. The town is about five miles from Luton and thirty miles from London. During the war, parts and tyres for military vehicles were manufactured in the town and Bedford trucks and other military vehicles were produced in large numbers in Luton. The Met Office had also been moved to Dunstable and was only half a mile from our council house. The towns therefore received some attention from the Luftwaffe and I was told that a damaged German bomber flew up Dunstable High Street machine-gunning everything in sight before crashing. The residents therefore had no reason to be fond of the Germans.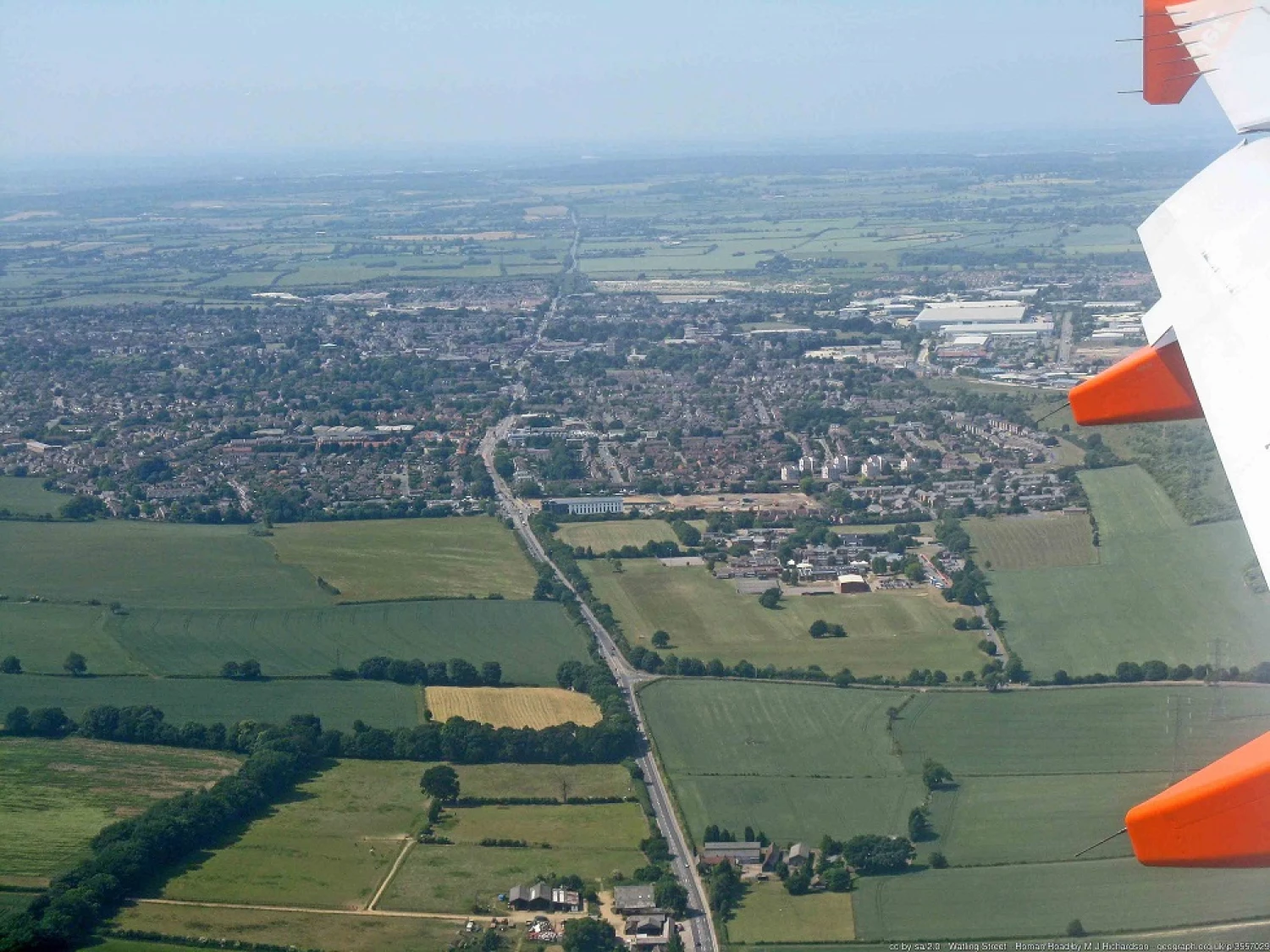 Aerial view of Dunstable. The Roman road, Watling Street, the modern A5, which becomes High Street in the town centre, might have attracted the German bomber. (Photo: © M J Richardson cc-by-sa/2.0)
In 1945 my family, which comprised at that time my mother and father and three children, with another on the way, lived in a tiny flat near the centre of the town and was so overcrowded that the local council allocated us the first council house to be completed on the new Beecroft Estate, on the edge of the town near Dunstable Downs. We must have moved there some time after VE Day as I remember very clearly the street party that was held near our old address. When we moved, my parents found that the house had been built with the assistance of German and Italian prisoners of war (ie it was literally 'gerry-built') who were housed in what is now the London Gliding Club at the foot of Dunstable Downs.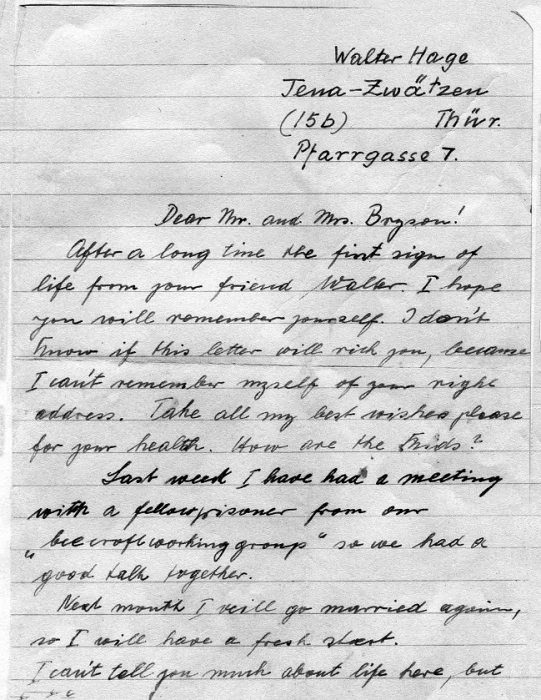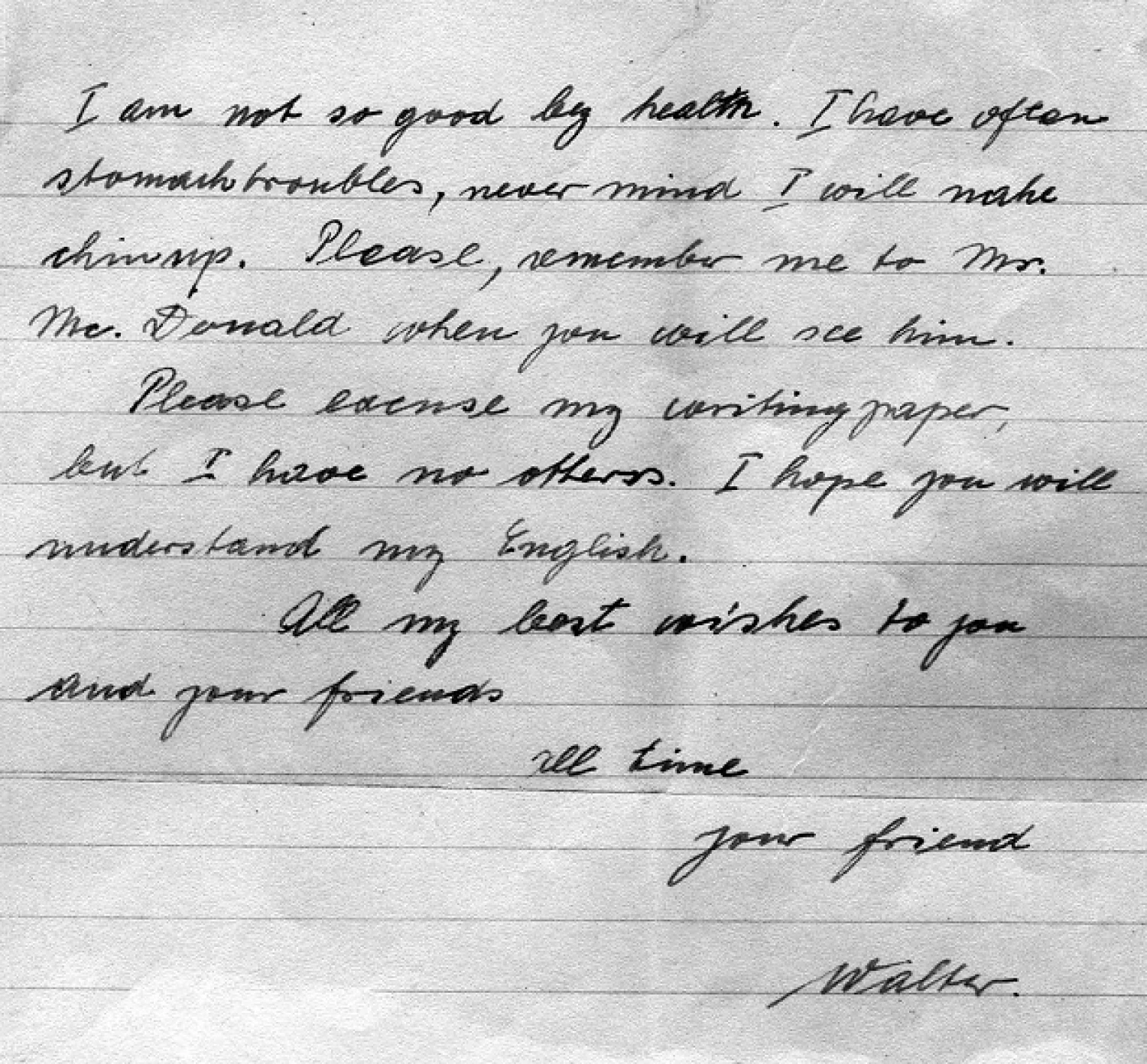 My family quickly made friends with a German PoW, Walter by name, and he became almost one of the family. I remember my mother making him a birthday cake and sharing our first bananas with him. The birthday cake memory is especially clear as he cried when she gave it to him, the first time I had seen a grown man weep. He was eventually repatriated and my mother told me that he had not wanted to go back as his home was in the Russian occupied zone, ie East Germany. We only heard from him once after that and I include his letter below. It was clear from what my parents told me that there was no animosity shown to these PoWs and that my family was not the only one to show kindness to these unfortunate men.
My second story is brief. In 1961, I was a policeman in London. A friend and I decided to do a two week trip round northern Europe on his 1000cc Vincent motorbike. As part of the trip I arranged a visit to the German penfriend of my then girlfriend. The penfriend lived in Essen which had had considerable attention from Bomber Command in the war so, in this case, the Germans had no reason to be fond of the British.
However, we were met with nothing but kindness. On one memorable occasion four of us went to a bar for a drink one lunchtime. We had finished our drinks and were about to leave when the waiter came across with another tray of beers. We explained that we had not ordered them and he said something like "No, you Englander. Luftwaffe," and he pointed to a group of young men in the corner who turned out to be German Air Force personnel. Naturally we had to reciprocate, and we had a very pleasant afternoon, although my memory of it is a bit hazy!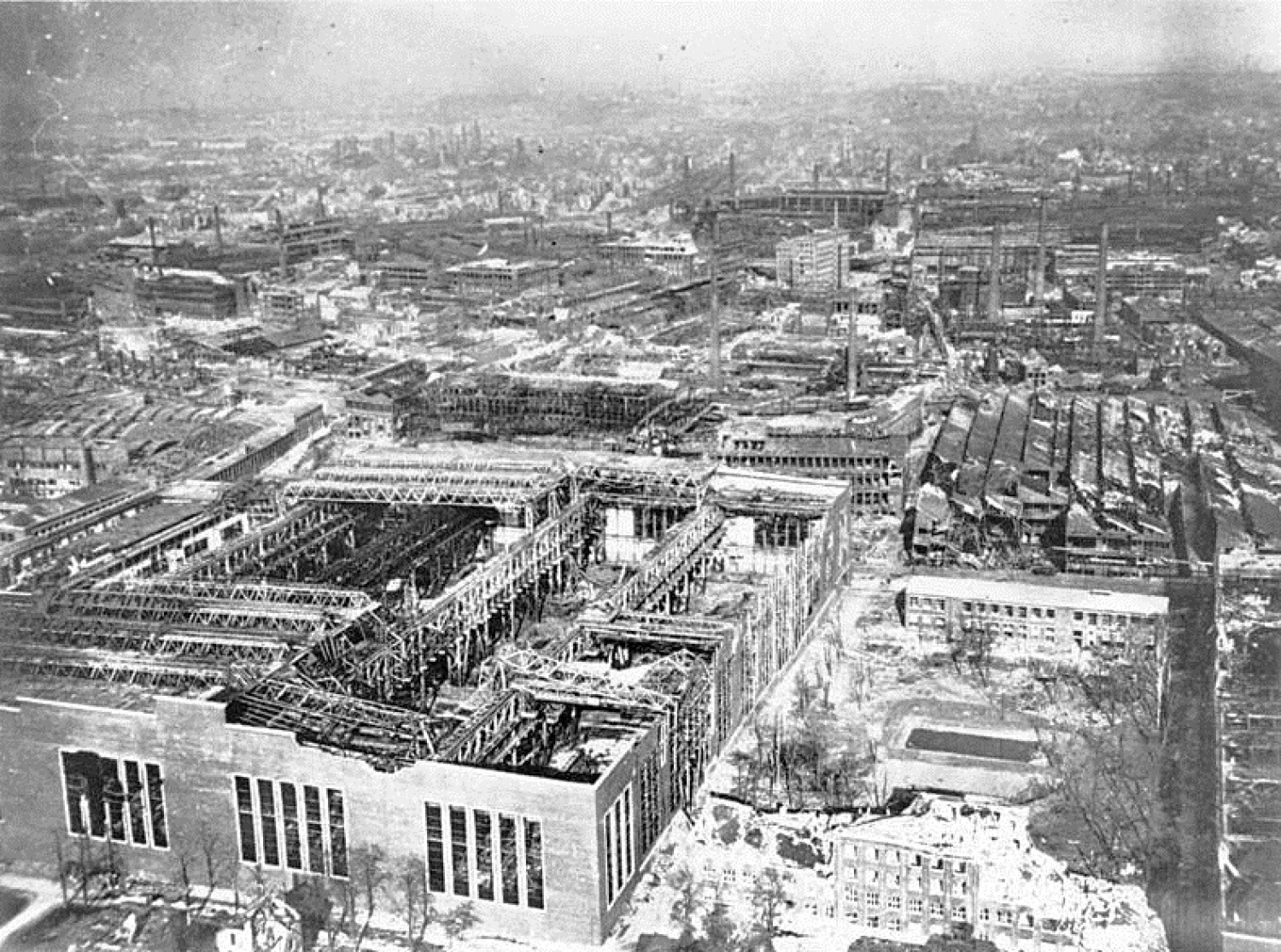 Krupp factory, Essen, after Allied aerial bombing, spring 1945. (Photo: Deutsches Bundesarchiv (German Federal Archive) https://commons.wikimedia.org/wiki/Commons:Bundesarchiv )
My conclusion is that in the right circumstances and with personal contact between people, humanity supersedes hostility and proves that a foe can quite easily become a friend.