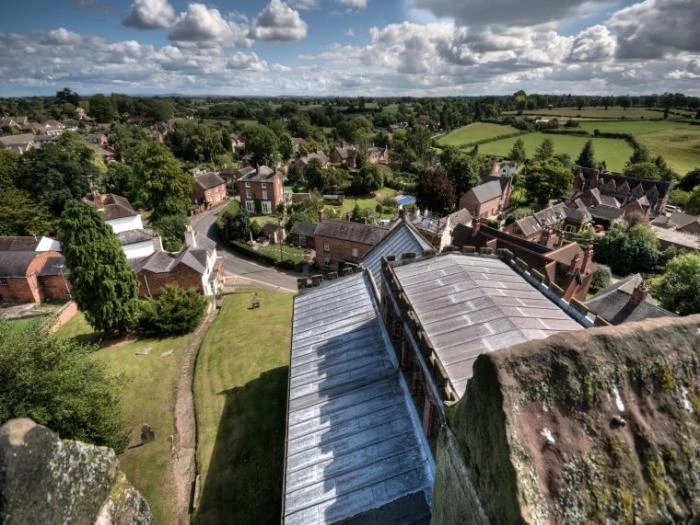 With the airwaves full of the Prime Minister's announcement yesterday that he would form a National Council for Democratic Renewal to, in his words, "give citizens more rights, so that they can hold people to account and so they feel their interests are better served by the political system," the final day of the Wind Farm Inquiry in Woore got underway.
This four-week inquiry has resulted from Nuon UK Ltd, a wind farm company, appealing against the decision of the democratically elected council in North Shropshire to vote against the wind farm last September. That planning meeting was attended by approximately six hundred people, virtually every one of them against Nuon's plans. Would the PM's enthusiasm for "democratic renewal" affect important local issues like this in the future, we wondered.
The Government-appointed Inspector, numerous lawyers and many expert witnesses have been working long and hard over the past month in Woore. Today was the concluding day of the inquiry before the Inspector retired to consider everything he had heard and eventually give his verdict.
Summing upVortex's counsel, Miss Tina Douglass, had summed up her case yesterday on behalf of the pressure group opposing the development. She argued that the established legal route to determine these appeals be followed rather than the non-standard approach argued for by Nuon.
It was argued that the area near Knighton being considered for the turbines has a low wind speed, is not close to an area of demand and that the local landscape of 'timbered pastures' is inappropriate for a wind farm.
The remaining barristers' summing up took up this morning but, on a baking hot day, it was a relief when all was concluded at 12.45pm and all were free to escape into the afternoon's sunshine.
Parish CouncilsToday's hearing began with a statement on behalf of Adderley, Audlem, Buerton, Norton in Hales and Woore Parish Councils arguing strongly against the wind farm and the resultant impact on the local economy, house prices, noise, possible flicker and the destruction of hedgerows.
It was then over to the final combatants, counsel for Shropshire County Council, Mr Timothy Jones, and for Nuon, Mr Andrew Newcombe.
Shropshire County CouncilShropshire County Council has taken over responsibility from North Shropshire District Council following local government reorganisation. Their case for opposing the wind farm revolved around the core issues of:
unacceptable adverse impact on the residential amenities and landscape character
unacceptable adverse impact on the setting of conservation areas and listed buildings.
Mr Jones' summing up was relatively short and to the point, lightened by pointedly humourous asides – the fact that people's homes were now referred to as
residential receptors
in some official documents.
NuonNuon's counsel went for detail, a near-one hundred page summary, with additional documentation, and a seemingly blow by blow dissection of many witnesses' qualifications and details of their evidence. There was so much to get through, it was read by Mr Newcombe at great speed. All the witnesses' evidence, he argued, was defective except that of Nuon's witness Dr Eddis, whose evidence should therefore be preferred.
And then, at 12.45, it was all over. It is not known how long it will be before the Inspector, Mr Cookson, issues his decision. There will be many anxious weeks, we suspect, before that is forthcoming.
---
This article is from our news archive. As a result pictures or videos originally associated with it may have been removed and some of the content may no longer be accurate or relevant.