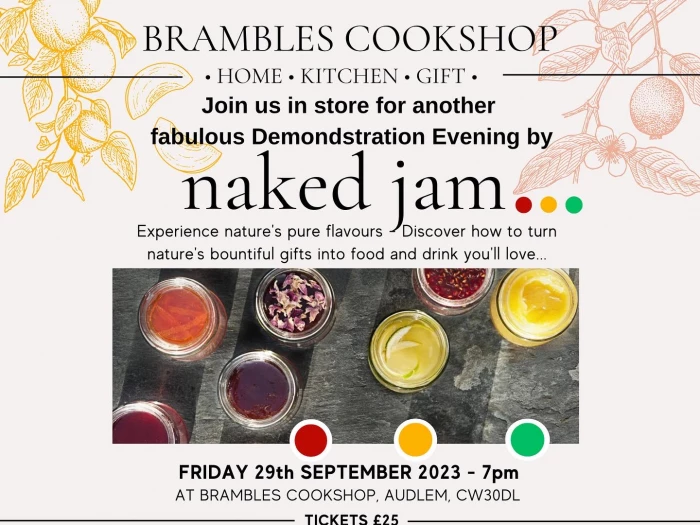 Friday 29th September
at 7pm in Store @bramblescookshop
You're in for a treat...
A Sensational Demonstration Evening by the Outstanding
@nakedjam
Tickets £25 -- Limited Tickets Available --
For sale in store now, so get yours today to secure your place!
What's Included in the ticket?
Drinks & Nibbles on arrival & throughout the Evening.
A pleasant & Informative Talk & Demonstration on the best methods / practices to make jams.
We will be tasting the delicious selection of jams / chutneys / marmalades that we have in-store.
x1 Free Entry into the Raffle -- We will be giving away a fabulous hamper of naked jam favourites for the lucky winner to take away!
A relaxing opportunity to do a bit of VIP shopping.
And the best bit...A Goodie Bag to take away!

Experience nature's pure flavours -- Discover how to turn nature's bountiful gifts into food and drink you'll love..
A little bit of background & The story so far...
Jennifer:
"Naked jam was inspired by my sister, and by the confidence of winning an award at marmalade awards, 2011. I like to use seasonal local fruit and more often than not it's foraged. ( I have been known to fall out of trees!) I love to develop new taste combinations, combined with traditional cooking methods."
Why naked?
Supermarket jams can be unnatural cocktails of cheap fruit and additives: artificial flavours, artificial colours, artificial preservatives and way too much processed sugar...
We believe in natural jam. We believe in jam as an authentic, wholesome, luxury, fresh food experience -- bursting with the pure flavours of nature.
Naked jam is made by hand in copper saucepans, in the heart of the New Forest, from ethically sourced ingredients, by people who love what they make.
It's made using only the bare ingredients. This is what it means to be naked."
Read more about naked jam athttps://www.naked-jam.co.uk/
Nicola Wilcox
Brambles Cookshop
Unit 2, Kingbur Place, Audlem, CW30DL.
07802 627 395
01270 811 925