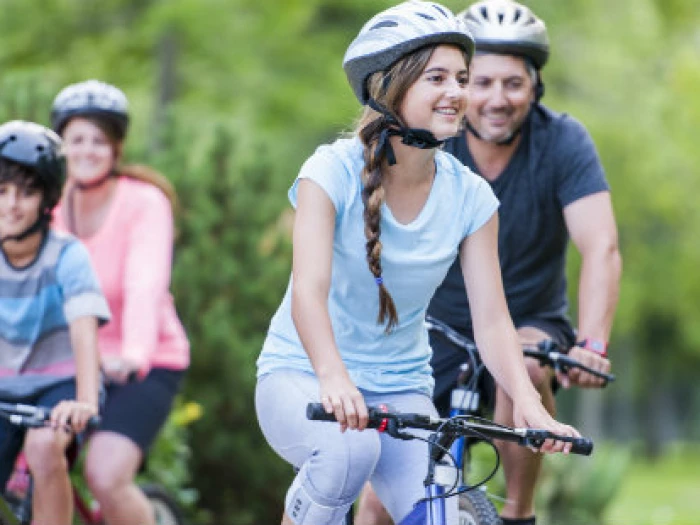 Get on your bike to boost your health and the environment
Cheshire East Council is urging people to swap four wheels for two during Bike Week -- to boost their health and the environment.
Bike Week, which runs from 6-12 June, is all about you and your local community and Cheshire East wants to encourage as many people as possible to 'get out there' and enjoy their community by bike.
Councillor Mick Warren, chair of Cheshire East Council's environment and communities committee, said: "Cycling is not only good for our physical and mental health but also good for our climate, air quality, our pockets and our local communities. We all benefit from travelling more by bike.
"We as a council support cycling and 'more active' travel, for all the benefits it brings to people and their communities. So go on, saddle up and enjoy getting out there and exploring our beautiful borough."
Cheshire East's 2017 cycling strategy aims to double the number of cyclists by 2027.
Cycling has lots of benefits, including:
Cycling improves your physical and mental health and wellbeing;
A switch of one journey per day reduces a person's carbon footprint by an average of about 0.5 tonnes over a year; and
If all cycle journeys increased from the current level of two per cent to 25 per cent by 2050, the collective benefit would be £248bn saved in people's pockets.

Cheshire East's cycling and walking champion, Councillor Suzie Akers-Smith, said: "We want people to dream big and imagine how our communities could be improved if everyone used their bikes more. Together we can make better communities and a better world by cycling and walking more.
"Bike Week is an ideal opportunity to celebrate the benefits of cycling and reset how we think about travel to help ourselves, our communities and our planet.
"Changing attitudes and travel habits will take time but this is a great opportunity, with the warmer weather and longer daylight hours, to support this council's commitment to encouraging people to take up more active travel. We can also play our own part in tackling climate change and improving air quality.
"So 'show the air you care' -- and get on your bike."
Bike Week is organised by the charity Cycling UK and it suggests several ways you can help support this year's campaign, such as
Organise a ride
Encourage your workplace to take part in Bike Week;
Try something new -- explore new places and route
Celebrate cycling -- such as by organising a bike party;
Donate to a cycling charity.