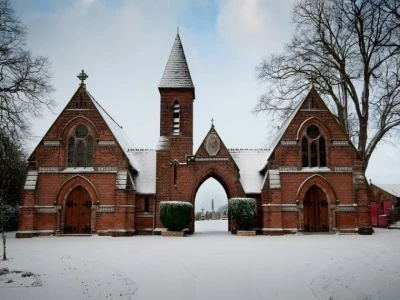 Change at Audlem Cemetery
It is deemed that I will gradually stand down and a new clerk/ manager step in to replace me.

This will be Adriana Roscoe, with whom I have worked closely in raising funds for the Ukraine appeal and now I am embarking on another quiz night with her for MND Association on April 1st . A very committed woman , who too cares much for this great village and all that live here.
Hand over will be a very detailed affair , and we will work together for some months to ensure the first class service we offer is maintained.

All funeral directors, stone masons , grave digger , payroll company etc will be fully briefed with new contact details in first few weeks.

Will be very sad to finish this part of my help over 23 years for the community at large , on top of all the others I am finishing . It had to come of course and the years go by, but still it is with a heavy heart .

"The wheel turns, and having turned, moves on ! "


The History


Built in 1872 and opened in 1874 , the place has served the whole communities of Audlem, Buerton, Hankelow, Dodcott cum Wilkesley and Newhall districts over all this time. It is one of the finest examples of a Victorian folly in Cheshire.
The Lebanese Cedar that stands so nobly at the front wall was planted around 1780 in the time of that great gardener, Capabilty Brown, and one of very few such in all of Cheshire . And the magnificent Lime tree by the tool shed was planted in about 1810, in the reign of King George III. Imagine if you will the number of funerals it has witnessed passing by in all those years since.
During the years of my being here, I was honoured to be listed in the Queens Birthday Honours list -- after much superb work by Stephanie Richardson and Helen Lloyd , in collaboration with my son Jonathan . An acknowledgment of the happy works I had given to the community at large . Very proud and very thankful to all.
Now.
I think most know that I have been managing the cemetery ever since my wife, Joan, died so suddenly in 2000.
We have brought the whole area up to a very fine condition , with the superb backing all the time from the Burial Committee and have won awards from outside bodies for the way in which we care for it. Culminating with the RHS Gold Award last October , as being such a grand place in all of the North West.
And in celebration of our 150th anniversary , and that of her majesty's 70 years on the throne of the UK, we planted some 70 trees to mark the special year. These trees are growing well and in about 5 years will truly add much to the landscape of the whole of the grounds there. I calculate that we have about 60 years before all the plots will be taken .
A small team of dedicated staff work very well to keep it as it is and I have now hosted close to 800 funerals over all these years.
Our history before we came to live in this wonderful part of the United Kingdom .
Working for Littlewoods in Liverpool, and -- then 40 years ago, I had the first of three heart attacks which brought about a triple heart bypass , as 25% of my heart muscle was then dead and required new arteries to feed it. With the vessels taken from my right leg . The surgeon, when I questioned him , said he gave me a good ten years more.
That part of my life changed all I knew , and a new chapter began .
Then in 2000, my dearest Joan died suddenly. I tried to bury my total grief by throwing myself fully into being a part of this superb spirit that is the community of Audlem .
This has been so good for me in many many ways.
Now, here I am again -- at the start of a new chapter -- for how long remains to be seen. .
Ralph Warburton
07813 820157.