This is number 16 in the "History Shorts" series, contributed by members of the Audlem & District History Society, with general editor Jeremy Nicholls.
Brislington House – a revolutionary approach to psychiatric care in the early 1800s
Edward Bright, my maternal great-grandfather, was remembered by my family as a gifted carver and guilder. I have a clear memory: I would have been about 10; my mother and I were walking in the main shopping area of Bristol when she pointed to something above a shop doorway. It was a carving of a gilded eagle with outspread wings. She told me that her grandfather had made it. Even to my young eyes it looked impressive. Over the years my mother mentioned other items which Edward had carved – horses for fairground rides and part of the altar in Gloucester Cathedral are two I remember.
Researching the family tree led me to the 1861 census record which revealed that, as a 22-year-old, Edward was an Attendant on Patients at a certain Brislington House. I discovered that Brislington House was a psychiatric hospital on the outskirts of Bristol and was one of the first purpose-built private asylums. Its proprietor, Dr Edward Long Fox (1762-1835), was a Quaker. Its patients were mostly wealthy, members of the gentry and nobility, but it also took some paupers. This is also reflected in the 1861 census return. Of a total of 91 patients, 42 are recorded as Ladies, 10 as Gentlemen, 10 Officers in the Military and nine Clergymen. Most of them came from the UK, though some were from Ireland, Bengal, Barbados and Tasmania.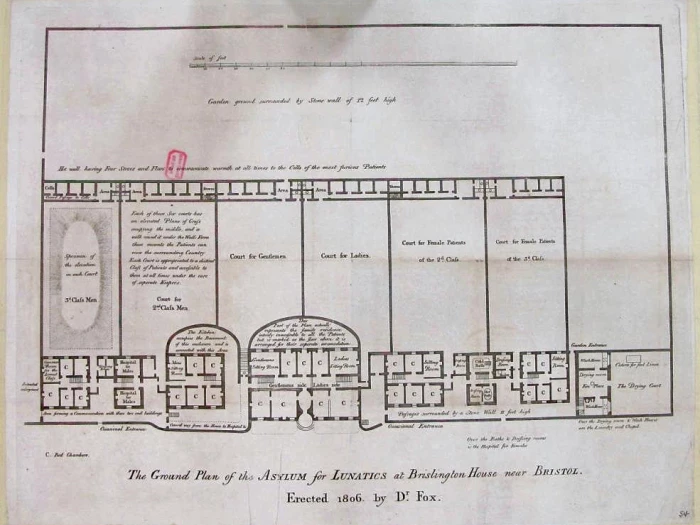 Dr. Fox had personally financed the purchase of 80 acres, and the building of a group of detached houses. Some cottages were also built in the grounds where the very wealthy patients lived with their staff. All staircases, doors, joists and window frames were constructed of iron to minimise the risk of fire.
The treatment the patients received was revolutionary in its time. They were classified by sex, social rank, and then by severity of symptoms rather than by types of illness. Each house had an 'airing court' which the patients could use whenever they pleased. The courts contained lawns, paths and a central viewing mount to allow them views over the countryside. There were agricultural and horticultural pursuits outdoors and a library and chapel indoors, where regular Church of England services were held. For all patients there was an emphasis on the benefits of occupation, exercise and being surrounded by the beauties of nature.
Edward Bright worked alongside 68 other members of staff who mostly originated from Bristol, Somerset and Devon, though some hailed from Manchester, Nottingham, Ireland and Wales. The youngest was the 13-year-old Footboy and the oldest, at 69, was the Hall Porter/Head Attendant. Most of the staff were in their twenties and thirties.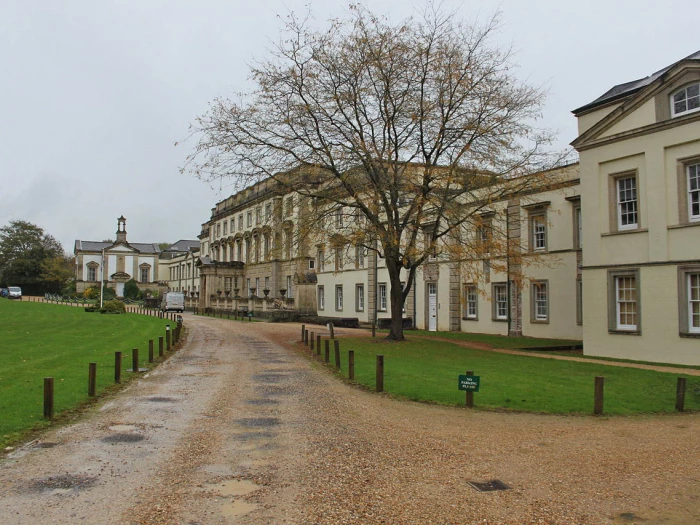 After Dr. Fox's death in 1835 his descendants continued his work until 1951. In recent years the building has been converted into luxury flats.
I don't know how long my ancestor Edward worked at Brislington House. When he married in 1864, he was described as a carver. However, I do know that he was part of a team involved in pioneering treatment of psychiatric patients. In the current lockdown many of us have also recognised the importance and benefits of fresh air and being surrounded by nature in helping to maintain good mental health.