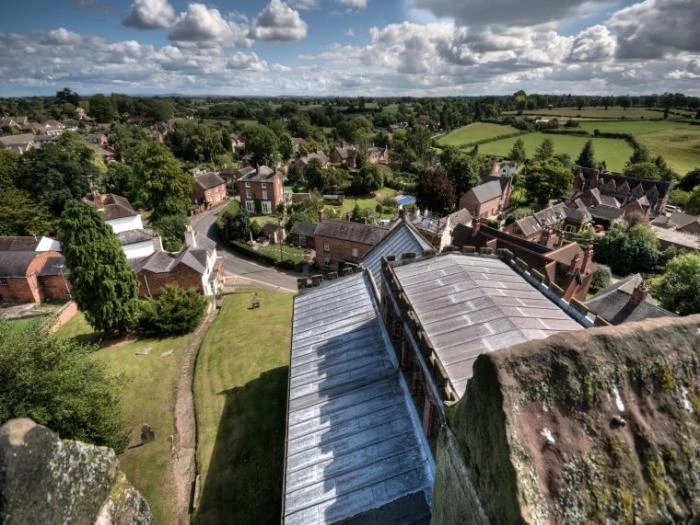 Audlem WI is 100 years old today!
One of the most abiding images of WI women is of apple-cheeked wives in their pinnies, steadfastly filling jars from dawn to dusk with ambrosial preserves to feed our nation.
Custodians of Britain's heritage, these women were the symbol of home values and responsibility – armed with nothing more than wooden spoons, a cheerful stoicism and a rousing hymn aimed at guarding the gates of our civilisation through two world wars!
Flattering as these images are, I have yet to meet any member of the WI who isn't heartily sick of this Jam and Jerusalem label, after all we are a force to be reckoned with, women who have changed the world, and you can't do that with just a pan full of plums and a song!
Recently, it's true, the media have sensationalised a fleshy new image, involving naked middle-aged ladies and calendars, even our monthly magazine provides us with adverts for stuff that I have yet to experience, however thanks to the well publicised Tony Blair incident, we have also acquired a reputation for battle axing and handbagging!
For us it was just one more episode in the tradition of activism for which we are now known. A combined force to be reckoned with and the original social network. Never before has such a disparate group of people come together, worked together, supported one another and got so much done.
Audlem WI
Being a dedicated shatterer of stereotypes, I can safely say that all the members of Audlem WI that I have come across have had more combined wisdom, experience and knowledge than exists in all the corridors of power, and have more humour, spirit, courage, eccentricity and common sense than a lot of the people in public life!
On Friday, 18th January 2019, over 60 Audlem WI members, plus some very brave men, will be gathered in the Lord Combermere for our annual Celebratory Lunch. The dining room will be closed to others due to the size of our enormous personalities, and let's face it, any idiot can drive in a straight line but it takes an expert to handle all our curves!
I wonder if Alan and Jo are up to the challenge?
Audlem WI Formation
The formation of Audlem WI in 1919 was greeted with huge enthusiasm by the ladies of Audlem and the surrounding villages.
When spirits were low, when the day appeared dreary, when daily chores became monotonous, these ladies, mainly isolated young wives, either walked or mounted their bicycles and cycled several miles to find both group camaraderie and stimulation.
More importantly it gave these village women a voice and the courage to use it.
Politically – remember this was a time when women couldn't vote – the WI was considered unfeasibly radical, but suspicious critics, mainly husbands, were soothed by the apparent emphasis on domestic and rural accomplishments – even then we knew the value of camouflage!
At the time it was the only organised village society specifically for women, and provided a welcome break from the tedium of housework in the days before the labour saving gadgets we now take for granted!
Audlem WI members were particularly active during the 2nd World War. One member, Mrs Thornton, organised weekly sewing and knitting groups to provide gloves, socks and balaclavas for the soldiers, sailors, airmen and refugees in Britain and other war torn countries.
WI members were also charged with raising thousands of pounds for the National Savings Fund by weekly house to house collections and by 1944 they had collected £7,994 – the equivalent of £298,000 in today's money.
We will be providing further illuminating details of Audlem WI's history in March, when our Centenary Celebrations reach their climax!
So what does it take to start a voluntary organisation based on the ideals of knowledge, fellowship, truth, tolerance and justice that eventually ends up, over a hundred years later, with the power to challenge Governments and demand changes that affect each and everyone of us?
Well let me tell you it takes guts, determination, inspiration and tragedy and it all started in Canada.............
Click the link beneath the photo to read the enthralling story of the history of the WI
---
This article is from our news archive. As a result pictures or videos originally associated with it may have been removed and some of the content may no longer be accurate or relevant.