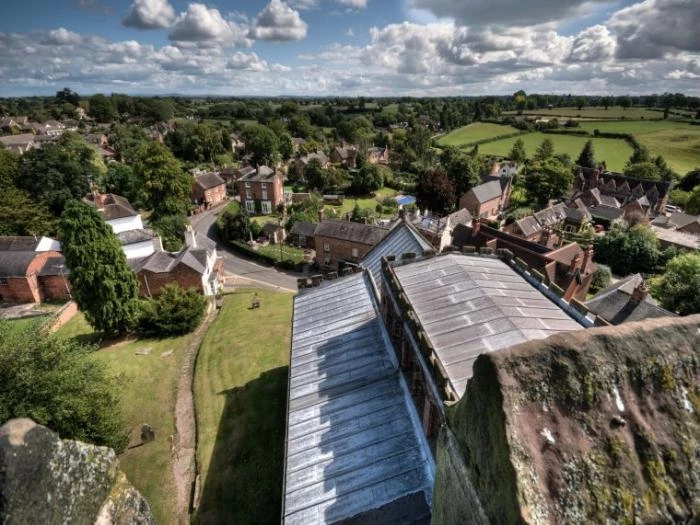 Regular readers will recall Friday's story about Herbert Broomfield, the Audlem-born footballer who played, like the great Denis Law a few generations later, for both Man City and Man United. As Audlem Online was in the process of switching over to its new style, and some internet servers hadn't caught up with the change, a few further details for those that missed the original story might be of interest.
Early Days in Audlem
Herbert Claude Broomfield first appeared in the 1881 census: His father, was Thomas aged 65, a brother, Albert was aged 10 and Herbert, born in 1875, was six. He died in 1939, aged 64 with his death registered at Hazel Grove, near Stockport.
Before his birth, the family was living in Sandy Lane. By the 1881 census, the family was now living in Salford (ours, not the larger one near Manchester). By the 1891 census Herbert is working with Francis Tomkinson, a painter & decorator, as apprentice, aged 15. The family has now moved to Stafford Street and are listed as living between the Purcells and Thurmans which puts them very near to the Post Office. By 1901 he is visiting his sister Emily in Rawtenstall Lancs, age 26, and is a House Decorator and employer.
Marriage
A Herbert Broomfield – we assume it was Audlem's Herbert – married Edith Hargreaves at St John the Evangelist Church (C of E) in Crawshawbooth, near Rawtenstall, Lancs in 1909 and the following children named Broomfield were born in the Greater Manchester area in the years 1910 – 26:
Constance Broomfield born Stockport 1912 (mother's maiden name Evans)
Kenneth Hargreaves Broomfield born Stockport 1914
Margaret Broomfield born Stockport 1915 (Evans)
Jean Broomfield born Stretford 1917
Joan Broomfield born Stockport 1924-26
Football careerBefore he married, he made 28 appearances in 1902/3 to 1906/7 for Bolton Wanderers. Then in 1907/8 he played four times for Man City and then nine times for Man Utd after 20th March 1908, including one local derby game against City, which was a 0-0 draw. At this period Manchester City were in deep trouble over illegal payments to players, and several players had to be sold.
Secretary of the Association Football Players Union
Interestingly, he was appointed the first ever secretary of the Association Football Players Union (AFPU), the forerunner of the Professional Footballers' Association, formed in 1907 in Manchester to fight the £4 weekly wage ceiling – how times have changed, with some players playing for Herbert's clubs now on over £100,000 a week. Herbert was probably amongst a bunch of players whose careers were badly affected by the running battles with the FA between then and the outbreak of the First World War in 1914.
In 1909 the Football Association withdrew recognition of – or less euphemistically, sought to destroy – the APFU. Amongst other things, the Football Association objected to the union pursuing legal actions on behalf of members for arrears of wages clubs owed players and actions under the Workmen's Compensation Act 1906. As Union secretary, Herbert Broomfield responded to the Football Association by saying that the management committee of the union "are not convinced that they are expected to regard seriously the opinion that a football player forfeits a common legal right on entering into a professional agreement with a football club".
This quote from Broomfield encapsulates the position adopted by different generations of players across all professional team sports. They have wanted to be afforded the same employment rights as other workers. Players have wanted to be free to enter into negotiations with prospective employers and to be able to negotiate a mutually agreeable contract with the various clubs which are prepared to employ them.
Holding Union Together
Broomfield and Harry Mainman, who was chairman of the APFU, were the only people to man the union office during this momentous period and more or less held the union together. The organisation's precarious finances were always something of a worry to Mainman, so much so that he almost caused the resignation of the influential and energetic Broomfield. Mainman's insistence on correct 'businesslike procedures' resulted in a tactless letter he wrote to Broomfield at the height of the crisis, querying the latter's claims for expenses.
Broomfield had already been forced to pay for solicitor's fees, etc out of his own pocket and was understandably indignant. He replied: "How is it possible for me to carry along the work of the Union under present conditions in a 'strictly businesslike manner'? If I had adhered strictly to business principles the Union would now have been a thing of the past. I cannot for the life of me take your letter in any other way than as a reflection upon my integrity." Broomfield offered to resign, adding, "The constant strain, the worry, the publicity and the criticism is not to my liking..."
Mainman immediately apologised and Broomfield remained in post to mastermind the campaign. At a later meeting at the Metropole Hotel in Newcastle-upon-Tyne on 28th April 1908 Herbert was reimbursed £35 in part-payment for the expenses he had paid out of his own pocket, with a promise of more 'when funds were sufficient'. He was also offered the job of first full-time Union Secretary at the salary of £150 per annum for three years, ('he having given up other lucrative employment to take the secretary-ship in the first place.').
Influential Career
It's amazing that a man from Audlem can have had so much influence on the development of professional football. Audlem Online thanks Celia Bloor, John Tilling and Geoff Seddon for their research on this fascinating tale.
---
This article is from our news archive. As a result pictures or videos originally associated with it may have been removed and some of the content may no longer be accurate or relevant.