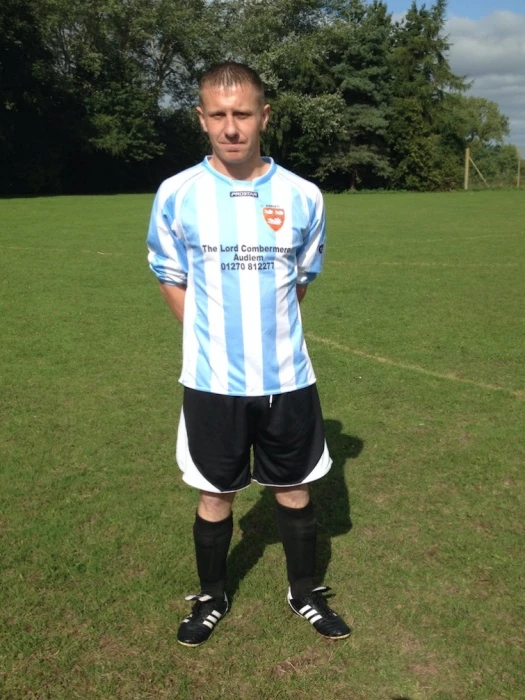 A new Sunday. And a new season in its second week for football
And the very last full day of so many thousands queuing to pay their respects as they pass the catafalque on which our Queen lies in state .
A day — after a very full day in which I was to our wonderful team at the Charity Shop at 0800 as they set up the tables in readiness for the days selling . Such a dedicated team of so willing volunteers in the chill of this early hour .
Then to the benches by the Annexe to see Audlem Saints get off with the coaching of the young ones, boys and girls , as they are encouraged and trained by our truly great volunteers . Then to the main hall to set up all for the big Ukraine quiz night . With the help of my son and my partner Adriana .
7.00 and the quizzers began to arrive and the hall is soon full with 120 keen to play the quiz and be taxed by the questions I throw at them.
A great night was had and by 2300 the hall was cleared of tables and chairs by some of the team members themselves.
A full report on the night later — once I have the figure in cash terms that we will have raised . And some photos of the event .
Now this early time of Sunday . No match of the day so house work, laundry etc before I set out for our game . Clearing away loads of chip waste from my car .
*To the COOP for those superb croissants. Drive through virtually deserted roads, traffic oh so light — saving the fuel ? — and on I go.
Playing a new team to us Chesire Cheese . At a large pitch in Sandbach.
Great turn out of players again as we arrive for about 1000 and to get into our strip . Playing on our red/black shirts ,sponsored by Marstons and Buerton House .
Cool morning. Cold overnight . But a dry day in prospect.
Good turnout of 15 players . Andrew "Becco" Betteley stands is a goalie — Connor Baxter not available .
We are all fired up for the game and our fine player James Craig is back after a football tour of Canada .
Calm day to begin. We change in what must be the smallest changing room in the league .
Play is the normal full testosterone blitz as we kick off. Referee is Kevin Crump . Not too much curing which is good .
Good defence moves by Dan Rooney as he bosses the defence line.
1110
1st Corner. Goes to us . Taken by James `Craig with his sure boot. . No gain .
Looks like rain in the air and temperature dropping as the scattered vestiges of the sun are hidden by lowering clouds.
So many throw ins due to the sloping nature of the pitch. Must loose quite a few balls here .
1122
Now — with rain arriving, I have the luxury of being able to retreat to my car, parked on an overlooking spot with a panoramic view of the game. So far we are in front in terms of play.
1126
A feed by James Craig is met by Seb Borrow who scores.
1-0
Fierce tackle on Dan Rooney that floors him. Free kick given followed right away by another as they take down another of out team
1130
Good chance for CC but his kick goes well wide
1135
Still bossing the play . Positional discipline very good . Keeping a good shape .
Then . Wham . Bam . Slam
They score
1-1
Rain now a tad heavier . Hope it is dry down in London for all those queuing yo see the catafalque.
Slip, sliding surface now as we near halftime. .
Whistle blows and off we troop to water and power tack by boss Kev Rodgers.
1155
And away we go. Ref gives yellow card to James Craig . Unusual for him to be carded but they are targeting him .
C C are on top now and they are shooting ,any at our goal. Many free kicks and throw ins
1200
Rain has eased , grey clouds still but a hint of blue I espy .
1208
CC score 1-2
Subs played , Adam Caunt off . Tony Sinstadt off .
Sun out now and some warmth .
Ref cards a CC player
More subs as Iain Chalker and Jordan Halliday come on .
I fear we do not look like scoring as CC boss the game.
1230
And CC score again
1-3
Stefan Kowtofski comes on .
1232
A great shot by James `Craig strikes the upright .
Opponents taking their time as they waste minutes .
1235
Clash of heads. All ok
1237
Free kick to us . A chance perhaps, but the kick flies wide . Clock ticks away .
Final whistle .
We have yet to win in this new higher league .
Our next game
Sunday 25th
Cup tie versus Williston White Star. First game at Audlem for the new season .
We drive back to the Leopard Pub in Nantwich . One of our sponsors . To a snack of. hot dogs, washed down with many lagers
Ralph Warburton
AFC