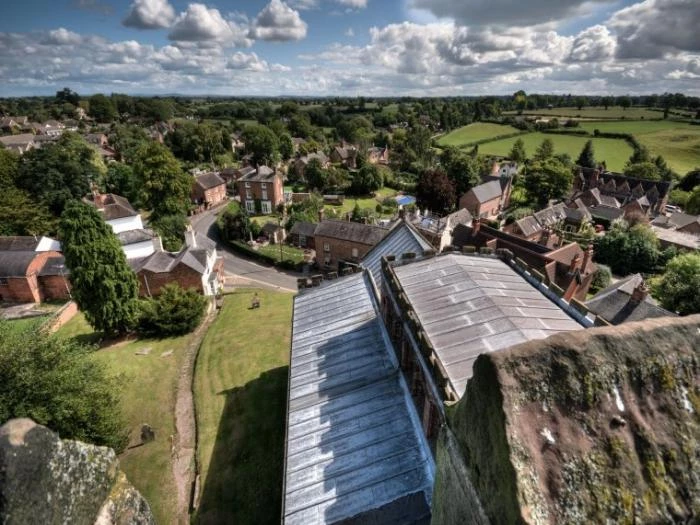 A bright , fairly calm day and so much milder this day – in stark contrast to last week – as we gather on a crowded car park. A mixture of Armistice day, the new building of the superb annexe and footballers – plus the walkers who park up here most of the day.
This new annexe and all it will offer will be such a jewel in the crowed crown that is Audlem. No more changing in Geoff and Olive's back yard or in their garage. Oh such luxury awaits all next season.
Armistice Sunday and the bells of St James fill the calm air. So, so melodious . As the time of 11.00 draws near we gather on the centre circle. To observe the 2 minutes' silence. Ref. Blows the whistle and total silence. We stand. The Tennis players stand . Remembering the ones who gave their lives in conflict.
The game
It is a cup tie. We face Sandbach Town F C. Full turnout by them as opposed to us. 15 players had declared themselves up to play but just 12 turn out. And our only sub is Kev Walters, now over 40 and the daddy of the team. We have three lads under 17 in the team. Young legs and young determination .
Kick off at 11.03 as Referee Mick Costello gets us underway.
Fast and furious. So hope we can revisit the form and camaraderie of last week. Great cross by Tom Bebbington – punched away by their goalie. So close.
11.06 – 0-1
They score – a stupid silly goal. . Words fail ne as to how that happened.
11.20 and Sandbach have now fluffed two certain goals.
11.22 – 1-1
We score as Andrew Beco Betteley sends a fine shot in. Our top scorer.
At present we are shaping well And the young players showing their mettle as they tackle without fear.
11.30 and S F C play a sub- hamstring hurt for their player as he leaves the field of play .
11.35 – 1-2.
Connor fumbles. The ball goes in and it is 1-2 to SFC .
(In this calm weather, the fallen leaves make a good display on the pitch – and the pitch by the way playing well and is trimmed and marked up – thanks to Des Evans and the CE team for the last cut of the season).
HALF TIME
11.50 and off we go. I order two cappuccinos to go from JA's café for David – our most ever present supporter and benefactor – and myself; these are to be delivered to me. Café was very busy, so they gave them to me later.
Ball punctured as it hits the wire screenings. New ball out right way. We do go through quite a few balls as they get lost in the woods or the cemetery.
Game still with lots of passion.
Connor pulling off save after save, as SFC pepper our goal . Brad Jones sends in a fine shot but it does not bend and just flies past the upright.
12.05 and the noise of a Rolls Royce Merlin Engine reaches us a Mark 1 Spitfire files overhead.
Beco shoots again but goalie turns it aside. Kev Mort full of exhortations as he drives all before him.
12.15 – 2-2
Beco scores again but Ref says he was off side – but he was not as also said by our opposing management. Hey Ho.
12.30 – 2-3!!!
SFC pile them in
12.32 – 2-4
Free kick to them. They Score
12.35 – 2-5 .
All over .
Next game away to Ellsworth F C .
Back to our Main Sponsor for both teams – The Lord C and their super chips.
---
This article is from our news archive. As a result pictures or videos originally associated with it may have been removed and some of the content may no longer be accurate or relevant.