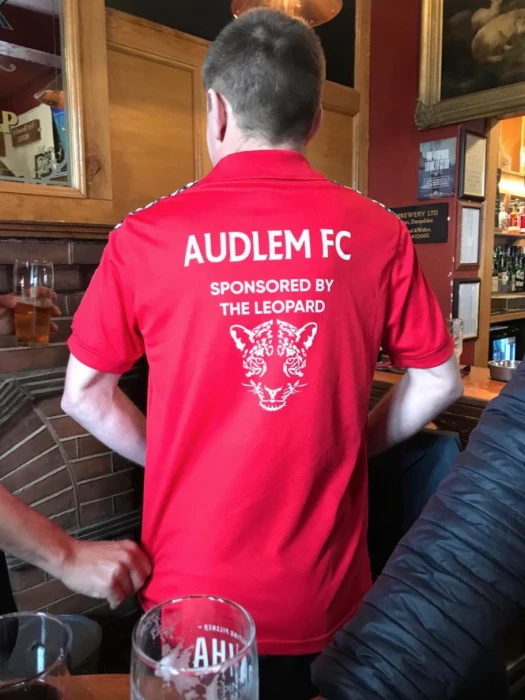 Summer is here !
Now to plan friendlies as we bed in new signings . We finished as you may have seen – second in the division after leading it right up to end of April. Cooper Buckley topped us in the end and by golly they can really score goals . As we are now promoted into the premier division , we will again face them and many other strong teams . A real test awaits us from end of August !
First of the warm up friendlies is against JS Bailey and played on the pitch at The Gorges in Crewe .
Player manager Kev Rodgers has a wealth of talent putting themselves for selection . 17 players in all . A tricky task as he aims to give all a chance of play and at the same time see just how the new signings bed in with us .
Referee is Ash Scoffing , a truly fair ref that allows the game to flow.
Weather as we all know , should have been Sunny and warm – Wrong. – All the morning was cold with a sharp wind across the pitch.
We play in our away blue kit . Pitch firm as lack of rains save soggy areas .
Kick off at 1055.
Pitch very long in grass and dandelions .
Three young players here to play. 16 year olds. Cameron Rodgers , Fabian "Fab" Twardon and Seb Muezynski. Add to them, we have Rich Blakeman .
Under grey lowering skies we get going in the usual testosterone fired running and tackling . Lots of added inches to waistlines !
Suoerb secretary Rachel by my side as we watch the play from the sideline .
To and fro we go . Each side testing each other . Kev Rodgers , player manager, plans rotation of men so that all get a good run out.
1110
1st corner goes to JSBailey . No gain
1115
Another corner to JSB . No gain
And after 20 minutes Kev makes changes .
Toni Sindstadt on, Rich Blakeman and young Seb Mueznski too.
1120
First free kick and it goes to us . Still no gain .
1127
We get a corner. No gain . 1130 and another fruitless corner.
1132
And fine run by Seb M results in him scoring!!! What a way to start with a new team!
1-0
Rich B injured and comes off and Fab Twardon goes on for his debut .
1140 Half time called
Lots of Good banter and great team spirit as Kev R gives his pep talk .
1145 and second half. All still full of running . Still cold wind .
1155
Kev R makes more changes . The young ones not a bit overawed by the older players and fitting in beautifully.
1157
Corner to us . Met by Skipper Thomas Capewell who scores .
2-0
(A note – one of Star players, Will Cork , leaves us today for 6 months of travelling down under. We will miss his talents for sure )
Callum Mese back on. He is full of running after missing a few of our last games of the season.
1203.superb ball by Will Cork is met by an advancing Toni Sindstadt who scores !
3-0
A flock of homing pigeons appear overhead . Magical as they twist and turn , glide as if one bird. Beautiful sight . Calming in every way.
Play good – and clean. No heavy aggression at all.
1210
A mistake . And JSB score
3-1
Great ball upfield is met by a fast running a Ben Walker – wham bang, he scores a sweet goal
4-1
Wind has eased off .
A great cross by Will Cork is met by and rising Callum Mese who sends in a great header to the top right corner of the net. Goalie had no chance
5-1
Game over
Handshakes all round and off we troop . No after the game snacking at the Leopard pub. All three 16 year olds performed well and without fear of bigger fellows .
Next time we are planned to meet with be the Trophy Awards night on the 17th of June . Big invites to Barry and Dave and family. Our stalwart supporters in every way .
I have to report that our superb manager, Kev Mort , has stood down – pressures of a very busy home life. A great servant of the club since I first rebooted it way back in 2012. We wish him all the very best and hope we keep in touch.
Last report for a while but more friendlies planned for July
Ralph Warburton
Audlem F C