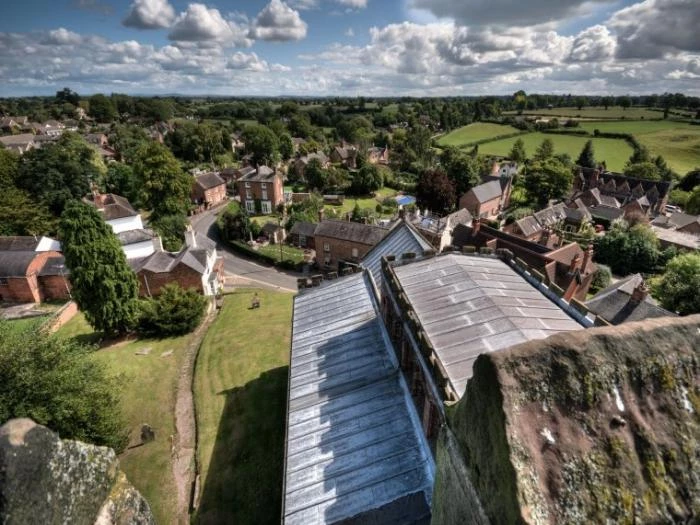 An early start at 6.30am to a reasonable morning but shrouded in heavy fog covering the garden and the fields. The very gentle sound of garden birds as they greet the coming dawn. A pair of Canada geese honking mournfully in the fog. And Radio 5 awash with tales of the Rugby final crowding out that lovey win by Liverpool at Stamford Bridge.
Into the village and a gorgeous croissant from the Co-op. The car park filling fast as many walkers arrive to gather for their morning stroll. By 9.30am there are over forty of them – all kitted out with stout boors and ski sticks as they troop off.
Even a Romanian registered car sitting here in the car park.
Geoff Stretch has the kit and nets ready for the game, but he is suffering badly with a very painful back. Neil Goodyear of ADAS out early with his wheelbarrow as he finishes off the ADAS planting (ADAS was the recipient of even more awards at the ceremony of North West in Bloom in Southport. Great news. We are running out of wall space for all the plaques!)
Church bells somewhat muffled in the fog. The Cemetery looking like a setting for the shots of Pip meeting Magwitch in Great Expectations – in the film of the same name.
Our game today – against Boot & Shoe of Nantwich. A good strong team with a truly dedicated manager and his son running the team. All in a very bright red kit.
One of our best players, Connor Jones, used to play for them so we can expect some verbals being directed his way.
Kev Rodgers, our very fine player and one who is totally committed in every game he plays, is on the side line as he broke his fibula in a fierce tackle some weeks ago. Here and walking now without a cast. Hopes to be playing by mid-month.
Referee is Jason Croft. A prickly Ref and a bit pernickety.
Kick off sharp at 11.00 as the bells fall silent. Fallen leaves all around as November bites.
First set piece to B&S with a corner. How I tremble at set pieces against us, for they are our Achilles heel for sure.
Then one for us with a free kick awarded. No gain.
11.10. Ref. lectures Beko as he feels Beko was too forward with advice for the Ref!
Great ball right up the pitch by Ed Holmes – met by Beko, who shoots, but right at their goalie.
Then Ed pulls off a great save – immediately followed by another,.
Ed again saves us,
Play is very fast and we are well disciplined, keeping our shape.
11.20.
And a fine chance taken as Brad Jones scores. His first for us and only his second game with us. Lot of promise in that young man.
1.0 to us!!!
Then a set piece again as B&S get as free kick. Just on the edge of our box. James Bebbington booked by the Ref. JB's mouth to blame.
Then a superb swallow dive by a B&S player fools the Ref. He awards a penalty. So unfair. Cheating play. Ball spotted. Player runs up – shoots AND Ed Saves! Justice is served.
Tempers getting more frayed as James B. fouls again. Ref lectures him but no booking – thankfully.
Half Time: Players troop off with a good feeling. Winning!

#Second Half.
Kick off at 1152.
I remind myself – we are in the lead!
Fog more or less lifted. Members of the Audlem Women's Team here giving us their encouragement. (We are planning a match with them in May next year )
Sub played as Sam Maddocks comes on for Kev Walters – who has played so well even though so short of match fitness.
Great long kick up field, met by Connor Jones. He battles and twists and turns – and he scores!
We are two goals up!!!
Free kick to us, but wasted. Joe Benson wins a corner after a good fight for the ball. No gain.
Then, blow me down. Ref awards yet another unfair penalty. Even B&S manager says that was no penalty. Up steps B&S – but Ed again saves! He has had a great game so far. Best ever, I would go so far to say. Alex Carter off and on comes Chris Anderson.
Great defensive work by Allan Brindley.
Referee lectures B&S managers. He is such a picky ref.
11.29. Corner to B&S. Shape of our team a bit ragged. Ball kicked out, hits a tree and sends down a splendid shower of golden leaves.
Then at 11.35, they score a scrambled goal as we lose shape.
2-1 and just minutes to go.
Full time. We Win. Such a warm feeling. Two goals and by the Jones brothers!
It costs me a round of drinks in our Sponsor's pub, The Lord C, as we chomp on those great chips. No game next Sunday as we have Bonfire night here on that weekend.
---
This article is from our news archive. As a result pictures or videos originally associated with it may have been removed and some of the content may no longer be accurate or relevant.