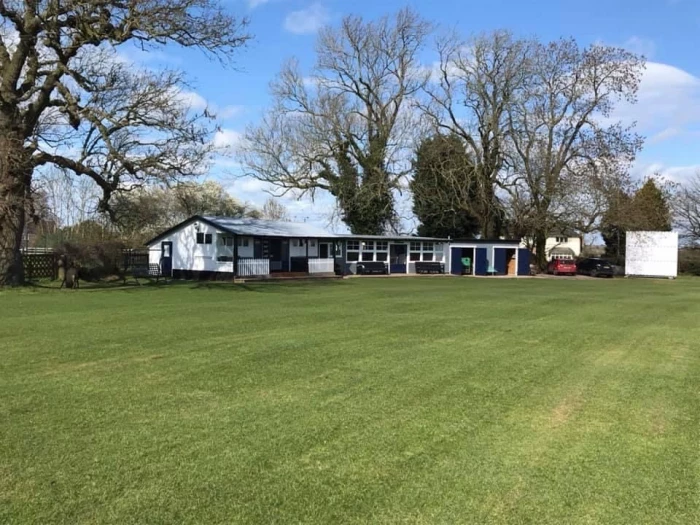 Audlem's cricketers were involved in two local derbies over the weekend and came away with comprehensive victories in both fixtures. The Saturday team made the short journey to Onneley with the unenviable record of recording three defeats on their travels this season whilst showing contrasting home form with a 100% win ratio at The Gorse Croft.
Saturday XI vs Onneley
Skipper Chris Shenton decided to insert the opposition on winning the toss and the decision paid dividends as opening bowlers Simon Swift ( 6 0vers 2 maidens 9 runs 2 wickets ) and Callum McIlveen ( 7 overs -- 2 maidens -- 19 runs -- 2 wickets ) soon had the batsmen struggling to get the score moving and with a flurry of early wickets it quickly became a battle for survival. At the end of Simon and Callum's spell the situation for the hosts looked dire -- with only 13 overs gone they found themselves on 22 for 5 but if they thought the situation would ease they were in for a rude awakening as spinners Neil Humphries ( 4.1 overs -- 1 maiden -17 runs- 4 wickets )and Dave Parkinson ( 4 overs -- 1 maiden -- 11 runs -- 1 wicket ) continued the torment to quickly wrap up the innings in 21.1 overs for a paltry 56 all out.
Audlem made short work of knocking off the small total taking just 8 overs to achieve their goal with Dan Butler leading the way with a quickfire 39 not out playing some exquisite ground shots in the process and achieving maximum points on their travels for the first time this season. Audlem remain in third position in the division but closed the gap on Cheadle who are now in second place after losing their top of the table battle with Porthill Park.
Next Saturday Audlem are again on their travels. This time they are playing at the delightful Swynnerton Park ground to take on Checkley CC ( 1.00pm )
Sunday XI vs Woore
In sharp contrast to the previous day's encounter the Sunday game boasted plenty of runs as Audlem's Sunday X1 took on their old rivals at The Gorse Croft from Woore. Again skipper Chris Shenton won the toss. But this time decided to bat first ( much to the relief of his team ) and soon the batsmen were clocking up the runs at a decent rate with good contributions coming from Danyal Husain ( 79 ) Usman Ghani ( 22 )Dave Parkinson ( 28 not out and Ewan ( Reggie ) Farnell ( 45 ) to set their opponents a formidable 245 off the 40 overs Mathew Kenvyn was the pick of the visitors bowling attack with fine figures of 2 for 22 off his 8 overs with Andy Burton a close second with 23 for 2 and Jasper Mitchell 49 for 3 off 5 overs.
Scoring at a run a ball was always going to be a tall order for the visitors as Audlem managed to keep the score rate in check and claim valuable wickets in the formative stages of the reply but with dangerous batsmen in their ranks like Matthew Kenvyn ( 34 ) Andy Burton ( 28 ) and George Walker ( 39 ) they were always in the game but the run pressure eventually proved too great and the innings came to a close on 177 all out in the 29th over. Usman Ghani and Danyal Husain both claimed 2 wickets in their bowling spells.
Next Sunday Audlem play hosts to Lichfield Nomads with a 2.00pm start time
John Wainwright
Audlem cricket Club