Audlem Creamery History
After we moved to the lovely small community above Heywoods Ridge, the site of Audlem Railway Station, we started hearing stories about the buildings here being originally part of a dairy. So, eventually, I started doing a bit of research and based on information from a variety of people and sources documented the following. If anybody can add to or update what I have assembled, please contact me via AudlemOnline.
Of particular interest is:
Any information regarding the existence of the Steam Mill at West View
Any information regarding who actually built the various buildings, I believe in the late 1890's

Steve Elliott
Old Mill???
In an old document about old mills in and around Audlem, there is mention of somebody called Richard Hall:-
"......in 1896 – Richard Hall, Senior, at this time was at West View.....was a substantial
corn merchant in Green Lane before he developed West View as a steam mill...c.1880. For instance, in 1891 R.Hall (probably at West View) imported almost 44 tons of grain through Audlem Station at about the same time that R.Hall was importing large quantitiesof coal, presumably for the steam mill at West View".
This supposition is a little unclear as we haven't found any references to the name of Richard Hall in the earliest Conveyances that we have seen. Nor is there any structure in the vicinity of West View shown on the OS Maps of 1875 or 1891.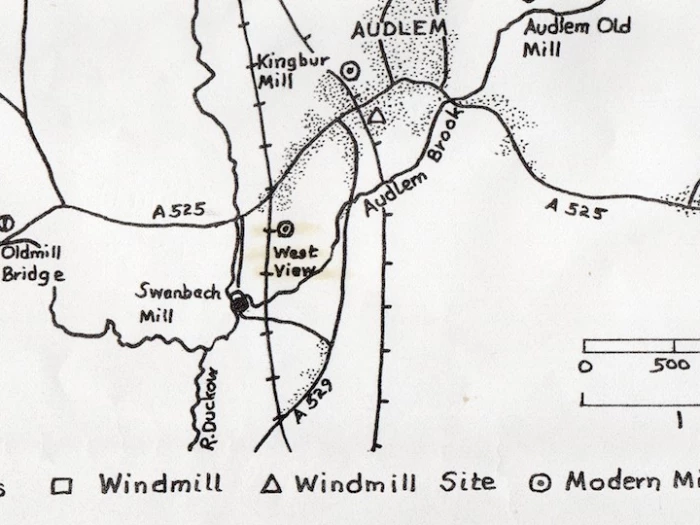 Audlem Mills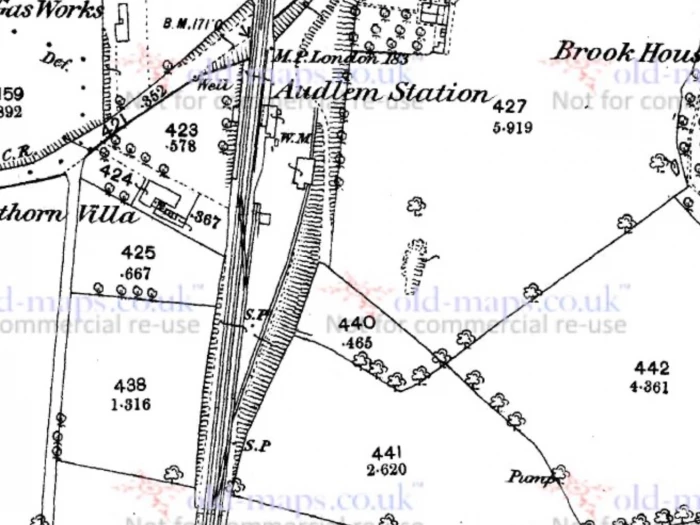 Ordnance Survey 1875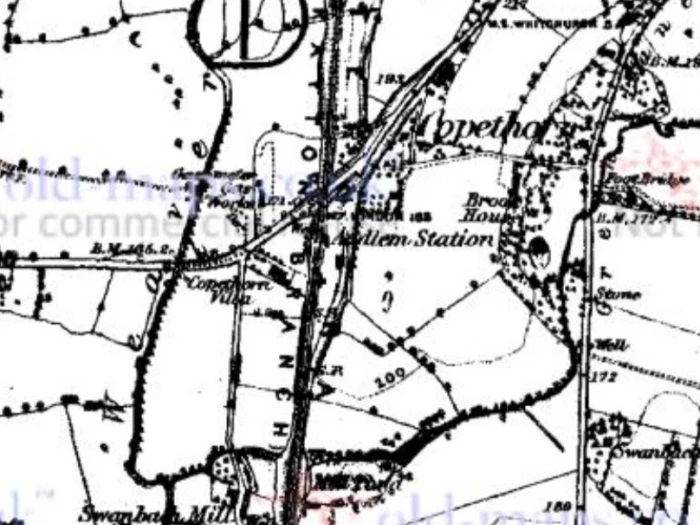 Ordnance Survey 1891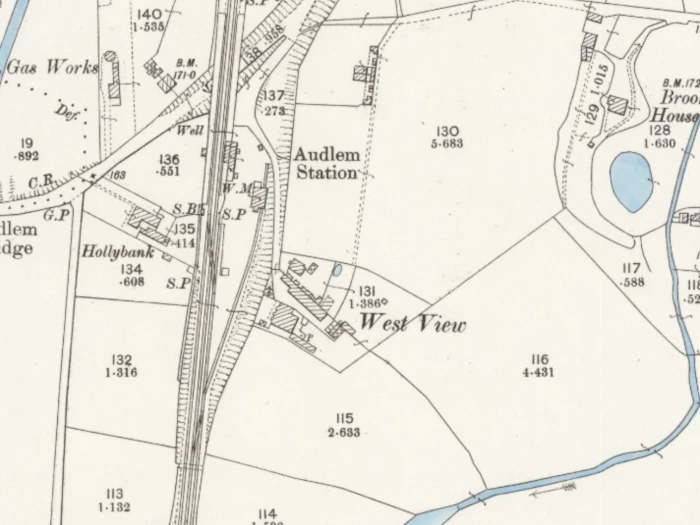 Ordnance Survey 1898
. .
.
.
.
.
.
.
.
.
.
.
.
.
.
Audlem Creamery
The group of buildings above Audlem Station were probably built in the 1890's – their first appearance was on the 1898 OS Map with the name of West View, which shows the creamery building (now The Butter Barn), West View house and the stables (now known as Stable Cottage).
In some old Indentures, the years 1882, 1897 and 1898 are mentioned, so perhaps this is when building took place?
The fifth building, Creamery Cottage, later known as Station Villa, also appears to have been built at the same time as it also first appears on the 1898 OS map. This was bought by the Elliotts in 2011.
However this cottage was not part of Audlem Creamery as Conveyances from 1901 show that it was owned as a private residence. Also the fact that it was physically outside of the gated entrance to the Creamery also suggests that it was separate. Subsequently this old cottage was demolished (and the materials re-used in a Nantwich restoration project) and we built our new house – that we couldn't resist calling Creamery House!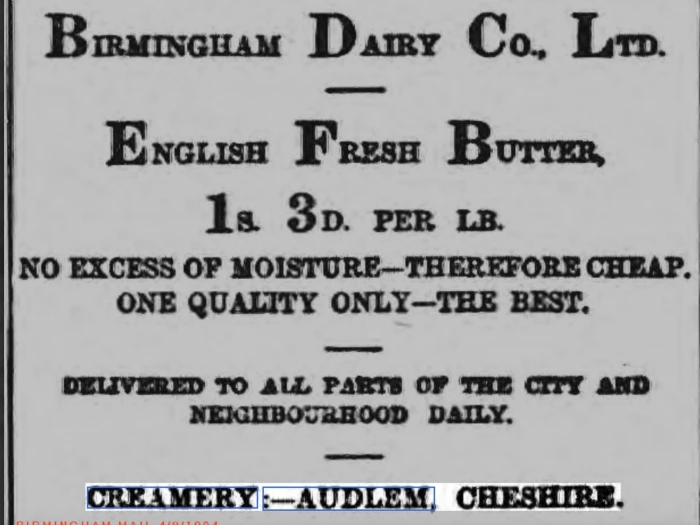 Birmingham Mail – 4th August, 1904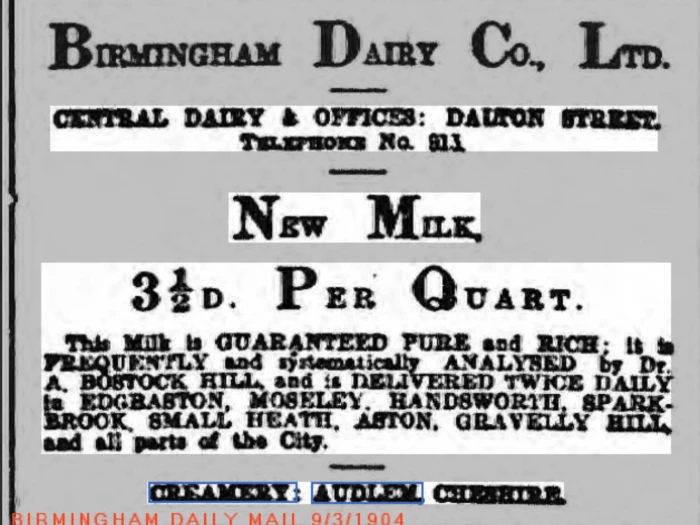 Birmingham Daily Mail – 9th March 1904

.
.
.
.
.
.
.
.
.
.
.
.
Owned by Birmingham Dairies, Audlem Creamery supplied cream, butter and milk for sale in Birmingham, using milk supplied by local farmers. Some of the milk came in churns to Audlem Railway Station. Above are two old photographs of Birmingham Dairies' adverts that mention Audlem Creamery.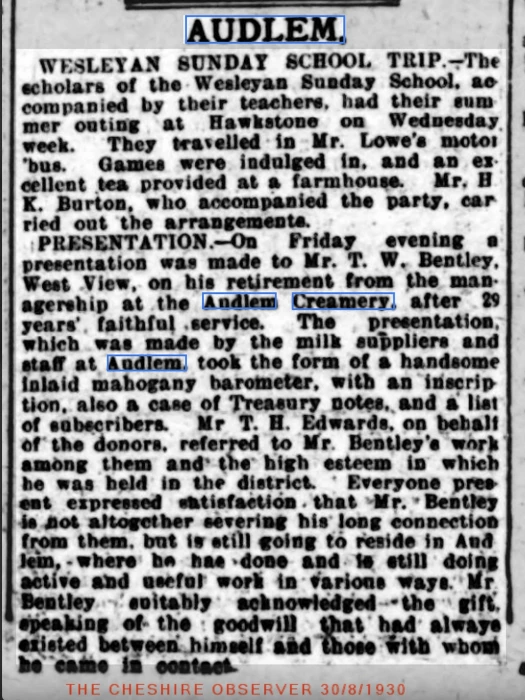 Cheshire Observer – 30th August, 1930
The last known manager – Mr T L Bentley – lived at West View and retired after 29yrs in August 1930, after which he supposedly lived on Green Lane where he continued "his active and useful work" within the Audlem community. He also apparently donated a large wooden cross to Audlem Church.
In recent conversations with Nigel Hendley he told us that in 1940 or thereabouts, at the age of 7, he and a friend would take a milk tin every Saturday morning to collect Buttermilk from the Creamery – it helped to make the best mashed potatoes ever!! Nigel was also told that there is a well under the Creamery – a plumber from Moseley's used to go down a ladder to the well – apparently it goes down to 6 feet below the level of the River Weaver!! This has now been covered over during some
recent building work.
For a while, a Tony Griffiths took over the Creamery, using it as a depot for Birmingham Dairies collecting eggs from local farms. The Dairy subsequently closed down sometime during WWII.
During WWII, Silhouette Ladies underwear factory occupied part of West View. After that, Alan Findley started his men's clothing factory, Findley's of Audlem Ltd, making trousers – possibly for M&S.
Bernice Griffiths, who lived in one of the houses at the Creamery until she died a few years ago, worked at the clothing factory during the war. She believed that the factory supplied clothes to some prestigious mens tailors in London – she remembered seeing a jacket being made in West View that was allegedly destined for Frank Sinatra!!
Another local, Lynn Edwards, provided additional information. She worked at Findley's during 1977 with Bernice and her daughter Patsy – it was a holiday job between school and college. They definitely made men's suits there. One of Lynn's first jobs was assembling the zips to go into the trousers. She remembers her Dad having a suit at cost price whilst she worked there and is wondering whether it's still in his wardrobe!!
In 1968, Birmingham Diaries sold off the buildings to an individual who in 1973 sold it on to Findley's of Audlem, the clothing company who had been based there since sometime after WWII.
Findley's closed down sometime prior to 1981 (1978?) and soon afterwards the creamery building started to be converted to what is now known as The Butter Barn!
Timeline
1880 – Steam Mill built for Richard Hall?
1882 – Various Conveyances – 1897, 1898, 1900, 1901
1893 – Mentioned in Creamery Cottage deeds – some sort of land transaction??.
1891 – OS Map shows open countryside
1898 – OS Map shows all of the buildings:- West View, Stable cottage, the dairy building and Creamery Cottage.
1901 – Creamery Cottage purchased by an individual
1904 – Birmingham Dairies purchased the creamery building which then became Audlem Creamery, and the land between the access track from Copthorne and thelane down to the Audlem Station
1905 – Birmingham Dairies purchased West View, Stable Cottage and the remainder of the field on the eastern side of the access track from Copthorne
1968 – Birmingham Dairies sell everything to an Individual
1973 – Said individual sells all Creamery buildings to Findley's of Audlem Ltd
1978 – Findley's shuts down
1981 – Main part of West View house sold by Findley's to an individual
1981 – Rear part of 'West View' sold by Findley's to another individual

OS Maps Courtesy of old-maps.co.uk