An Audlem Mormon – Researched by George Hardy
("ghosted" by Webteam)
This is a quite remarkable story, not just the astounding tale of Job Welling, but also on how this has surfaced via the Hardy family.
George's great-grandfather farmed at Parkes farm Monks lane. He knew John Wellings (Job dropped the "s" when he left the family, became a Mormon and emigrated to America). John Wellings was born in Ashley (Shropshire), lived and raised his family in Audlem (Monks Lane), and died and was buried in Audlem, with his wife Anne , in unmarked graves by the baptist church.
Among other things he was a "Letter Deliverer".
George's mother Margaret (nee Huntbach) was born on Petsey Farm, Stoke Park near Market Drayton. She was apparently looked after at times by the Wellings in the Market Drayton area, relations to Tom Wellings (youngest brother of Job and retired baker). There is a family story of Margaret as a baby being taken to Market Drayton on a Wednesday in a basket on the back of a pony and trap – but not arriving! She had fallen off, and the trap had to retrace the route to find and rescue her.
Margaret was also interested in local history – which is presumably one of the reasons George has shown so much interest as well. She would often visit the Chester Records Office, and also Shrewsbury Museum. It was there in the early 1960s that the curator asked her if she might know if anyone from the Audlem area could help a certain George Welling from America (a direct descendant of Job) who was trying to trace his roots – the Welling family tree.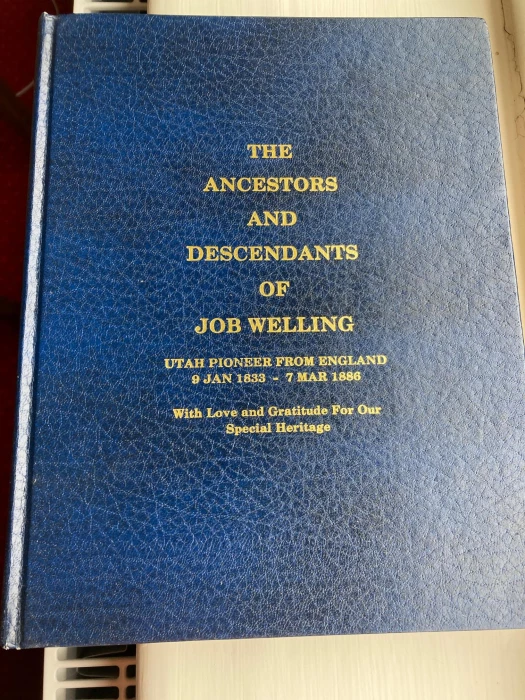 The rather weighty tome – available online via a subscription
Margaret appears to have been delighted to assist, and eventually the Hardy family received a copy of the published book "The Ancestors and Descendants of Job Welling".
footnote:- The reason that Mormons trace their family trees is to find the names of ancestors who died without learning about the restored Mormon Gospel. These relatives from past generations can then be baptized by proxy in the temple. For Latter-day Saints, genealogy is a way to save more souls and strengthen the eternal family unit. The knowledge bank has for many years also proved to be a valuable part of the toolset for genealogists researching family trees. It is also fairly clear that Mormons were seeking refuge in America from persons not sharing or liking their views!