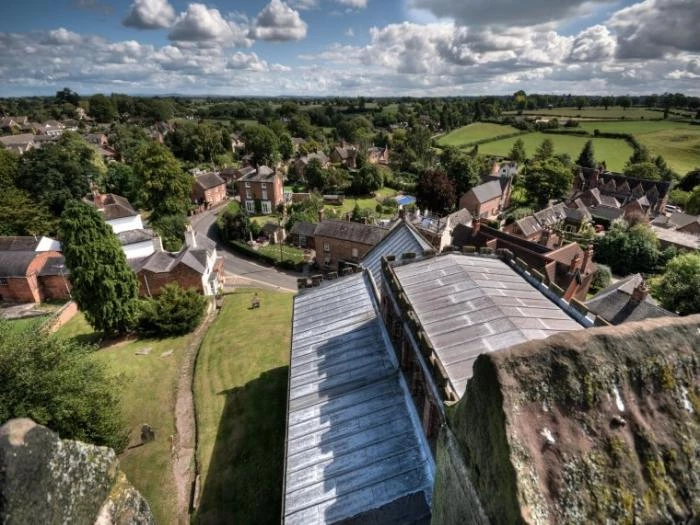 Here on a calm, warmer morning to the sound of the owls and the owlets in the trees around my house. Lovely sound of nature and so rewarding. Flights of Canada Geese in their ordered "V" formation honk their way across my rooftops on their way to feeding grounds. A blessed relief that the freezing fog has dissipated. I thought yesterday that there would be no game if it had persisted. After last weekend – I was unable to go to the game as I had a house full for lunch after they came to witness the Firewalk Event. Suffice to say we lost. Yes ! lost. 8-1! We have the dubious record as having conceded the most goals in the league – bar one other team.
And on the subject of the Firewalk. The success of that – raising close to £8000 for St Luke's Hospice, and now the superb Big Switch on of the tree lights and of Santa's arrival and Grotto. What a fantastic village is Audlem. The effort of all concerned is a high water mark in community caring. One cannot praise all who pulled their weight so wonderfully.
Now . To AFC . Can we too pull our weight and play well enough for Victory? Our referee today is Des Evans, chief Referee fir the League. Firm. Fair and a good sense of humour. With a busy Public Hall of parties and Christening, we have to change in somewhat emergency area. Our opponents in the garage to the hall- and us- in the kitchen of Geoff & Olives 's house!! Car park awash with cars – two christenings I learn. One in the lord C and the other here in the Hall. After the service at St James.
So to the game.
1100 kick off
....as the bells of St James fall silent.
Dry day with a dampish chill in the air. Connor Baxter between the posts for us. Frantic play as our opponents , Haslington attack in force . Smart blue and yellow strip they wear.
In the game for just a few minutes and Referee lectures one of their players. Calms things down. (Folks stopping by to give me their pledged money for the sponsorship of the Firewalk) . Pressure apace on us as wave after wave of the others attack our goal.
1125 Bang – they score 0-1
Great pass by Kev Rodgers – playing a good sensible game with no fireworks- met by young Brad Jones but he is tackled as he lines up to shoot .Good save by Connor denies them a second goal But then – they score . A good well planned goal. Striker unmarked.
Half Time 0-2
Good save by Connor as we restart. Pressure unrelenting on our defence. Tom Bebbington off and Jake Stannard on. Chris Anderson off and Adam Myers on. All players very quiet. Manages trying to get then talking to each other. No swearing to say as Des Evans the Referee comes down hard on foul language . A good thing too. Great ball by young Myers met by the ever-running Brad Jones but goalie saves his shot. Jake Stannard comes Oh so close to scoring – I begin to believe we may yet score.
Then- a corner and immediate goal for them
12.20 0-3
Haslington dominating . No bookings which is good, Kev Rodgers in attack mode. Goes just wide. Dale Bradbury ever present and I make him man of the match for us. Great play by him.
In the dying minutes, Beco (Andrew Bettely) is up to the goal mouth and tries to get his shot in but goalie saves – and saves again.
Full time 0-3
We troop off.
A great idea by the Christening party in the Hall. Fish & Chp meals from the Chippy with George and Ali working hard to produce a huge order. Superb idea for a buffet!!
Next game is a cup tie away at Sandbach .
---
This article is from our news archive. As a result pictures or videos originally associated with it may have been removed and some of the content may no longer be accurate or relevant.