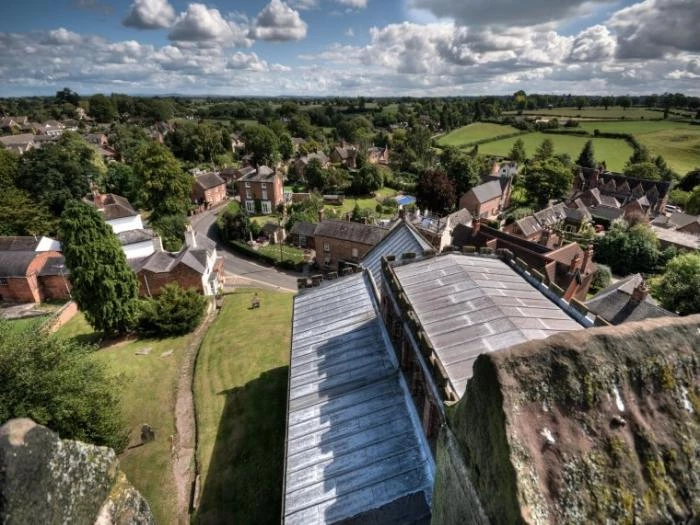 .Ed – Leicester City supporters are advised to miss the first bit of Ralph's report
Here in my lounge as I watch match of the day pundits remarking on the Saturday games in the Premiership. Seeing again the Liverpool victory. I had spent an awful lot of my Saturday up north, to meet with my very good friend of some 60 years who has a spare ticket for me at Anfield . Drive up after filling in with fuel and on to the M6 -- such a pleasant drive now as virtually all road works completed and four lanes speeding us on our way. Dry weather so nice easy pace at 70mph-ish.
Arrive in Ormskirk , my destination , at about 11.20. Chat , tea and off to the home of LFC at 13.00 so that car can be parked up as close to the magnificent stadium as possible. Masses of supporters of both sexes and many obvious ones from abroad -- Into the concourse to the somewhat dubious delights of those "meat" pies .
Meet up with many folks from past years and indeed with members of my own family -- Mad supporters of the team for many years.
Game very full of excitement and in the end three more points for us.
Still atop of the league.
But......
To my own teams day
As said, playing at home . Versus a new team to the league Crewe and Nantwich F C .
Pitch in good drained condition but with grass a tad too long .
Referee Darren Waters most welcome for his sound judgment .
Manager Kev Mort has some 16 players to use for the best result.
Some arrive after playing a game on Saturday and also some who have been on the juice on the previous night . So not the fittest line up ! Again !
But Sunday players. Cannot demand that they do not go out on a Saturday night.
11.00 Kick off on time and The normal fast pace as each side strives to be top dog.
Play is as usual 50/50 at this time . Each side making darting runs up field . First free kick goes to us. But no gain .
11.12 First corner and to us . From this Alyn Burcea flies in a very fierce shot that rattles the crossbar . 1st real shot on goal.
11.22 1-0 Lovely move upfield .Lewis Williams feeds a ball which is met by Ben Spruce who scores. His first game of the season
Half time arrives I walk off to the cafe for a takeaway cappuccino.
Return to find play has resumed and Chloe and Alys -- Star players of the now defunct Audlem Ladies team- have taken over my papers and from now on it is Chloe's report of the play .
1149 Their number 16 fouls us . Free kick 30 yards from goal. No gain as scramble in the box negates our chance .
11.50 Yet another free kick as we press hard. Shot just over the bar
11.53 And again a free kick for us . Goalie saves our shot .
Cross is met by Lewis Williams who just heads wide of the goal.
Really in command of the game and goals should come!
11.56 Another free kick fir us . A nearly goal.
Rain eases off . Thankfully.
12.01 We score but it is disallowed by the Referee.
Manager Kev plays his subs. Under new rules we are allowed 6 subs and can play run and run off , giving as many players as possible a play. Yet another free kick for us .
In Chloe's words -- the sun comes out on "a dismal football display"!
12.05 Free kick again for us. Have lost count just how many we have been awarded .
No gain from any of them though .
Good play sees Mark Parker but he is caught offside .
He goes off and Tom Smart comes on .
All the chances are to us but still just that one goal .
12.13 Rain back again.
Dan Rooney gets a yellow for a rash challenge. That will cost him a fine of £12.50. Chance of a goal for us and then Kev Rogers stops a chance for CNFC. Diving header by Ross Henderson sets us off upfield but no goal.
Very difficult to get a good shot at their goal. Much possession but shots not good. Sebastian Burrows booked for dissent .
Great ball by Kev R . A nearly goal !
Seb Burrows sin binned for mouth at Ref. Just before full time whistle . Sin Bin new rule when player has to go off the pitch for 10 minutes
Game over . A victory !! 3 points
My thanks to Chloe!!
Man of the match awarded to Thomas Capewell ,our skipper.
We repair to the Bridge and opponents come too.
Chip butties all round .
Next game is away versus Faddiley F C in a cup match on the 20th . No game for us on the 13th
---
This article is from our news archive. As a result pictures or videos originally associated with it may have been removed and some of the content may no longer be accurate or relevant.